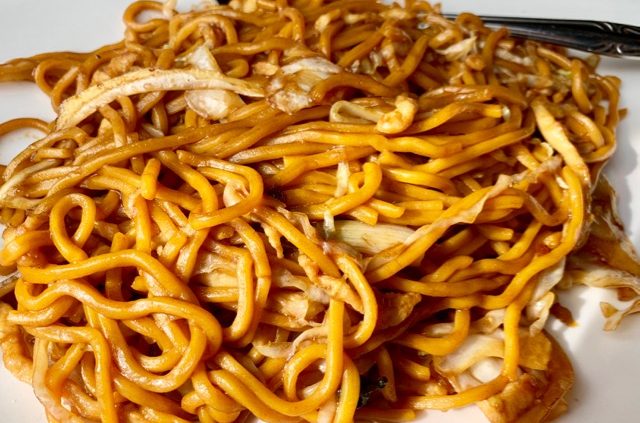 Review No. 154: Agape Asian Noodles
1700 Altus St. Suite 105
Conway, AR 72035
70.7 percent finished reviewing Conway restaurants
The Situation
She Said: I was looking for some carbs and lean protein, and we'd had this place on our radar for a few weeks, so it was time. We decided to have an early dinner here that turned out to coincide with the restaurant's grand opening celebration. At first we thought maybe it wasn't going to work out to dine here because of the big event, but we were allowed to order from the menu, so we got to try their food while still enjoying the party.
He Said: Yes, they were having quite a party, and the place was crowded. Whether it will stay that way remains to be seen—other places have not been so lucky in this space, but third time's the charm, they say.
She Said: Of course, the French say, "Never three times without four!" But this isn't a French restaurant, so never mind.
Ambience:
She Said: We've been to two iterations of restaurant in this space, and it's not too changed from either one of those. Dark, polished surfaces and lots of natural light. One difference is that the full bar set up is used to blend nonalcoholic drinks for this restaurant that doesn't serve alcohol.
He Said: Lots of light is right—I was in full sun for much of the meal.  Some kind of sun-blocking shades or blinds might be something to think about here. Otherwise they space is comfy enough.
Drinks
She Said: I had a milky cold tea drink, and it was tasty and refreshing. It went well with the spices of the dishes.
He Said: I had the green tea I usually have in Asian places. It was fine.
Food
She Said: To start out, we shared spring rolls with sweet and sour sauce, and they were tasty, texturally satisfying and a nice appetizer. For my entrée, I chose the Pad Thai, and to supplement that in order to meet personal macro-nutrient targets (long story), I wanted two pieces of salmon nigiri sushi (fish over rice) and a rainbow roll. What I got was the Pad Thai and some kind of nigiri special that included salmon, tuna and shrimp nigiri, which was way more than I wanted (and cost more, too). The rainbow roll was fine. The Pad Thai was a bit disappointing. What I love about Pad Thai is the noodle deliciousness mixed with the scrambled egg, peanuts and cilantro, but this dish was mostly noodles in the Pad Thai sauce, with a rare egg bite and very-difficult-to-find peanuts. This dish is something I canmake at home, but don't because it's so much dang work, but when eating this, I wished I'd done it myself.
The sushi was good, though it was more than I wanted, and I brought a lot of it home to have another day. I also brought the Pad Thai home and when I reheated that, I added egg and nuts to it so it could fulfill its potential.
He Said: I have to agree about the spring rolls, Jones. I did enjoy them as an appetizer and would definitely order them again. I tried the Lo Mein with chicken for my entrée, and might look elsewhere on the menu next time. Lo Mein is a dish made with spaghetti-shaped egg noodles and a sauce combining olive oil, soy sauce, ginger and perhaps a few other ingredients, usually mixed with vegetables like peppers, onions, bok choi, snow peas, broccoli, carrots, along with some protein source like beef, or chicken. The dish here was almost all noodles, with some very thin strands of chicken and what I think were onions, but very few of them.
I will say that we were given, as part of the Grand Opening celebration, a small amuse bouche of their pork belly dish that was absolutely delicious—that's something I would recommend, though I couldn't actually eat an entrée of it myself because pork belly would have too high a fat content form my uncooperative pancreas. But I'd recommend the Lo Mein only if what you mainly want is noodles.
Service
She Said: The evening was a bit out of the ordinary with the opening and many visitors, but our service was good (except that I didn't get exactly what I ordered). Everyone was friendly and helpful.
He Said:Yes, considering the fact that we had stumbled upon a special Grand Opening celebration, the service was quite good, as they tied to separate us from the special little extras they were serving those who'd been invited to the opening. It was a bit awkward but they handled it well.
What We Got and What We Paid: Spring rolls appetizer, Pad Thai (shrimp), Nigiri (regular), Rainbow Roll, Lo Mein (chicken), Original Milk Tea, and Green Tea, all for $59.83. It's a bit steep, but then, She Said inadvertently ordered three entrees for herself.
Elapsed Time from Our Arrival to Food Arrival:20 minutes from entry to entrees.
Rating:
She Said: I liked the variety of offerings here, but I was disappointed in the Pad Thai, which is a favorite dish of mine. The sushi was fine, though it wasn't what I ordered.
He Said:There are a lot of choices here, it's true. My impression is that at least at this point it's hit and miss. You could very well find something you like, like spring rolls and pork belly.
Is Agape Good At What It's Good For? Agape is still new, though we found it to be a jack of all trades…
Just named a finalist for the INDIE award for best Mystery novel of the year:
Jay Ruud's most recent novel, Lost in the Quagmire: The Quest of the Grail, IS NOW a finalist for this year's INDIE award for books by independent publishers. You can order your copy direct from the publisher (Encircle Press) at http://encirclepub.com/product/lost-in-the-quagmire/You can also order an electronic version from Smashwords at https://www.smashwords.com/books/view/814922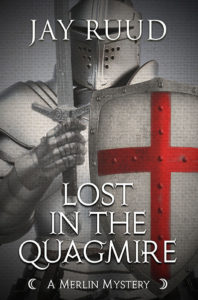 When Sir Galahad arrives in Camelot to fulfill his destiny, the presence of Lancelot's illegitimate son disturbs Queen Guinevere. But the young knight's vision of the Holy Grail at Pentecost inspires the entire fellowship of the Round Table to rush off in quest of Christendom's most holy relic. But as the quest gets under way, Sir Gawain and Sir Ywain are both seriously wounded, and Sir Safer and Sir Ironside are killed by a mysterious White Knight, who claims to impose rules upon the quest. And this is just the beginning. When knight after knight turns up dead or gravely wounded, sometimes at the hands of their fellow knights, Gildas and Merlin begin to suspect some sinister force behind the Grail madness, bent on nothing less than the destruction of Arthur and his table. They begin their own quest: to find the conspirator or conspirators behind the deaths of Arthur's good knights. Is it the king's enigmatic sister Morgan la Fay? Could it be Arthur's own bastard Sir Mordred, hoping to seize the throne for himself? Or is it some darker, older grievance against the king that cries out for vengeance? Before Merlin and Gildas are through, they are destined to lose a number of close comrades, and Gildas finds himself finally forced to prove his worth as a potential knight, facing down an armed and mounted enemy with nothing less than the lives of Merlin and his master Sir Gareth at stake.
Order from Amazon here: https://www.amazon.com/Lost-Quagmire-Quest-Merlin-Mystery/dp/1948338122
Order from Barnes and Noble here: https://www.barnesandnoble.com/w/lost-in-the-quagmire-jay-ruud/1128692499?ean=9781948338127
Comments
comments
http://jayruud.com/wp-content/uploads/2019/04/IMG_3540-1.jpg
448
640
Jay Ruud
http://jayruud.com/wp-content/uploads/2014/08/JayRuud.png
Jay Ruud
2019-04-15 13:11:04
2019-04-15 13:11:04
Agape Asian Noodles