Bohemian Rhapsody
Bryan Singer (2018)
Queen's epic six-minute "Bohemian Rhapsody" first topped the UK singles charts for nine weeks in 1975, but most Americans these days, if they remember the song fondly, remember it from the classic scene in Mike Myers' film Wayne's World in which Wayne and his friend Garth (Dana Carvey) bang their heads to Brian May'sawesome guitar riffs. The use of the song in that film impelled its re-release in the United States, where it peaked at number two on the charts, 17 years after its original release. Apparently the studio had been pushing a Guns N' Roses number for the scene, but Myers insisted on the Queen classic, which had been re-released the previous year in the United Kingdom after Freddie Mercury's death from AIDS, where it had soared once again to the number one slot. Mercury had reportedly watched the head-banging scene before his death, and had approved the song for use in the film. In a good-humored nod to that background, Myers himself appears in the film unrecognizably as Ray Foster, an EMI record executive who insists that the song cannot be released as a single because it is "too bloody long," and declares, with outrageous irony, that "no one is going to be head-banging in the car to 'Bohemian Rhapsody'!"
For more serious Queen fans, though, the pinnacle of the band's success came at their reunion appearance at the Live Aid benefit concert at Wembley Stadium outside of London on July 13, 1985. There,before 72,000 fans at Wembley and a satellite TV hookup that reached more than a billion people worldwide (making it the largest rock concert in history), in a venue that included performances by Paul MCartney, The Who, David Bowie, U2, Elvis Costello, and other giants of the industry, Queen's 21-minute set famously stole the show. The set, which began with the ballad section and guitar solo from "Bohemian Rhapsody" and moved on to "Radio Ga Ga," "Hammer to Fall," "Crazy Little Thing Called Love," and the first verse of "We Will Rock You," and ended with the anthem "We Are the Champions," is not only reputed to be Queen's finest hour, but in a 2005 BBC poll was voted, by a panel including more than 60 performers, journalists and music industry officials, as the greatest live performance in rock history.
This performance is also the high point of the film, where it is recreated in exquisite detail, even down to the scattered Pepsi cups on Freddie's piano—although the filmmakers did choose to leave out "Crazy Little Thing Called Love," a personal favorite, I suppose in the interest of time—which by that point they must have been conscious of in this 134-minute movie. But the film begins and ends with the Live Aid concert: everything else is framed by that climactic performance. The film opens with a long tracking shot that follows just behind Freddie as he makes his way from the dressing room through a maze of backstage environs and finally out onto the stage where 72,000 fans await. Then we move into what is essentially two hours of flashback.
The film is less an exploration of Queen's career as a band than it is a biopic of the band's charismatic lead singer. Born Farrokh Bulsara in Zanzabar, Freddie Mercury had moved with his Parsi family to India and then immigrated to the Middlesex, England, in his late teens. The movie begins in 1970, when Freddie (Rami Malek of TV's Mr. Robot) is working as a baggage handler at Heathrow, where his coworkers call him a "Paki." We get early scenes of the youthful Freddie clashing with his parents, especially his father, over his lack of direction and his growing away from traditional Parsi (i.e., Zoroastrian) ethical values, particularly since he likes to go out at night to clubs and listen to local rock bands (dreaming himself of being a rock entertainer one day).
Here, of course, is where fate takes a hand. When a local group he's been following called "Smile" loses their lead singer, Freddie approaches the two remaining members of the band—lead guitarist Brian May (Gwilym Lee from TV's Jamestown and Midsomer Murders) and drummer Roger Taylor (Ben Hardy of X-Men Apocalypse). The two are students who don't really expect to make it big in music: May is studying to be an astrophysicist and Taylor a dentist. Freddie says he'd like to be their new lead singer, and May's response is "Not with those teeth, mate." Indeed, Malek is wearing weird-looking prosthetic choppers that do only a halfway decent job of simulating Mercury's famous overbite—he actually did have four extra teeth in his upper jaw that pushed his front teeth forward, but he never got them fixed because he believed the unusual form of his mouth gave his voice its special quality. Anyway, Freddie does an impromptu audition for May and Taylor, showing off his remarkable four-octave range, and he's in the band. "Can you play bass?" they ask him.
He can't, but shortly the trio is joined by bassist John Deacon (Joseph Mazzello of The Social Network), and they are on their way. As the movie tells it, it is Freddie who decides to rename the band "Queen" because the name is "outrageous" and, as Freddie says, "I can't think of anyone more outrageous than me." And it is Freddie, too, who convinces the band to sell their old van to get enough money to record an album. And this, as the film tells it, gives them their big break, because they are "discovered" in the recording studio by record promoter John Reid (Aidan Gillen of TV's Game of Thrones) who talks to them, asking them "What makes Queen any different from all of the other wannabe rockstars I meet?" To which Freddie answers: "We're four misfits who don't belong together; we're playing for the other misfits. They're the outcasts, right at the back of the room. We're pretty sure they don't belong either. We belong to them."
Taylor adds that they are essentially a family, and there are scenes in the film that try to emphasize this idea: We see May showing the rest of the band the idea he has for a song that encourages the audience to participate with both bodies and voices, and becomes "We Will Rock You." We see Deacon showing off the new bass riff that he's come up with, which turns into "Another One Bites the Dust." And we see Taylor, comically overdubbing "Galileo" again and again, trying to get his voice higher and higher for the recording of "Bohemian Rhapsody."
But these kinds of scenes are rare. Mainly we see Freddie, and follow his private life, from his engagement to his muse Mary Austin (Lucy Boynton of Murder on the Orient Express) to his obsession with hanger-on Paul Prenter (the appropriately named Allen Leech from TV's Downton Abbey) who, if the film can be believed, Freddie chose over John Reid in a kind of morality-play devil-angel debate, and who ultimately leads Freddie, or at least enables him, on his long descent into the morass of alcohol, drugs, and sex so commonly associated with the decline of rock stars.
I'll try to avoid actual spoilers, but that's hard to do in a biopic. Ultimately, the film suffers from the typical flaws of biopics—it is disjointed and episodic, though held together by the Live Aid frame and by a kind of Mary vs. Paul dichotomy. Malek's performance is electrifying—he manages to make you think you're actually seeing Freddie Mercury alive and onstage again. Some things are added or out of place for the sake of the story: Myers' character is completely fictitious, but seems included just to embody the resistance to the release of the highly unusual and overlong "Bohemian Rhapsody." Also, the film depicts Freddie revealing to the band that he has AIDS before the Live Aid performance in 1985, when in fact he did not reveal his condition to the band until 1987. Further if we are to believe the film, Freddie did not realize he was gay until well-after his hooking up with Mary Austin, which seems hard to believe. Nor does the film do much with the details of Freddie's sordid sex life, except in a televised revelation by the untrustworthy Paul after their breakup.
It's possible that some of these defects in the film were the result of director Bryan Singer (known for his X-Men films) being fired from the film and replaced by Dexter Fletcher (Eddie the Eagle) with just two weeks remaining in production. This must have caused some confusion and contributed to a lack of unity in the film. But in the end, the Live Aid set is worth the price of admission, and Malek's performance is a thing of beauty. Despite some flaws, I think this film deserves three Tennysons. I wouldn't miss it if you're a Queen fan. Or just a Rock fan. Or, I suppose, a Wayne's World fan.
NOW AVAILABLE!!!
Jay Ruud's most recent novel, Lost in the Quagmire: The Quest of the Grail, IS NOW available from the publisher AS OF OCTOBER 15. You can order your copy direct from the publisher (Encircle Press) at http://encirclepub.com/product/lost-in-the-quagmire/You can also order an electronic version from Smashwords at https://www.smashwords.com/books/view/814922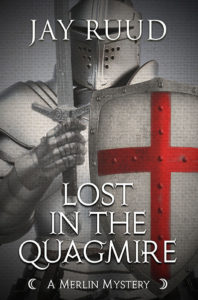 When Sir Galahad arrives in Camelot to fulfill his destiny, the presence of Lancelot's illegitimate son disturbs Queen Guinevere. But the young knight's vision of the Holy Grail at Pentecost inspires the entire fellowship of the Round Table to rush off in quest of Christendom's most holy relic. But as the quest gets under way, Sir Gawain and Sir Ywain are both seriously wounded, and Sir Safer and Sir Ironside are killed by a mysterious White Knight, who claims to impose rules upon the quest. And this is just the beginning. When knight after knight turns up dead or gravely wounded, sometimes at the hands of their fellow knights, Gildas and Merlin begin to suspect some sinister force behind the Grail madness, bent on nothing less than the destruction of Arthur and his table. They begin their own quest: to find the conspirator or conspirators behind the deaths of Arthur's good knights. Is it the king's enigmatic sister Morgan la Fay? Could it be Arthur's own bastard Sir Mordred, hoping to seize the throne for himself? Or is it some darker, older grievance against the king that cries out for vengeance? Before Merlin and Gildas are through, they are destined to lose a number of close comrades, and Gildas finds himself finally forced to prove his worth as a potential knight, facing down an armed and mounted enemy with nothing less than the lives of Merlin and his master Sir Gareth at stake.
Order from Amazon here: https://www.amazon.com/Lost-Quagmire-Quest-Merlin-Mystery/dp/1948338122
Order from Barnes and Noble here: https://www.barnesandnoble.com/w/lost-in-the-quagmire-jay-ruud/1128692499?ean=9781948338127
Comments
comments
http://jayruud.com/wp-content/uploads/2018/11/5e32adf0-e487-497b-8b14-30b7487d2fe4-Bohemian_Rhapsody.jpg
1680
2987
Jay Ruud
http://jayruud.com/wp-content/uploads/2014/08/JayRuud.png
Jay Ruud
2018-11-06 21:13:51
2018-11-06 21:13:51
Bohemian Rhapsody