Review No. 82: Buffalo Wild Wings
675 Amity Road
(501) 205-1940
41.6 percent finished reviewing Conway restaurants
The Situation
He Said: This is, of course, a popular international restaurant and sports-bar chain, with more than 1,200 locations throughout the United States They share a common menu so if you've eaten at one of these places, you probably know what they're all like. In our quest to eat at and review every restaurant in Conway, we need to review these kinds of establishments as well. The good thing about these large chains is that they always will have a nutritional chart online that you could review ahead of time if you had special dietary needs, which I did, and if you had any sense, which I didn't. Failing to consult the chart, I made some false assumptions when I ordered. More of which anon. Meanwhile, let's just say we took a lunch break and pulled into the huge parking lot south of the building.
She Said: We'd been to this location once before, probably not long after it first opened, and it was next on the review list, so we went.
Ambience:
He Said: The dining room is a large unbroken space with table upon table, and booths around the perimeter. There are six very large widescreen TVs in this room, plus 13 more smaller screen TVs, taking up all the wall space above head-high. There is a separate bar room, with several more TVs lining the walls, that looked like more of the same. It's kind of noisy and not especially comfortable, not exactly where you would want to go for an intimate dinner for two. For a larger party intent on watching the Razorbacks on several wide-screen TVs at once and cheering them on, it's much more ideal.
She Said: It's a friendly place, with many square yards of television screens. When we arrived after 1 p.m., there were mostly open tables, but our hostess seated us next to two of the loudest men I've ever heard in a restaurant, so that wasn't pleasant. They couldn't help the customers, but did they have to put us right next to them? Maybe they don't even notice yelling patrons anymore. I did ask the hostess what the difference was to sit in the main dining room or the bar area, and she explained, "That's the bar." So, dear readers, I can't tell you the answer either.
Drinks:
He Said: They have Coke products here, plus a number of other non-alcoholic options, like lemonade. I took the opportunity to order a Mountain Dew. The server was happy to bring a refill as well. Because I just hadn't had enough caffeine today. Yet.
She Said: I don't drink much beer, so I ordered wine, and there was a little confusion over finding the bottle. I said I'd have a gin and tonic instead if they couldn't locate it, but she turned up with a generous pour of the cabernet they have on offer. It was fine.
Food
He Said: We knew that since the name of the place was "Buffalo Wild Wings," we should probably order wings. But there are a number of other things on the menu, including "sharables," salads, burgers and sandwiches. So we decided to split a small order of traditional wings and each order something else besides. I opted for a "sharable" item called "Street Tacos," which were three snack-sized tacos on three-inch softshells, with, as the menu describes it, "garlic-tossed grilled chicken, house-made pico de gallo, our southwestern ranch dressing and fresh cilantro." Intended as an appetizer, these would have served well as a small lunch. They were quite tasty and had a bit of a kick to them, but not terribly hot. One reason I ordered them is the menu said they had only 570 calories. Turns out most of that is fat calories: I found when I got home that there are 36 grams of fat in these three little tacos. I suppose most of that is coming from the ranch dressing, which might contain mayonnaise, I suppose. Anyway, since I am only supposed to have 60 fat grams per day, that one item took up a lot of my allowance. French fries or potato wedges would have given me only half the fat.
The chicken wings themselves had 38 fat grams. Since we split them, I got maybe 19 of those—so I guess I'm done eating for the day. The wings came with our choice of sauce. We tried two: the honey barbecue, which was nice, sweet and just spicy enough, and the teriyaki, which was sweet and gave things a slightly Japanese feel. Overall, I thought the wings were just so-so. The meat was a little bit stringy, and I have to say I've had more tender wings elsewhere in town.
I did get a side, for which I chose a plain salad. It was a nice complement to the chickens and sauces I was having otherwise, with tomatoes, cucumbers, onions and croutons. I also chose a low-fat vinaigrette dressing. On the whole, the salad was fine.
She Said: As He Said said, we shared wings. The sauces were tasty, but the wings were not as good as other places we've tried them. (And, as all wing-eaters know, they are messy! Whoever has the napkin contract for BWW must be making bank!) I had three and then saved room for my meal. Since it's called Buffalo Wild Wings, and I had had the wings, I thought I'd go for the "Buffalo" with my main course and I chose the Buffalo Ranch Chicken sandwich. This was on the lighter side of the menu, at only 750 calories (I couldn't finish it), and it arrives quite strikingly, with the Buffalo sauce striped over the open face of the sandwich quite dramatically. It's spicy, but not deadly, even for this sensitive palate. I chose crispy chicken, and it was fine, though, again, not as good as some other fried-chicken sandwiches in town, though, of course, very messy, with that Buffalo sauce making a run for it every which way. It comes with passable fries, for which I got packets of mayonnaise. Overall, I thought the food wasn't really worth the calories I'd have to run or Pilates off over the next few days.
Service
He Said: Our young waitress was perky and eager to please, and put up with my complex ordering pretty good-humoredly. She answered everything with "No problem." Seriously. Everything.
She Said: Yes, that's a little hang-up of ours, because of course, we're word people, and "no problem" is weird from service people. It's "no problem" to wait on me? I hope not! That's your whole job. "You're welcome" is just more in line with our curmudgeonly sensibilities. But she was very friendly, helpful and energetic and I would take "no problem" from her versus a bad attitude any day. At one point, we had to wait awhile for her to come back and take our order because they were all having a staff meeting, which was not her fault.
What We Got and What We Paid: One small order of traditional wings with Honey Barbecue sauce and Teriyaki sauce, one order of "Street Tacos," one side salad, one Crispy Buffalo Ranch Chicken Sandwich, one glass of Cabernet, one Mountain Dew, all for $34.56 for two people. (Note: remember we were eating more than a typical lunch because we were trying different things).
Elapsed Time from Order to Food Arrival: 22 minutes until wings appetizer, 26 minutes until entrees.
Rating:
He Said: It's about average food for this kind of restaurant. I've had better. Next time I go I'll try to find lower-fat options.
She Said: I probably won't go again, as the ambience is not relaxing, and all the things I tried are better at other Conway restaurants.
So…He Said and She Said: If you like lots of televisions, go here for some screens (oh, and they also have wings).
And by the way, if you like reading "Eat It, Conway," you might be interested in Jay Ruud's new "Merlin Mystery" novel, the third in the series, which will be released on November 10 and now available for pre-ordering on Amazon and on Barnes and Noble: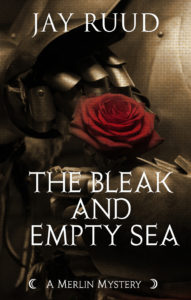 When word comes to Camelot that Sir Tristram has died in Brittany of wounds suffered in a skirmish, and that his longtime mistress, La Belle Isolde, Queen of Cornwall, has subsequently died herself of a broken heart, Queen Guinevere and her trusted lady Rosemounde immediately suspect that there is more to the story of the lovers' deaths than they are being told. It is up to Merlin and his faithful assistant, Gildas of Cornwall, to find the truth behind the myths and half-truths surrounding these untimely deaths. By the time they are finally able to uncover the truth, Gildas and Merlin have lost one companion and are in danger of losing their own lives.
Pre-order from Amazon here: https://www.amazon.com/Bleak-Empty-Sea-Tristram-Mystery/dp/1893035735/ref=sr_1_1?s=books&ie=UTF8&qid=1503328086&sr=1-1&keywords=Bleak+and+Empty+Sea
Pre-order from Barnes and Noble here: https://www.barnesandnoble.com/w/the-bleak-and-empty-sea-jay-ruud/1126958139?ean=9781893035737
Comments
comments
http://jayruud.com/wp-content/uploads/2017/11/IMG_2760.jpg
3024
4032
Jay Ruud
http://jayruud.com/wp-content/uploads/2014/08/JayRuud.png
Jay Ruud
2017-11-05 21:02:29
2017-11-05 21:02:29
Buffalo Wild Wings