Review No. 90: Burritas
1220 Old Morrillton Highway
(501) 428-8514
45.9 percent finished reviewing Conway restaurants
The Situation
She Said: I was coming from a very necessary post-vacation workout, but I was hungry, so I texted He Said and told him to meet me for lunch at Burritas. I'd had my eye on this place for some time. After a vacation in Germany and Switzerland and lots of Wienerschnitzel, tacos seemed like a great idea.
He Said: Yes, it was definitely time to visit another of the 876,234 Mexican restaurants in Conway, so who could say no? Burritas is in the little strip mall that also includes Fuji and at least two other restaurants. So there's a lot of choice if you find yourself, say, at Lowes and suddenly get hungry.
Ambience:
She Said: The cool color pallet gives a very relaxed vibe to the dining area of the restaurant. There is some pretty significant industrial white nose from a refrigerator that makes it kind of hard to talk, but overall the place is chill and friendly.
He Said: Yes, it's actually a very small interior—Buritas does a lot of business with drive through and takeaway customers, so in fact we were the only ones eating in the restaurant at that particular noon hour, though others came and went. But there weren't more than six tables for people who actually might want to sit down and eat. But it's not an uncomfortable setting, as some similar kinds of eateries are.
Drinks
She Said: They offer soft drinks and tea, so I went with my go-to, unsweetened iced tea, which was well brewed and tasty.
He Said: Fountain drinks, no bottles or cans. They have Coke products. I went with a Mr. Pibb.
Food
She Said: I didn't know what to expect, as I had some vague awareness that Burritas had been a food truck, so I was thinking tacos and burritos in that vein. But when we walked in, I saw the set up that was very similar to Don Pepe's and Chipotle, the "assembly-line" model, in which you walk along with your food server and choose what goes in it. Being food-freaky, this always appeals to me very much. I was also incredibly pleased to see they offer a taco salad in a crispy shell bowl: I didn't even look at the rest of the list because I knew that's what I needed in my life. From the ingredients buffet, I chose chicken as my protein, a bed of greens, cheese, a few black olives, pinto beans, brown rice and guacamole. They offer a wide variety of dressings/sauces as well, but I felt my salad was well dressed with tastes as it was, and I don't like spicy heat (they also have mild dressings, but nothing that appealed to me). As it was, the salad was delicious, particularly the crispy shell bowl. I broke chips of it off and "dipped" it in the salad, which I mixed altogether the second we sat down. If I hadn't been on an austerity program after our vacation, I would have definitely eaten the entire thing and ordered another one to go. As it was, I left about a third of it once I felt satisfied. It's not a giant shell bowl, but it was packed full of goodness.
The main taste here was fresh. All the foods owned all their flavors, which is a pleasure for the diner. I'm already craving this salad, and I know I will be ordering it again soon.
He Said: Although the burritos here are touted as being "crazy good," I went with the three tacos because I really like tacos. I could choose to have them on a crispy shell, I could choose to have chicken, which tends to agree with my low-fat diet (could have chosen vegetarian as well, which would have been even less fat). I added some Spanish rice and black beans from a long list of possibilities, mild salsa (they have a good variety of salsa here!) and a tasty looking onion-pepper mix, plus tomatoes and lettuce.
I must say, I expected these to be pretty run-of-the-mill tacos, but I was quite surprised. Everything tasted very fresh, like I had just made it at home. Even the taco shells seemed like they had just been baked and hadn't been sitting around for days or weeks on end. These are some of the more seriously delicious tacos available in Conway.
Service
She Said: We were newbies to the Burritas experience, so our server walked us through all of our choices patiently. I felt very comfortable and at home here because of that.
He Said: Yes. Friendly service, which you can pay for, since if you pay by card there is a space that asks you if you want to tip 15 percent, 18 percent or 20 percent. Or you can check "no tip" and feel like a cheap deadbeat. I mention this because these kinds of restaurants generally do not involve tipping. This one does.
She Said: Oh, Ruud, how old are you? This is the new model at such coffee hot spots as Blue Sail and Zeteo.
He Said: I'm old as dirt, as you well know. Get off my lawn.
What We Got and What We Paid: One taco salad, one iced tea, one three-taco plate and one fountain soft drink, all for $22.75, before tip.
Elapsed Time from Our Arrival to Food Arrival: 6 minutes from arrival to sitting down with our food.
Rating
She Said: A real contender in the build-your-own tacos/burritos/taco salad arena in Conway, with fresh food and friendly service.
He Said: One of the outstanding casual Mexican food places in town, with great tacos. I'm going to try those crazy good burritos next time!
 So… He Said and She Said: Go here for tacos, etc., just the way you like, all with a big helping of fresh.
NOW AVAILABLE:
If you like these reviews, you might enjoy Jay Ruud's most recent novel, now available from the publisher at https://encirclepub.com/product/the-bleak-and-empty-sea/. Also available from Amazon or Barnes and Noble.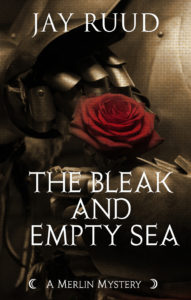 When word comes to Camelot that Sir Tristram has died in Brittany of wounds suffered in a skirmish, and that his longtime mistress, La Belle Isolde, Queen of Cornwall, has subsequently died herself of a broken heart, Queen Guinevere and her trusted lady Rosemounde immediately suspect that there is more to the story of the lovers' deaths than they are being told. It is up to Merlin and his faithful assistant, Gildas of Cornwall, to find the truth behind the myths and half-truths surrounding these untimely deaths. By the time they are finally able to uncover the truth, Gildas and Merlin have lost one companion and are in danger of losing their own lives.
Order from Amazon here: https://www.amazon.com/Bleak-Empty-Sea-Tristram-Mystery/dp/1893035735/ref=sr_1_1?s=books&ie=UTF8&qid=1503328086&sr=1-1&keywords=Bleak+and+Empty+Sea
Order from Barnes and Noble here: https://www.barnesandnoble.com/w/the-bleak-and-empty-sea-jay-ruud/1126958139?ean=9781893035737
Comments
comments
http://jayruud.com/wp-content/uploads/2018/01/IMG_6884.jpg
3024
4032
Jay Ruud
http://jayruud.com/wp-content/uploads/2014/08/JayRuud.png
Jay Ruud
2018-01-14 18:19:38
2018-01-14 18:19:38
Burritas