Review No. 98: Captain Hook's Fish and Chicken
105 East Oak Street
50.0 percent finished reviewing Conway restaurants
(501) 358-5886
The Situation
He Said: This place is fairly new, having opened not long ago in the parking lot of what used to be the Chinese restaurant on Oak Street. I assumed it was part of a chain, but I can't find any information about it as a chain online. There are five Captain Hook's Fish and Chicken restaurants in the Chicago area, and also at least one in Detroit, but these do not seem to be connected with the one in Conway, or at least they do not have the same menu. There is, then, no nutritional chart online, as there is with most chains, so it's not possible to try to plan ahead in terms of eating healthy.
She Said: Post road-trip, I wasn't sure about a fast-food lunch, but we do what we must for our dear readers, dear readers. As this is a new offering in Conway, we wanted to check in sooner rather than later, so after my ballet lesson, up we rolled.
Ambience:
He Said: You order at the counter and you sit down at a booth or table in what looks like any generic fast-food place. Everything is in an off-white, and there aren't really any pictures or decorations on the walls to make the place distinctive. There are two large screen TVs, one of which was turned to CNN (I guess it could have been worse) with the volume turned up—not so much that you could actually make out what people were saying except in snatches, but loud enough to annoy you if you were trying to talk to each other. Or think. I wouldn't call it the most comfortable dining room in town.
She Said:  It's not a place I found pleasant. There are a lot of community tables, so for introverts, I recommend arriving in an off hour if you want to dine in the restaurant in peace and quiet, though, as He Said said, this is a little hard to do even if you're seated by yourselves in a booth or table. The dining room seems to be built of sound-amplifying materials, so when a large, loud party came in toward the end of our meal, I could hear their conversations more easily than I could my husband's from across the table.
Drinks
He Said: You can get fountain drinks here as well as bottles of the Pepsi variety. I always prefer the bottles because I know it will taste right and not be watered down or inappropriately mixed, as sometimes happens with the fountain drinks. I took the opportunity to get a bottle of Mountain Dew, which I enjoyed a lot. And it kept me awake all afternoon.
She Said: I prefer fountain drinks for "pop," as we say in my native South Dakota, so I had a fountain Diet Coke. I was given a Styrofoam cup, which was a little shocking to me in this day and age.
Food
He Said: I was a little worried about my low-fat diet because so many things here are fried, but they do have a section of the menu that is all grilled, including fish fillets (which are catfish), shrimp, tilapia and red snapper. I chose the two-piece grilled red snapper dinner, which came with two sides. I picked red beans and rice, and something that simply said "vegetables" (actually on the sign it was simply labeled "veg."). This consisted of broccoli, cauliflower and carrots, which would have been great had they been a bit warmer by the time I got them. The red beans and rice are actually pretty good, with a bit of a spicy kick to them.
I was pleasantly surprised by the snapper itself. It was definitely grilled and came with a side of grilled shredded onions on the plate, as well as a pita-like slab of bread. Had I been at an expensive restaurant, I might complain that it was dry and overcooked, but considering where I was, I was quite happy to get a healthy, low-fat meal that tasted pretty good. I also got my entrée served on an actual plate with actual silverware—something that She Said was pretty envious of, since she did not get the same thing.
She Said: Yes, I guess I didn't spend enough to get a proper plate and silverware, as when the food came, I had to take the walk of cheapskate shame up to the accessories area to get a spork (I hate sporks), but I have to say it was a little strange to have the server bring He Said's silverware, and not say a word about what I was supposed to eat with. I just had to figure it out.
The menu is pretty broad and had a lot of choices, so it was hard for me to make a final decision. I vacillated until the very last minute among the wings, the grilled dishes and what became my ultimate choice: the frogs' legs. I think I've had these two other times in life, but I remembered that I liked the lean, white-meat protein of this offering. And these were good. The meat was tender and tasty, a very mild white-meat flavor (tastes like chicken!), and there were five or six legs in the serving. They were not heavily breaded, but rather seemed more as if they were pan sautéed, which I prefer. If I ate here again, I would order this dish. But it was served with two big pieces of wheat bread, which flummoxed me. I couldn't make a frogs' legs sandwich, as there were bones in the meat, and the bread had no butter or toppings. I didn't get it: Two dry pieces of bread just thrown on the plate, becoming wasted food and calories. Strange.
For my sides, I chose macaroni and cheese and green beans. The green beans tasted much better than they looked in their little disposable cup. The mac and cheese was not even warm, so I didn't finish it, even though it was satisfying in the way only mac and cheese can be.
Service
He Said:  The one woman on duty when we arrived a little after 11 a.m. was heroically trying to take care of the drive-through (which was crowded) in addition to any walk-ins (like us). She did finally get to us after dealing with several drive-through customers, but to do so she apparently had to log out of the drive-through computer and log in to the one at the counter, which seemed to be an absurd complication. I don't know whether somebody didn't show up for work, or whether it is typical to have one person at both stations, but either way it was not a good situation. She was helpful, but harried. And although this looks like a fast food place, it isn't really, since after she takes your order it has to be put together in the back, and that takes a while, and then she has to bring it out to you—between taking orders.
She Said: Yes, she was very friendly and helpful, considering that the service load of the entire restaurant was on her shoulders alone. It's a nice touch that she brings the food out to everyone instead of just calling order numbers from the counter, but the better service she gave one party, meant someone else had to wait. When we left, the restaurant was almost full, so I said a whispered "bless her heart," as we left, grateful for having beaten the rush.
What We Got and What We Paid: One grilled red snapper dinner with sides of vegetables and red beans and rice, a bottle of Mountain Dew, one frogs' legs dinner with green beans and macaroni and cheese and a small fountain Diet Coke, all for $26.76. Note: it is easy to eat a lot cheaper here, and they have a $6.99 lunch special, but we were trying the larger dinners.
Elapsed Time from Our Arrival to Food Arrival: 21 minutes.
Rating
He Said: You could do worse as far as getting a healthy meal goes. But I'd call ahead and pick it up next time.
She Said: If you want to try frogs' legs, these represent well, but I'd get them at the drive-through.
So… He Said and She Said: Go here for Southern chicken, fish and wings (and frogs' legs!), but you might not want to dine in.
NOW AVAILABLE:
If you like these reviews, you might enjoy Jay Ruud's most recent novel, now available from the publisher at https://encirclepub.com/product/the-bleak-and-empty-sea/. Also available from Amazon or Barnes and Noble.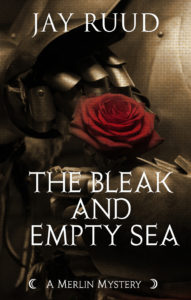 When word comes to Camelot that Sir Tristram has died in Brittany of wounds suffered in a skirmish, and that his longtime mistress, La Belle Isolde, Queen of Cornwall, has subsequently died herself of a broken heart, Queen Guinevere and her trusted lady Rosemounde immediately suspect that there is more to the story of the lovers' deaths than they are being told. It is up to Merlin and his faithful assistant, Gildas of Cornwall, to find the truth behind the myths and half-truths surrounding these untimely deaths. By the time they are finally able to uncover the truth, Gildas and Merlin have lost one companion and are in danger of losing their own lives.
Order from Amazon here: https://www.amazon.com/Bleak-Empty-Sea-Tristram-Mystery/dp/1893035735/ref=sr_1_1?s=books&ie=UTF8&qid=1503328086&sr=1-1&keywords=Bleak+and+Empty+Sea
Order from Barnes and Noble here: https://www.barnesandnoble.com/w/the-bleak-and-empty-sea-jay-ruud/1126958139?ean=9781893035737
Comments
comments
http://jayruud.com/wp-content/uploads/2018/03/IMG_8470.jpg
3024
4032
Jay Ruud
http://jayruud.com/wp-content/uploads/2014/08/JayRuud.png
Jay Ruud
2018-03-11 21:34:08
2018-03-11 21:34:08
Captain Hook's Fish and Chicken