Review No. 72: Eat My Catfish
2125 Harkrider Street
(501) 588-1867
36.8 percent finished reviewing Conway restaurants
The Situation
He Said: How could you not be curious about a restaurant with the enticing name of "Eat My Catfish"? It's just a fun name to say. And I've been saying it every time I've passed by this place ever since it opened, usually using my crotchety-old-man voice, which makes it even more fun to say. But this is the first time we've ever eaten here, being too dyed in the wool in our Yankeeness to be that interested in catfish. Then along came our quest to eat at every Conway restaurant.
Eat My Catfish started in 2008 as a food truck run by then 24-year-old Travis Hester in Benton, using his family recipes for catfish and crawfish. He was successful enough to open a brick-and-mortar place in 2012, follow it with another branch in Conway less than two years later, and then a third location in Little Rock. Regularly chosen as having the best catfish in central Arkansas in "People's Choice" awards, Eat My Catfish obviously has a wide appeal. So we were off to see if it lived up to its reputation.
She Said: Yes, Ruud, you've been saying "Eat My Catfish" in that voice so many times, I thought the restaurant was older than it is, so I was surprised at the story of its origin. It is a funny name, perhaps more suited to a food truck than a dine-in restaurant, and it was time for us to finally visit and eat Travis's catfish! (For the record, I really like catfish, even though I'm not a native southerner. Maybe it's my mom's Missouri roots.)
Ambience:
He Said: You wouldn't necessarily think that this is a prime location for a restaurant, essentially being in the parking lot of a strip mall containing a pawn shop, the Salvation Army, and other not particularly upscale businesses. But it is right on Harkrider and gets a great deal of traffic, so they seem to be doing fine here, and it's an attractive enough building in itself on the outside.
Inside, this is a diner-like lunch place, with reasonably comfortable booths and tables, signs on the wall with drawings of catfish, crawfish and the like, a couple of TV sets with sports on them, and corrugated metal walls similar to The Wing Stop, which we reviewed a few months ago. It's comfortable enough for lunch. Maybe not the place to go on your Big Date.
She Said: Although it's probably fun on some date nights before or after a movie. I liked the interior. There's not a lot of natural light, but there's not a pretty view anyway, as you say. I liked the décor in the warm tones and the seating choices, 2-top booths, 4-top booths, ginormous booths and tables of various sizes. The restaurant has more than one room, too, so you can find a place you're comfortable. I felt right at home here.
Drinks
He Said: They have Coke products available as self-serve fountain drinks here, and that includes Barq's Root Beer, so that's what I got, and refilled it before I left to have one for the road.
She Said: I didn't realize they offered beer and wine until I had ordered my unsweetened iced tea, but I didn't change my order because I knew the food would be filling. The beer selection looks good, though, including Shiner Bock. It looked like they offered one each of a red or white wine in little individual-serving bottles, but the red wine, my usual choice, was in the fridge. If I order some there ever, I'll definitely ask for it room temperature, but seeing red wine in the beverage fridge makes me think I might want to stick to beer here. Anyway, I had the iced tea, and it was fine.
Food
He Said: This restaurant puts me in a quandary because of my extreme low-fat diet. Catfish and chicken, which comprise the majority of the entrees here, are both relatively low in fat, but every chicken or catfish entrée here is fried, and that manner of preparation jacks up the fat content astronomically. The dishes here that are not fried are shrimp, crab, and crawfish, dishes which for other reasons I'm averse to. So what's a pancreas to do?
I decided to go with the chicken, since She Said was having catfish, so I ordered the six-piece boneless wings with honey barbecue sauce. The chicken was fresh and lightly battered. With a tasty sauce with just enough of a kick to it to make my lips tingle. A couple of the pieces were a little stringy, but for the most part it was tender and juicy.
More impressive to me were the fries. They were clearly made from fresh potatoes and were crispy and spicy on the outside and tender on the inside. These have to be some of the best fries around!
She Said: I agree with you about the fries, Ruud. They were amazing. The texture inside and outside was perfect, and the seasoning was really flavorful without being overpowering. I was glad I did the upgrade to a side of fries with my po' boy.
Because I of course got a catfish po'boy. I love those, and this one may be one of the best I've enjoyed in Arkansas. The bread was delicious French bread, with the perfect contrast of crust and soft bread. The slaw that came on the sandwich was the perfect dressing, and the catfish was plentiful, well seasoned and perfectly cooked for my (albeit Yankee) taste. I couldn't finish either the fries or the sandwich, but I did my best to try.
I had to leave room because I also ordered the apple fried pie. Getting this instead of the beer was the right call. Even though it was fried, the crust wasn't greasy. I liked the filling, though I thought it was a little sugary (I like the natural sweetness of fruit flavors in a dessert), but I enjoyed it, and will certainly sample other fried pies here.
Service
He Said: This is one of those places where you order at the counter when you come in, and they give you a number and bring you the food when it's done. The young woman taking our order was friendly and patient as we stumbled over what to eat and asked her questions, because we hadn't eaten here before. The server who brought our food was prompt and efficient, and they come by and clear up the dishes here, though most things are disposable. There is a tip jar at the counter, which you probably want to throw something in, since I'm guessing these kids don't make a huge salary.
She Said: Yes, as our dear readers know, this service model isn't my favorite. I want to be seated, peruse the menu and have wait staff come to me, but I'm getting used to it. And everyone here was friendly and attentive, professional and efficient.
What We Got and What We Paid: Six boneless chicken wings with French fries, a catfish po' boy with French fries, one iced tea, one root beer, and an apple fried pie, all for $23.00 even.
Elapsed Time from Entry to Food Arrival: 12 minutes.
Rating:
He Said: What I had was good, but I'm hesitant to return because everything is fried. I wish they had a broiled or grilled option.
She Said: One of the best catfish po'boys around, with stellar fries and tasty desserts. And beer!
So…He Said and She Said: Eat this catfish! And save room for fries!
And by the way, if you like reading "Eat It, Conway," you might be interested in Jay Ruud's new "Merlin Mystery" novel, the third in the series, which will be released on November 10 and now available for pre-ordering on Amazon and on Barnes and Noble: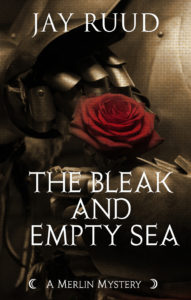 When word comes to Camelot that Sir Tristram has died in Brittany of wounds suffered in a skirmish, and that his longtime mistress, La Belle Isolde, Queen of Cornwall, has subsequently died herself of a broken heart, Queen Guinevere and her trusted lady Rosemounde immediately suspect that there is more to the story of the lovers' deaths than they are being told. It is up to Merlin and his faithful assistant, Gildas of Cornwall, to find the truth behind the myths and half-truths surrounding these untimely deaths. By the time they are finally able to uncover the truth, Gildas and Merlin have lost one companion and are in danger of losing their own lives.
Pre-order from Amazon here: https://www.amazon.com/Bleak-Empty-Sea-Tristram-Mystery/dp/1893035735/ref=sr_1_1?s=books&ie=UTF8&qid=1503328086&sr=1-1&keywords=Bleak+and+Empty+Sea
Pre-order from Barnes and Noble here: https://www.barnesandnoble.com/w/the-bleak-and-empty-sea-jay-ruud/1126958139?ean=9781893035737
Comments
comments
http://jayruud.com/wp-content/uploads/2017/08/IMG_9872.jpg
3024
4032
Jay Ruud
http://jayruud.com/wp-content/uploads/2014/08/JayRuud.png
Jay Ruud
2017-08-21 09:02:15
2017-08-21 10:12:33
Eat My Catfish