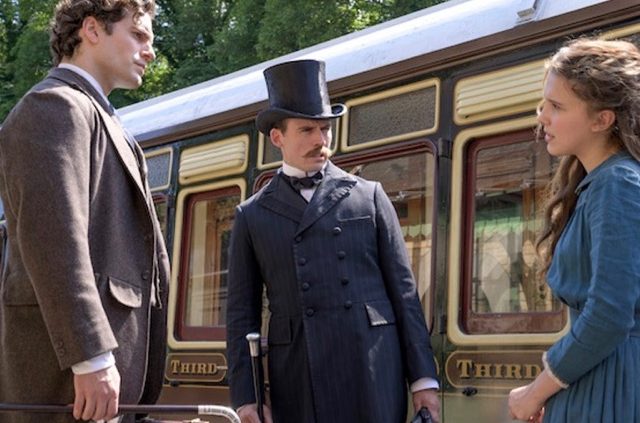 Enola Holmes
Harry Bradbeer (2020)
A couple of years ago, Millie Bobby Brown, best known for her acclaimed portrayal of the character Eleven on the popular Netflix series Stranger Things, joined her older sister Paige in reading a six-book YA series of novels by Nancy Springer about Sherlock Holmes' irrepressible teenaged sister Enola, and decided she really wanted to play that part in a film version of the first novel. And if you're an acclaimed actress, even if you're not yet 16, you can make things happen. And presto, just two years later, Enola Holmes appears on Brown's favorite network, with Brown herself as one of the film's producers, and in the starring role.
Springer, an Edgar-Award winning writer of YA and adult mystery and fantasy, was nominated for Edgar Awards for two of the Enola Holmes novels, written between 2006 and 2010. The popularity of those books is only part of a general resurgence of interest in the Sherlock Holmes character that also, of course, includes the Benedict Cumberbatch TV series (2010-17) as well as the Guy Ritchie films with Robert Downey Jr. in the title role. The tendency in recent films of putting powerful women into roles traditionally reserved for men, the Captain Marvels and the Wonder Womans (Women?) and yes, most recently the Mulans, is a background for this. And Lucy Liu's female Dr. Watson in the CBS series Elementary (2012-19), or most relevantly the Japanese HBO series Miss Sherlock, all suggest that the time is right for a blockbuster Enola Holmes franchise.
And that is surely what this film's makers expected when Enola Holmes was released on the widescreen—something that did not happen because: 2020. Instead, Netflix opted to bring it out on the small screen, and since its release on September 23, it has been the No.1 streaming film on Netflix. But both director Harry Bradbeer (who directed the groundbreaking feminist TV shows Killing Eve and Fleabag) and screenwriter Jack Thorne (who worked on the BBC adaptation of Philip Pullman's His Dark Materials and won the Tony for Best Play for Harry Potter and the Cursed Child) have been highly successful in small screen productions, so it is probably no great loss to them to see their work on Enola Holmespremier in the manner it has. Perhaps it won't be the next Harry Potter franchise (as producers may have hoped with Thorne's connections), but it's off to a good start in streaming land.
The film, adapting the story of the first novel in Springer's series, The Case of the Missing Marquess, opens on the morning of Enola's 16th birthday. When she awakes, Enola expects to find her mother Eudoria (Helena Bonham Carter) waiting to celebrate her day with her, but discovers instead that her mother has disappeared, leaving a few gifts but no explanation of where she's gone. Her mother has been Enola's chief companion, raising her herself and teaching her everything from Judo to cryptography in order to make her a smart, independent feminist in a Victorian England hostile to such women, and finding Mom suddenly vanished leaves Enola in something of a quandary—though in truth, it seems clear that Eudoria's lessons have been preparing her for just this moment all along.
Enola contacts her significantly older brothers, Mycroft and Sherlock, and goes to meet them at the train station, but they walk right by her, failing to recognize the younger sister whom, like their mother, they have not bothered to visit for more than a decade. Mycroft (Sam Claflin of The Hunger Games franchise), the fussy, priggish older brother who is Enola's legal guardian, is particularly miffed that she wears no hat or gloves, and insists that her mother's subversive training be reversed by Enola's immediate enrollment in a prison-like finishing school, run by the loathsome Miss Harrison (from both Bradbeer's Killing Eve and Fleabag), an uptight spinster heavily invested in the patriarchy. Her other brother, the famous Sherlock (Henry Cavill of Man of Steel), is more sympathetic but reluctant to actually take any sort of positive action.
But it turns out Eudoria has not left Enola completely without a clue, and the girl finds a secret message in one of Mom's birthday presents that leads her to a stash of hidden money, allowing Enola to escape Mycroft's grasp, disguised as a boy, to search for her missing mother. But on a train bound for London, she meets the young Viscount Tewkesbury, Marquess of Basilwether (Louis Partridge of TV's Medici) stowed away in some luggage. Tewkesbury, it seems, is also running away from his family, who want to send him off to India so that he can't take his place in the House of Lords. After Enola rescues Tewkesbury from a villainous assassin named Linthorn (Burn Gorman from Game of Thrones) by forcing him to jump from the train, she parts company with him once they reach London, considering him just a "useless boy." Obviously, the two are destined for a YA romance, and very soon, when Enola realizes how many people are trying to track Tewkesbury down, she puts her search for her mother on hold and tries to find Tewkesbury again instead.
I don't want to say too much more about the outcome of the plot to avoid spoilers. But when Mycroft convinces Inspector Lestrade of Scotland Yard (Adeel Akhtar, another Killing Eve veteran) to find Enola, we have Enola trying to track down both Tewksbury and her mother, Linthorn looking for Tewkesbury and Enola, Lestrade also looking for Tewkesbury and Enola, and Sherlock tracking Enola, Eudoria, and Tewkesbury as well. And when Sherlock comes to Lestrade's office to tell him he's solved the Tewkesbury case, Lestrade asks him first, how he solved the case, and second, how his sister was able to solve it first.
The fact is there isn't much to solve. This isn't the kind of plot you expect from a Sherlock Holmes story: There's no great mystery with obscure clues that must be put together by a superior intellect. It's just a matter of finding out where people have snuck off to, and in the case of Enola and her mother, reading some coded messages—an exercise which we as an audience are not invited to engage our own wits with. Enola is a daring, intrepid and engaging heroine, and Brown certainly carries the movie like a pro, but we don't see her solving a mystery Sherlock-style. Nor do we ever see Sherlock himself solving a mystery Sherlock style. In fact, Cavill has remarkably little to do in this film, in which he is barely more than a cameo. He's been upstaged by Wonder Woman before, so maybe the Man of Steel is used to this. But it seems a missed opportunity and a waste of the most recognizable face in the movie.
As an actual "mystery" the movie disappoints. It does deliver, however, as a kind of history lesson: The Third Reform Bill of 1884, which serves as background for the film until it turns out to be of particular importance in the plot against Tewkesbury, expanded the vote in England to give working men in rural England the same voting rights as men in the cities, as long as they were adult householders who paid a minimum of 10 pounds a year for lodgings. This did not ensure universal suffrage: Forty percent of English men could still not vote. Nor could 100 percent of women. And the bill failed the first time it was brought before the House of Lords. Thus the need for Tewkesbury's single vote to ensure passage of the bill is not a fantasy.
Nor is Eudoria's involvement with the most radical cells of the Women's Suffrage movement. That movement had become a national one in the United Kingdom by the 1870s, and it is certainly true that the movement was more militant in England than it was in America, and did include the occasional arson, but it still may be a bit anachronistic to associate Eudoria with the making of bombs and incendiary devices as early as the 1880s. And while it's true that British suffragettes were indeed taught martial arts to help them defend themselves against police, those were tactics employed in the 1910s, not thirty years earlier, as the film would have it.
But these are quibbles. There is a general truth to the film's representation of the struggle for universal female and male suffrage, a truth that is not out of place during an election year when voter suppression is a real issue more than a hundred years later. These issues aren't the main thrust or takeaway of the movie—that is actually "wait for the second installment in this franchise…" But it's there. Three Tennysons for this entertaining film.
NOW AVAILABLE:
To the Great Deep, the sixth and final novel in my Merlin Mysteries series, is now available from the publisher, Encircle Publishing,  at http://encirclepub.com/product/to-the-great-deep/
You can also order from Amazon (a Kindle edition is available) at https://www.amazon.com/Jay-Ruud/e/B001JS9L1Q?ref=sr_ntt_srch_lnk_1&qid=1594229242&sr=8-1
Here's what the book is about:
When Sir Agravain leads a dozen knights to arrest Lancelot in the queen's chamber, he kills them all in his own defense-all except the villainous Mordred, who pushes the king to make war on the escaped Lancelot, and to burn the queen for treason. On the morning of the queen's execution, Lancelot leads an army of his supporters to scatter King Arthur's knights and rescue Guinevere from the flames, leaving several of Arthur's knights dead in their wake, including Sir Gawain's favorite brother Gareth. Gawain, chief of what is left of the Round Table knights, insists that the king besiege Lancelot and Guinevere at the castle of Joyous Gard, goading Lancelot to come and fight him in single combat.
However, Merlin, examining the bodies on the battlefield, realizes that Gareth and three other knights were killed not by Lancelot's mounted army but by someone on the ground who attacked them from behind during the melee. Once again it is up to Merlin and Gildas to find the real killer of Sir Gareth before Arthur's reign is brought down completely by the warring knights, and by the machinations of Mordred, who has been left behind to rule in the king's stead.
Comments
comments
http://jayruud.com/wp-content/uploads/2020/09/ENOLA-HOLMES.jpg
437
640
Jay Ruud
http://jayruud.com/wp-content/uploads/2014/08/JayRuud.png
Jay Ruud
2020-09-30 09:30:34
2020-09-30 09:30:34
Enola Holmes