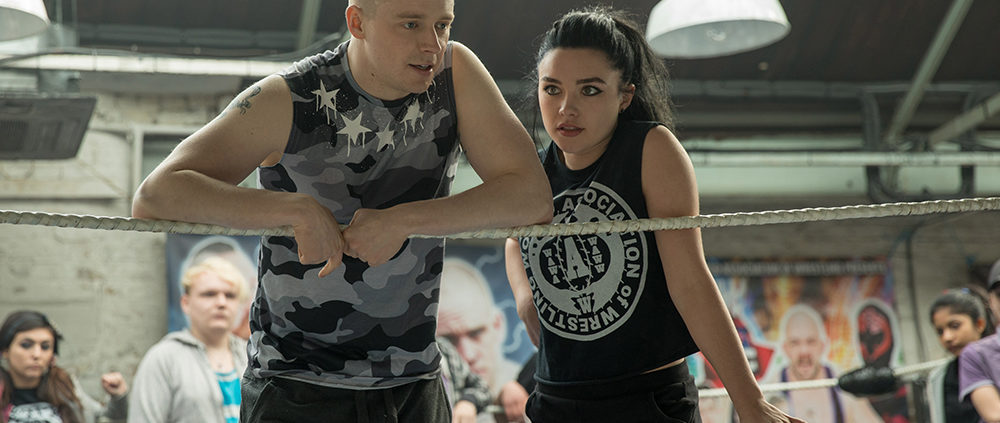 Fighting With My Family
Stephen Merchant (2019)
I've always been put off by professional wrestling. Having a respect for the sport in its pure competitive aspect in high school, college, or Olympic venues, I've always felt that the professional marketing of the sport as a form of theater was a disservice to a respectable athletic endeavor. And frankly, I also figured that anybody dumb enough to take seriously the hyper-histrionic blusterings of those preening grandstanders posing as athletes was probably dumb enough to, I don't know, vote for…Brexit or something equally absurd. So, as my wife likes to say, I might not be the intended audience of a film like Fighting With My Family, the part-comedy, part sports-underdog biopic of 26-year old WWE superstar known as "Paige."
Or maybe I'm exactly the intended audience. The film, produced by WWE Studios with the WWE's most famous alumnus, Dwayne "The Rock" Johnson as executive producer, is primarily a promotional tool for the league, a venture into brand management with the goal of putting the likeable Paige forward as the face of the sport, and promoting her story as a glimpse into the gritty world of professional wrestling behind all the glitter. Thus the film may be intended to entertain and rally the troops of those already taken with the sport, and pique the interest of those for whom, like myself, the sport would normally have no appeal, but who like a good story.
And this film does tell a good story. Based on the 2012 British documentary about Saraya-Jade "Paige" Bevis and her family (called The Wrestlers: Fighting With My Family) and written and directed by Stephen Merchant (best known as co-creator of the original British version of The Office), the film tells the improbably but largely true story of the rise of the WWE icon from her humble beginnings and her incredibly quirky working-class and wrestling-obsessed family in Norwich, England, to international fame. Paige is played with sympathy and genuineness by the remarkable Florence Pugh, who was last seen playing Cordelia opposite Anthony Hopkins in last year's BBC production of King Lear. To go from that to playing a WWE star is for an actor, one might say, the definition of range.
Saraya's family consists of dad Ricky (Nick Frost from Shawn of the Dead), a former bank robber who was "saved" by a career in wrestling, mom Julia (Lena Headey from TV's Game of Thrones), a former wrestler herself who named her daughter after her own ring name, and brother Zak (Jack Lowden of Dunkirk), whose only dream is to wrestle in the big time—the WWE. There is another half-brother who is also a wrestler, Roy, but he's currently in prison for what you might call anger-management issues.
The family business in Norwich involves wrestling in the independent British circuit called the World Association of Wrestling (WAW) as well as promoting wrestlers, and running a gym for the training of young wrestlers. "It's not fake, it's fixed," we're told at one point: If you learn nothing else from this movie, you learn that while the matches are scripted and choreographed, they are not "fake" in the sense that they do involve a good deal of athleticism as well as ability, strength, and endurance. In one scene, Ricky, setting up a gig for one of his wrestlers, must persuade the fellow to take a trash can lid in the face and, for a clincher, a "bowling ball to the bollocks" for the sake of a good show.
As for the gym business, Zak cruises the neighborhood and picks up likely adolescents interested in learning something about wrestling, even one particular regular student who is blind but still wants to get in the ring. A point is also made, a bit heavy handedly, that this particular after-school interest manages to keep some of the young roughnecks from choosing less constructive hobbies, like selling drugs on street corners.
Zak and Saraya wrestle in the WAW themselves, Zak under the name "Zodiac" and Saraya as "Britani Knight." Dreaming of better days, Zak and Saraya have sent an audition tape to the WWE in hopes of securing a tryout with the league and, thereby, a chance for fame and riches. To the family's great delight, they are invited to London for an audition, where with several other potential wrestlers, they go through a difficult tryout for WWE coach and trainer Hutch Morgan (Vince Vaughn). After a test during which Morgan goads the hopefuls with insults and challenges not unlike a sergeant during basic training, he chooses only one wrestler to continue the process: Saraya. Zak, to whom the tryout mattered far more than to Saraya, is devastated, but despite Saraya's pleading with Morgan to pick Zak as well, the decision is final.
From here the film takes a fairly predictable turn, as Merchant alternates between scenes of Saraya and Zak. Saraya, now known by her ring name of Paige (they already have a Britani, she is told), is working in the NXT, the WWE's developmental league headquartered in Orlando, Florida. Here the pale, Goth, nose-pierced Paige endures more verbal abuse from Morgan, homesickness, guilt at having displaced her brother and stolen his dream, and annoyance at her peers, the blonde and tanned other female WWE hopefuls, who have no wrestling background but come from the ranks of models and cheerleaders. Meanwhile, back home in Norwich, Zak is persistently but fruitlessly pestering Morgan to give him another chance, while sinking further and further into a downward spiral of depression and alcoholism, neglecting his coaching duties at the gym and building to some sort of violent outburst that may lead him into a prison sentence in the footsteps of his brother.
I probably don't need to tell you any more, not only because it would be a spoiler but also because you can probably write the ending yourself—it is a conventional sports/underdog story after all, even though it is, as they say, "based on a true story," so the details may not be exactly as you imagine. And the story has been simplified and streamlined so that, for example, no mention is made of the fact that Bevis had won a number of European titles before moving to the WWE, nor is her NXT championship depicted. Further, Hutch Morgan is a completely fictional character. But as the plot of the film develops, it is clear that, for the sake of the story, Morgan needed to be invented.
Vaughn is memorable as Morgan, playing the part with restraint and sincerity. The Rock makes a couple of notable and amusing cameos that lift the film at key points. Frost and Headey are terrific as the wrestling parents, quirky and funny without coming across as ignoble or as caricatures. Lowden is sympathetic and believable as the also-ran brother. But the film is really carried by Pugh, who remains the likable and emotional focus of the film throughout. Admittedly I am probably not going to ever watch a single episode of the WWE circus, but I did think watching this film was time well spent. Three Tennysons for this one.
NOW AVAILABLE!!!
Jay Ruud's most recent novel, Lost in the Quagmire: The Quest of the Grail, IS NOW available from the publisher AS OF OCTOBER 15. You can order your copy direct from the publisher (Encircle Press) at http://encirclepub.com/product/lost-in-the-quagmire/You can also order an electronic version from Smashwords at https://www.smashwords.com/books/view/814922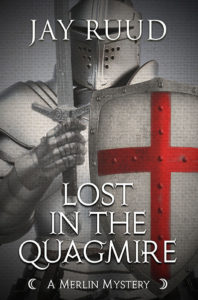 When Sir Galahad arrives in Camelot to fulfill his destiny, the presence of Lancelot's illegitimate son disturbs Queen Guinevere. But the young knight's vision of the Holy Grail at Pentecost inspires the entire fellowship of the Round Table to rush off in quest of Christendom's most holy relic. But as the quest gets under way, Sir Gawain and Sir Ywain are both seriously wounded, and Sir Safer and Sir Ironside are killed by a mysterious White Knight, who claims to impose rules upon the quest. And this is just the beginning. When knight after knight turns up dead or gravely wounded, sometimes at the hands of their fellow knights, Gildas and Merlin begin to suspect some sinister force behind the Grail madness, bent on nothing less than the destruction of Arthur and his table. They begin their own quest: to find the conspirator or conspirators behind the deaths of Arthur's good knights. Is it the king's enigmatic sister Morgan la Fay? Could it be Arthur's own bastard Sir Mordred, hoping to seize the throne for himself? Or is it some darker, older grievance against the king that cries out for vengeance? Before Merlin and Gildas are through, they are destined to lose a number of close comrades, and Gildas finds himself finally forced to prove his worth as a potential knight, facing down an armed and mounted enemy with nothing less than the lives of Merlin and his master Sir Gareth at stake.
Order from Amazon here: https://www.amazon.com/Lost-Quagmire-Quest-Merlin-Mystery/dp/1948338122
Order from Barnes and Noble here: https://www.barnesandnoble.com/w/lost-in-the-quagmire-jay-ruud/1128692499?ean=9781948338127
Comments
comments
http://jayruud.com/wp-content/uploads/2019/03/fighting-with-my-family-2.jpg
563
1000
Jay Ruud
http://jayruud.com/wp-content/uploads/2014/08/JayRuud.png
Jay Ruud
2019-03-06 13:34:35
2019-03-06 13:38:53
Fighting With My Family