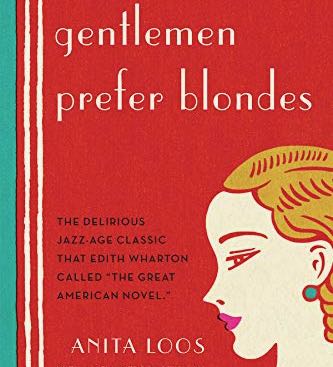 Gentlemen Prefer Blondes
Anita Loos (1925)
If you mention the title Gentlemen Prefer Blondes to the average person nowadays, he or she is almost certain to assume you are referring to the classic 1953 film that catapulted Marilyn Monroe to superstardom and that gave us the iconic pink-gowned musical rendition of "Diamonds are a Girl's Best Friend." Directed by acclaimed director Howard Hawks (Red River, Sergeant York, To Have and Have Not) and co-starring screen legend Jane Russell, the film was actually based not on the book but on the hit 1949 Broadway musical, which was based loosely on Anita Loos's 1925 novel.
That novel came out the same year as Fitzgerald's The Great Gatsby, and like that novel is a fictional presentation of life in the Jazz Age. As such, it's generally overshadowed by the 600 pound gorilla that is Gatsby, but if you're interested in a comic rather than a tragic depiction of the age, you're going to want to take a look at Loos's book. Consider these fascinating facts: No less a novelist than Edith Wharton called Gentlemen Prefer Blondes "the Great American Novel." William Faulkner wrote Loos a personal letter telling her how he admired the book and sent her his "envious congratulations" on the character of Dorothy Shaw, the book's wisecracking sidekick. "I wish I had thought of Dorothy first," Faulkner lamented. Meanwhile James Joyce, in the midst of composing Finnegans Wake and allowing himself only a small daily window of personal reading time as he attempted to save his failing eyesight, devoted three days to reading Gentlemen Prefer Blondes. In England, H.G Wells took Loos out to dinner to celebrate her success, and Aldous Huxley sent her a letter declaring he was "enraptured by the book" and "sincerely admired" her so much that he wanted to meet her.
In fact Loos was already known as a Hollywood screenwriter when the seed of the novel was planted on a cross-country train on which she was traveling with her husband (director John Emerson), Douglas Fairbanks, several other men and a blonde starlet. She noted how all the men fell over each other to do things for the blonde, while Loos was left to carry her own luggage. Describing her feelings, she wrote that she thought she and the other woman were about equal in almost all areas except one. "Then why did that girl so far outdistance me in feminine allure? She was a natural blonde and I was a brunette."
Loos wrote one humorous vignette on the subject and showed it to her friend H.L. Mencken, an intellectual elitist and merciless satirist of American folly who she knew had, ironically, a weakness for the proverbial "dumb blonde." Mencken, though surely recognizing that the piece was in part poking fun at himself, helped Loos place her first sketch, introducing her heroine Lorelei Lee, in the new magazine Harper's Bazaar. The popular reception of the first story created a demand for more, and Loos ultimately produced a series of short sketches called "The Lorelei Stories," helping turn Harper's Bazaar into a significant national magazine, and finally convincing the publisher Boni & Liveright to bring them out in book form in 1925 under the title Gentlemen Prefer Blondes: The Illuminating Diary of a Professional Lady. The small first run of the book sold out in a single day, as did the much larger second run, and the book became a runaway best-seller. It was the second-highest selling novel of 1926, after John Erskine's The Private Life of Helen of Troy, which I'm guessing you haven't read. Loos's book went on to 85 editions in her own lifetime, and was translated into at least 13 different languages including Russian and Chinese (the Soviets thought it a great sendup of capitalism, though Loos thought they had missed the funny parts).
The book is episodic, as you might expect, given its origin in a series of sketches. It concerns the adventures, in Europe and America, of the blonde gold-digger from Little Rock, Lorelei Lee, and her best friend and companion, Dorothy Shaw. It is presented as a first person narrative in the form of Lorelei's diary (Helen Fielding's Bridgett Jones owes as much to Anita Loos as to Jane Austen), and a good part of the humor in the novel comes from Lorelei's essentially ungrammatical but affected speech: Lorelei is always trying to "improve her mind" at the urging of her sugar-daddy, Gus Eisman, the "button king" of Chicago. Eisman met Lorelei when she was working as a Hollywood actress, but did not think such work "becoming," and so brought her to New York and set her up in an apartment, where he began to spend a good deal of money "educating" her. Her language is thus filled with misspellings and grammatical gaffes, concluding her spurning of the construction "Dorothy and me" whether subject or object, so things are always happening "to Dorothy and I."
The effect of this, for me, is an instant connection with Huckleberry Finn, American literature's most iconic grammatically-challenged narrator, who has to have been in Loos's mind as she created her own speaker. Like Huck, Lorelei has a naivete that often allows us as readers to see to the heart of pretensions and hypocrisy. A case in point is her affair with the famous and respected Presbyterian moralist Henry Spoffard, scion of a wealthy Philadelphia family who spends his time censoring movies. He and his fellow censors cut everything out of movies that they think people shouldn't see. After which they have no more interest in those movies—though they do like to put all the censored parts together into one film and rewatch that.
Spoffard wants to marry Lorelei, and though she really doesn't like him much, she does like his money a whole lot. But when as an engagement ring he gives her his college class ring instead of the diamond from Cartier's she was expecting, she determines to break things off at the earliest opportunity. She can't just dump him, because she wants to use his letters to sue him for breach of promise after he dumps her, so she charges a lot of things to his account, and gets Dorothy to tell him what an extravagant spendthrift she is.
Ironically, she meets a young screenwriter who is as much of a gold-digger as she is, and who wants to use her to get her new husband to finance his film projects—and Lorelei falls for this new guy and comes up with the creative solution of telling Spoffard that the whole extravagant spendthrift thing was just a test to see if he really loved her.
The novel is full of these kinds of shenanigans, and I don't want to spoil it by giving them away. But let me say that this is one of the funniest novels in American literature. It satirizes the extravagance, decadence and hedonism of the Jazz Age—there is a hilarious scene in which Lorelei has a session with Sigmund Freud in Vienna, which ends with Freud admitting that he cannot analyze Lorelei because she has never repressed any desire in her whole life. But the book also satirizes the gullibility of men, especially men with too much money and too great an affection for lovely young blondes. It lambastes the pretensions of powerful men who want to claim such sweet young things for themselves, and celebrates in its own way the ability of women to use their own sexuality in the power politics of personal relationships: Significantly, in her pre-Hollywood days as a stenographer, Lorelei was tried for attempting to kill her boss, whom she discovered was a sexual predator (he "became shot" she says), but was acquitted after using her sexuality on the judge and jury.
Although most reviewers in 1925 thought the book was simple insubstantial entertainment, subsequent generations have been more in the camp of Wharton, Joyce, and Faulkner. The novel was recently named by The Guardian as one of the 100 Best Novels Written in English. It may well be the funniest novel on that list. I'm going to agree with The Guardian—four Shakespeares for this one.
NOW AVAILABLE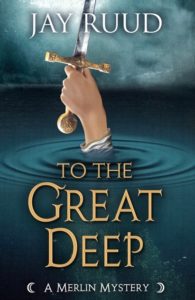 To the Great Deep, the sixth and final novel in my Merlin Mysteries series, is now available from the publisher, Encircle Publishing, at http://encirclepub.com/product/to-the-great-deep/
You can also order from Amazon (a Kindle edition is available) at https://www.amazon.com/Jay-Ruud/e/B001JS9L1Q?ref=sr_ntt_srch_lnk_1&qid=1594229242&sr=8-1
Here's what the book is about:
When Sir Agravain leads a dozen knights to arrest Lancelot in the queen's chamber, he kills them all in his own defense-all except the villainous Mordred, who pushes the king to make war on the escaped Lancelot, and to burn the queen for treason. On the morning of the queen's execution, Lancelot leads an army of his supporters to scatter King Arthur's knights and rescue Guinevere from the flames, leaving several of Arthur's knights dead in their wake, including Sir Gawain's favorite brother Gareth. Gawain, chief of what is left of the Round Table knights, insists that the king besiege Lancelot and Guinevere at the castle of Joyous Gard, goading Lancelot to come and fight him in single combat.
However, Merlin, examining the bodies on the battlefield, realizes that Gareth and three other knights were killed not by Lancelot's mounted army but by someone on the ground who attacked them from behind during the melee. Once again it is up to Merlin and Gildas to find the real killer of Sir Gareth before Arthur's reign is brought down completely by the warring knights, and by the machinations of Mordred, who has been left behind to rule in the king's stead.
Comments
comments
http://jayruud.com/wp-content/uploads/2021/09/51kMLsI2QlL.jpeg
367
333
Jay Ruud
http://jayruud.com/wp-content/uploads/2014/08/JayRuud.png
Jay Ruud
2021-09-01 10:13:23
2021-09-01 10:13:25
Gentlemen Prefer Blondes