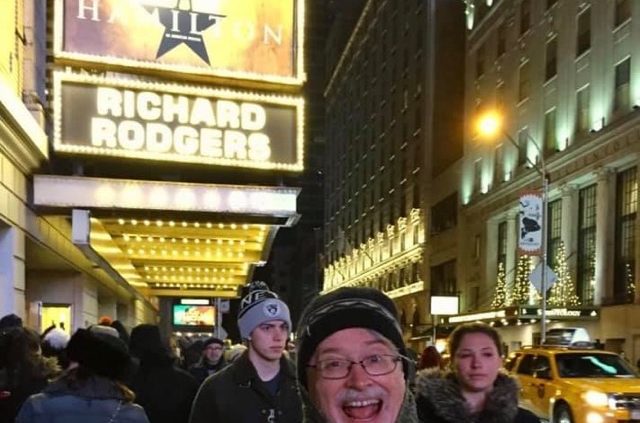 Hamilton
Thomas Kail (2020)
If you were never able to get to New York and cough up the $500 or so it would have cost you to see the live Broadway production of the phenomenal hit Hamilton in 2016, you can now see it on the small screen for just the price of a month's subscription to Disney+. And while it might not be quite the same as being in the room where it happened, the new filmed-live stage production that began streaming over the July 4th holiday weekend is the next best thing, allowing viewers to feel the energy and intensity of the live Broadway show while also using nine different cameras deftly to bring us closeups and aerial shots we could never actually see from an orchestra seat in the Richard Rodgers theater on West 46th Street.
Unless you've been living in a hole in the ground for the past month (which I admit is a real possibility in the current pandemic), you know that the live-performance film of Lin-Manuel Miranda's mega-hit, originally scheduled to be released in theaters in the fall of 2021, was put on the front burner by Disney+ as a fitting offering for the Independence Day weekend, a canny and apt choice considering it a) tells the story of one of the most important but least well-known of the framers of our nation; b) is already a hugely popular production, not only among those who have seen it on the stage but of the millions more who have made its soundtrack the best-selling original cast recording of any musical in history; and c) takes the bold step of casting Black, Asian and Latinx actors in the lead roles of America's founding fathers and mothers—the story of America then told by America now, as Miranda has put it—at a moment when America, on her birthday, is seriously questioning her past and her systemic racism. The moment, in other words, is ripe. As Hamilton might say, how lucky we are to be alive right now.
Sure, Disney had its eye on challenging Netflix as the most influential streaming provider and social media presence, and paid $75 million for the exclusive privilege of airing Hamilton.  It remains to be seen just how well their gamble paid off. But I know they got my money. Of course, I am a big fan of the Broadway musical, and an avid student of history, so I may actually be what my wife would call the intended audience. But truth to tell, this is hardly a typical musical, using a variety of styles but mostly rap and hip-hop. How many rap musicals can you name? Well, of course, there is Miranda's own In the Heights—the movie version of which had been scheduled to appear in theaters this summer—but other than that not many have been Broadway hits. Clearly though, there seems to be a market, and this may be the wave of the future. And Miranda is no dilettante in this musical genre: He credits artists like Tupac, Mobb Deep, Notorious B.I.G., Busta Rhymes, Jay Z, Pharoahe Monch, and others, as the inspirations for particular numbers or even specific lines, rhymes, or words. Now admittedly, I can't tell one of these artists from another, so you might think that someone my age (in the category of "ancient") would be less than enamored with the music here.
But it is impossible not to appreciate the electric energy of the musical's songs. And the fact is Miranda is quite a student of the classic Broadway musical: There are deliberate allusions to several of them, going all the way back to Gilbert and Sullivan, to whom he gives a nod when he has Washington state "Now I'm the model of a modern major general," and including Rodgers and Hammerstein, when Aaron Burr insists "You've got to be carefully taught," alluding to South Pacific's antiracist anthem. But it's not only specific lines. Miranda has made no secret that many scenes in Hamilton reflect or echo classic musical scenes. The concept of Hamilton's opening number Miranda has credited to Sondheim's Sweeney Todd, where the chief characters of the musical set the stage for the entrance of the protagonist, adding that the idea of making Hamilton's chief antagonist, Burr ("the damn fool that shot him") act as the story's narrator was inspired by Judas's narration of Jesus Christ Superstar. The idea of another early scene, in which Hamilton and his posse (Lafayette, Hercules Mulligan and John Laurens) raise their glasses to freedom and discuss the coming revolution, Miranda has attributed to Sondheim's Merrily We Roll Along, though many viewers will see an echo of Les Miserables' "Red and Black" scene. Miranda notes a debt to Les Mis as well in the song "Satisfied," in which Angelica Schuyler laments having lost Hamilton to her sister Eliza, wherein he has said he was "tryin' to out-Eponine Eponine." As for Hamilton's first meeting with Eliza (at a dance), Miranda says he was thinking about Tony's first meeting with Maria in West Side Story. And "The Schuyler Sisters" introductory song in New York ("the greatest city in the world") Miranda has called it his "One Short Day in the Emerald City" (from Wicked). I guess what I'm trying to say here is that fans of traditional musical theater will feel right at home with this production.
Historically, Miranda's show has the blessing of historian and biographer Ron Chernow, whose biography of Hamilton was Miranda's inspiration. Miranda also used Chernow's Pulitzer-Prize winning 2010 biography of George Washington in researching his script, and asked Chernow to be the show's historical consultant. While Chernow was quick to point out some of the poetic license Miranda took with the historical facts—putting Mulligan, Laurens, and Lafayette together with Hamilton in 1776, for example, when Hamilton had not met them all yet at that point—he saw the reason for Miranda's compressing certain events for the sake of the story. And it was certainly with Chernow's blessing that Miranda used various primary sources in composing scenes of the play: letters between Hamilton and Angelica Schuyler, polemics Hamilton and Jefferson had written attacking each other's positions in print, Washington's farewell address, and Hamilton's Reynolds Pamphlet (admitting and delineating his extramarital affair), among others.
Miranda sparkles and sizzles as the show's main focus, Alexander Hamilton, the "bastard, orphan son of a whore and a Scotsman," an immigrant from a Caribbean island who rose to power and influence in his new country, the fledgling U.S.A., purely through his own drive, hard work, and self-promotion. Just like his country, he says, he's "young, scrappy and hungry/And I'm not throwing away my shot." (There are three duels in the play, during the last of which Hamilton ironically literally does throw away his shot—so there's a lot going on in that number). As Hamilton's antagonist Aaron Burr, Leslie Odom Jr. (who won the Tony for Best Leading Actor in a Musical) is cold, ambitious, opportunistic and careful—""talk less, smile more" he advises Hamilton early on—and a pleasure to watch as his emotions range from the tender love of a father in "Dear Theodosia" to envy and frustration in "The Room Where It Happens." As Angelica, the sister-in-law Hamilton can't get out of his mind, Renée Elise Goldsberry (another Tony winner as Best Featured Actress in a Musical) dominates every scene she is in with a stunning stage presence and a magnificent voice. As George Washington, Christopher Jackson brings a dignity and gravitas to the role of the Revolutionary War hero and first president. One of the few white actors onstage is Jonathan Groff, who plays the extremely white King George III in a hilarious serenade to his colonies, to whom he promises "I'll kill your friends and family to remind you of my love." Groff's songs are in a Brit-pop style that contrasts sharply with the rest of the score, and sounds so much like a Beatles' song that Miranda and musical director Alex Lacamoire deliberately added instrumental allusions to "Getting Better" (guitar riff), "Penny Lane" (vibraphone) and "Being for the Benefit of Mr. Kite" (synth). If you know Jesus Christ, Superstar, you might say that this number out-Herods Herod.
The most memorable performance for me came from Daveed Diggs, Tony winner for Best Featured Actor in a Musical, who pays Lafayette in Act I and Thomas Jefferson in Act II. Diggs prances around the stage, engaging Hamilton in Rap Battles at cabinet meetings and rejoicing over Hamilton's public fall with the gleeful "Never gonna be president now!"
There has been some serious backlash over Hamilton since its nationwide premier this week, mainly from people saying it strikes the wrong note in the current moment, when the nation is dealing with very public examinations of its history of systemic racism. Indeed, the slavery question was swept under the rug by the very constitution that Hamilton defended in 51 essays of the Federalist Papers. The role of the Founding Fathers in the institution of slavery is glossed over in the play, according to critics. A close look at the play suggests that this is not entirely fair: Hamilton's best friend, John Laurens, is an ardent abolitionist who plans to organize a regiment of 3,000 Black soldiers who would be fighting for their own freedom in the Revolution. Hamilton chides Jefferson for Virginia's use of slaves as their unpaid labor force. But it's true that slavery is not the central issue of the play. At least not overtly. The casting of Black actors to play the Virginia slaveholders Jefferson, Washington, and Madison is an ironic reversal that celebrates the fact that in today's world, the human worth of these descendants of slaves is at least equivalent in value to those figures they portray onstage. But there is no getting around the fact that Miranda's play, first performed in 2015 during the optimism of the Obama administration, when putting a Black man in the role of president seemed natural, was intended for a very different America than the current one, in which long-held divisions and prejudices are exacerbated daily from powerful sources, and where only one unequivocal response will do. Miranda has responded to such criticisms, tweeting that they were valid: "The sheer tonnage of complexities & failings of these people I couldn't get," he tweeted. "Or wrestled with but cut. I took 6 years and fit as much as I could in a 2.5 hour musical. Did my best. It's all fair game."
One show can only do so much. And this one does a lot, and does it magnificently. Four Shakespeares for this one.
NOW AVAILABLE:
The Knight of the Cart, fifth novel in my Merlin Mysteries series, is now available from the publisher, Encircle Publishing, at https://encirclepub.com/product/theknightofthecart/
You can also order from Amazon at
https://www.amazon.com/Knight-Cart-MERLIN-MYS…/…/ref=sr_1_1…
OR an electronic version from Barnes and Noble at
https://www.barnesandnoble.com/w/the-knight-of-…/1133349679…
Here's what the book is about:
The embittered Sir Meliagaunt is overlooked by King Arthur when a group of new knights, including Gildas of Cornwall, are appointed to the Round Table. In an ill-conceived attempt to catch Arthur's notice, Meliagaunt kidnaps Queen Guinevere and much of her household from a spring picnic and carries them off to his fortified castle of Gorre, hoping to force one of Arthur's greatest knights to fight him in order to rescue the queen. Sir Lancelot follows the kidnappers, and when his horse is shot from under him, he risks his reputation when he pursues them in a cart used for transporting prisoners. But after Meliagaunt accuses the queen of adultery and demands a trial by combat to prove his charge, Lancelot, too, disappears, and Merlin and the newly-knighted Sir Gildas are called into action to find Lancelot and bring him back to Camelot in time to save the queen from the stake. Now Gildas finds himself locked in a life-and-death battle to save Lancelot and the young girl Guinevere has chosen for his bride.
Comments
comments
http://jayruud.com/wp-content/uploads/2020/07/106988001_10158960693804172_1902110121113622986_n.jpg
513
640
Jay Ruud
http://jayruud.com/wp-content/uploads/2014/08/JayRuud.png
Jay Ruud
2020-07-08 10:44:48
2020-07-08 10:44:48
Hamilton