Review No. 108: Hidden Valley Catfish House
393 Highway 64 East
(501) 450-7335
53.2 percent finished reviewing Conway restaurants
The Situation
She Said: Early in this adventure, a colleague mentioned this restaurant to us as one of the many Conway restaurants that is distinct to the city and definitely an interesting place to eat. At that time, it was known as Payton Creek Catfish House. Honestly, I haven't of either name again since, but it went on my list at the time, and the alchemy of my selection process sent us here for this week's review.
He Said: I get the feeling that this hasn't been Hidden Valley for very long. Whether it's run by the same people who ran Payton Creek I could not tell from anything that came up on Google. It does keep the same hours, though, which are tricky if you're not already familiar with them: Hidden Valley Catfish House is open on Thursday, Friday and Saturday from 4:00 to 8:30 P.M., and Sundays from 10:30 A.M. till 2:00 P.M. It's closed Monday, Tuesday, and Wednesday. So keep that in mind if you're planning a visit.
Ambience
She Said: This restaurant is east out of Conway just off Highway 64 (Oak Street), and as you enter it feels more remote than it is, as you walk over a little stream into what looks like a cabin in the woods. The interior really has a strong church-basement vibe, as it brought to mind congregational dinners in my homeland of South Dakota where buildings had basements and used them. The dark paneling minimizes the effect of natural light from narrow windows, and the serve-yourself-home-cookin' protocol just underscores that feeling. The chairs and tables are about as close together as they can conscientiously place them, and we had to shout to hear each other.
He Said: Yes, it was a bit noisy and yes, the buffet style and the home cooking nature of the dishes gives the feel of a church pot luck. If you like that feel, you'll probably like the ambience here.
Drinks
She Said: I chose unsweet tea, and it was really good. Nicely brewed and iced.
He Said:I was able to score a glass of root beer that they brought to the table. It was fine.
Food
She Said: This is a buffet restaurant at which fried food is the main event, and fried-food accessories can also be found. I skipped the salad bar because I'd had a late lunch and was a little full, so I needed to be strategic in targeting Hidden Valley's strengths. Also, I love fried catfish, so I grabbed a plate and started piling fried things on. Friday nights, this restaurant also features quail, but I couldn't tell which it was, so I went with the fish and shrimp, French fries, potato salad and BBQ beans. I had to pace myself because my body doesn't love fried food as much as mouth does, so I skipped the fried green beans, hush puppies and many other fried dishes. They also had veggies and other bean offerings that weren't fried. There is also a shrimp bar with more offerings, but I found it too late in my fullness trajectory. (This, however, is where the tartar sauce is, and it's not in a little bowl, or in small packets; it's in a soup-size tureen. I like it on my fries, too, so I poured it on.)
The catfish was very good, deserving of its place in the restaurant's name. It's breaded and fried, and the meat is tender and mild within the coating. The tartar sauce, which has the consistency more of ranch dressing than tartar sauce that I'm used to, is a nice accompaniment for the light fish. The fries are the coated kind, which I enjoy very much, and they did well with the tartar sauce, too. The potato salad was also a star, tangy and mustard based with potatoes that were just firm enough for good texture. I don't usually like fried shrimp, but I didn't see the shrimp bar before the fried version was on my plate, but it was very good, as well, with the mild meat not overdone. I didn't really like the BBQ beans, though I'm sure they have their devotees among the regulars here; they were a little spicy and pretty porky. They were indeed BBQ beans, and I just wanted some baked beans to counter all the heaviness of the other dishes.
Finally, I hit the dessert bar. Hidden Valley has a soft-serve, ice-cream machine, which was wildly popular and contributed mightily to the noise level of the dining room in which we were seated. But in keeping with the church potluck nostalgia I was feeling (shout out to First Congregational Church, De Smet, S.D.! Holla!), I turned instead to the homemade dessert bar where you literally just scoop a helping out of what you want (nothing's cut or on individual plates). One dish took me right back to my childhood: the Nilla Wafer banana pudding dessert, with the cookies placed on top. Seriously, I haven't seen that since Sunday mornings when I was 15 years old. I chose an apple cobbler that was nice and slightly less heavy. It looked so good, I had a spoonful and a half.
He Said: I spent a good deal of time at the salad bar, since fried foods are generally not so good for the pancreas. And I needed to try to be good to mine. There was a good chance to pile a lot of decent vegetables onto the lettuce, and then I went for the dressing and noticed that nothing seemed to be low fat. There can be a significant amount of fat in salad dressing, so I had some concerns, then noticed there were several packages of dressing on top of the counter. Most of these proved to be just as full of fat, but then I found one packet of a honey mustard dressing that was low fat (only a single gram). It was OK, though I wish there had been more choices.
I grabbed a piece of the catfish which was, as She Said said, nicely done (but watch out for bones). I also had one of the fried chicken strips, and enjoyed it even more than the catfish. It was tasty and not greasy. I thought I would try several of the hot vegetable choices as sides to get away from the fried theme as much as possible. I too had the barbecue beans, but unlike She Said I found them to be the best side dish I had—they were tangy but I didn't find them too spicy.
But maybe that was just by comparison. I also had a big helping of cabbage that turned out to be so hot, mainly from pepper I think, that I could not finish it. Which is unusual, because I really love cabbage. I also had some green beans, which suffered from the same problem. I couldn't finish them. About then I really could have used a nice roll to kill the burning in my mouth, but alas, there were none.
Service
She Said: As this is a buffet, you pay before you get to pile food on your plate. The attendant was efficient. As we perused the offerings, a waitress asked us what we'd like to drink and when she brought the glasses, helped us choose a table and took our drinks to it. She also refilled our drinks and other staffers cleared finished plates attentively. We arrived before 5 p.m., and walked right up to the cash desk, but by the time we left, there was a line to pay and the tables were filling up. The staff showed they are a well-oiled machine, keeping this assembly line moving along, though we never felt rushed.
He Said: Yes, for a buffet place, the service was surprisingly good.
What We Got and What We Paid: One senior and one adult buffet including drinks for $32.74 after tax and before tip (yes, this is another one of those places where there is a tip option when you pay at the counter before you eat).
Elapsed Time from Our Arrival to Food Arrival: Six minutes.
Rating
She Said: If fried food is your bag, this place knows how to give you all you can eat, efficiently and nostalgically with a down-home vibe.
He Said: I found it rather hit and miss here. I'd know a few things to have and a few things not to have if I came back.
So… He Said and She Said: Go here for authentic homemade Arkansas cuisines and bring your appetite, and also your outside voice for dinner conversation.
NOW AVAILABLE:
If you like these reviews, you might enjoy Jay Ruud's most recent novel, now available from the publisher at https://encirclepub.com/product/the-bleak-and-empty-sea/. Also available from Amazon or Barnes and Noble.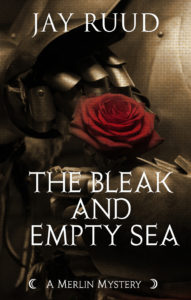 When word comes to Camelot that Sir Tristram has died in Brittany of wounds suffered in a skirmish, and that his longtime mistress, La Belle Isolde, Queen of Cornwall, has subsequently died herself of a broken heart, Queen Guinevere and her trusted lady Rosemounde immediately suspect that there is more to the story of the lovers' deaths than they are being told. It is up to Merlin and his faithful assistant, Gildas of Cornwall, to find the truth behind the myths and half-truths surrounding these untimely deaths. By the time they are finally able to uncover the truth, Gildas and Merlin have lost one companion and are in danger of losing their own lives.
Order from Amazon here: https://www.amazon.com/Bleak-Empty-Sea-Tristram-Mystery/dp/1893035735/ref=sr_1_1?s=books&ie=UTF8&qid=1503328086&sr=1-1&keywords=Bleak+and+Empty+Sea
Order from Barnes and Noble here: https://www.barnesandnoble.com/w/the-bleak-and-empty-sea-jay-ruud/1126958139?ean=9781893035737
Comments
comments
http://jayruud.com/wp-content/uploads/2018/05/IMG_0101.jpg
3024
4032
Jay Ruud
http://jayruud.com/wp-content/uploads/2014/08/JayRuud.png
Jay Ruud
2018-05-02 17:07:40
2018-05-02 17:07:40
Hidden Valley Catfish House