Review No. 88: Hideaway Pizza
1170 South Amity Road
(501) 697-4444
45.4 percent finished reviewing Conway restaurants
Note: Because Christmas and New Year's fall on Mondays this holiday season, Eat It, Conway! will post its next review January 8, 2018. Happy Holidays, and see you next year!
The Situation
She Said: Any day I can eat pizza is a good day, and so I was plotting how I would celebrate a big client presentation with pepperoni. I discovered that Hideaway Pizza is open all day (from 11 a.m. to 9:30 p.m. or 10:30 p.m.), and since I was hungry for an early dinner/late lunch (linner?), we tooled on down to test out the newest pizza place in Conway. After fighting our way through the Flatlandia round-abouts near that shopping center, we arrived, hungrier than ever.
He Said: Yes, navigating the dual roundabouts that seem designed to prevent you from getting into the new Conway shopping area, particularly if you are coming from the north, we did finally get here, and were hoping they'd be open at this unusual time in the afternoon. I won't keep you in suspense: They were.
Hideaway Pizza has been in business for some 60 years. They've been chiefly an Oklahoma company, with 15 locations in the Tulsa and Oklahoma City areas. They've now expanded into Arkansas, with a store in North Little Rock as well as Conway.
Ambience:
She Said: It's a big space, but doesn't feel cavernous with the dark ceilings, wood booths and natural light. (There are some BIG booths that look like they could fit 20 families.) We sat at a four top by the windows, which was pleasant. There weren't many people there when we arrived about 4:30 p.m., but it still felt cozy and comfortable. The bar looks cool, but we didn't belly up to it.
He Said: Yes, it's a pretty roomy place, but comfortable and sports-bar-like, with TV sets hanging about.
Drinks
She Said: I had two glasses of cabernet because it was happy hour, so they were half price! It was a decent wine and went well with pizza.
He Said: One glass of root beer. It was just fine, as root beer goes.
Food
She Said: We wanted to try something on the menu in addition to the pizzas we'd been plotting, so we settled on the fried mushrooms. Even though they are fried and He Said has to watch those, we thought the mushrooms themselves would be low fat so it was worth a shot. They were very tasty, with a light breading that let the 'shrooms shine through. They were also very hot. My advice to my dear readers is to let the mushrooms cool a little and blow on them a lot before sampling them. The roof of my mouth was raw from the burn for two days!
For my pizza, I chose the build-your-own model after perusing the variety of specialty pizzas they offer. They all looked good, but I'm a classic pizza kind of gal, and I had been looking forward to this for weeks, so I didn't want to take unnecessary risks. There are a range of choices for each component so that you can really make the pizza of your dreams. I chose the 9-inch size (serves one to two), with thin crust, classic red sauce and pepperoni, mushrooms and green olives. The pizza was big enough to fill me up and leave me a few pieces to take home for breakfast the next day. The topping ingredients were plentiful and fresh tasting, and the sauce had a nice seasoning that covered up its tomato origins quite well.
I was a little disappointed in the crust. When I think of thin crust, I don't think of thin bread, and this was a little too chewy to be thin to me; it was more like a thin version of a thick crust, rather than that singular magical animal, the wafer-thin, buttery—crispy even—golden bottom layer of pizza magic. It was still good, but not my personal favorite in Conway.
He Said: I did enjoy those mushrooms. They bill them as "world famous" and, while I'm not sure that's a completely accurate designation, they may actually deserve to be. I would certainly order these again as an appetizer.
As for the pizza, this is of course a great challenge to me and my pancreas, since pizza by nature is one of the fattiest dishes around, what with all the cheese and the sausage or the pepperoni, both of which runneth over with grams of fat. There is a wide variety of special pizzas here, sand you can build your own, as She Said said. So it would be very hard not to find something that appealed to your individual tastes. I'll ust say I was fairly drooling over She Said's pizza. But I chose the item on the menu that I thought looked to be less likely to be fatty in the extreme: the Dermer's BBQ Chicken Pizza. According to one online estimate, my entire small pizza. Of course, I should have checked nutritional information online before I went, but Hideaway, though not an inconsiderable chain, does not really have a corporate page that shares such information. Checking an unofficial site after the fact, it seems that my entire small pizza would contain about 30 grams of fat, about half what I am allowed per day. I did only eat half the pizza, though, and so felt confident that I would not wind up in the emergency room.
The pizza was delicious I must say. On a thin crust, it contained barbecue sauce, mozzarella, grilled chicken, green bell peppers, and red onions. Only the mozzarella was a danger to me in this lineup and I asked them to go easy on the cheese, which they had no problem doing. I do have to agree with She Said, though, about the crust, which was not the classic thin crust that I have grown to anticipate, being not at all crispy but rather kind of chewy/doughy. I know enough about pizza, though, to know that tastes in crusts vary with the individual, and this may be exactly the kind of crust you're looking for.
Service
She Said: I found the service to be prompt, attentive, professional and friendly. Our waitress told us about the happy hour specials, checked on us often and quickly corrected an error on the bill. For any restaurant, this level of service is high, but for a new one like Hideaway Pizza, it's stellar.
He Said: Yes, no complaints about the service. It was prompt, courteous, friendly and professional.
What We Got and What We Paid: One order of fried mushrooms, one build-your-own 9-inch pizza, one chicken BBQ 9-inch pizza, two glasses of wine and a root beer for $47.13.
Elapsed Time from Our Arrival to Food Arrival: She Said forgot to check the time because she was so excited about pizza, but we estimate it at around 20 to 25 minutes.
Rating
She Said: I like the vibe, the service and the happy hour prices. I wish the crust were thinner, but the fresh toppings and options make this a great go-to for pizza in Conway.
He Said: Lots of possibilities here for a variety of specialty pizzas and a variety of toppings. If you like pizza, you'll like this place a whole lot
So… He Said and She Said: Go here for specialty or custom pizzas, happy hour and great service.
NOW AVAILABLE:
If you like these reviews, you might enjoy Jay Ruud's most recent novel, now available from the publisher at https://encirclepub.com/product/the-bleak-and-empty-sea/. Also available from Amazon or Barnes and Noble.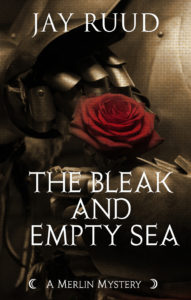 When word comes to Camelot that Sir Tristram has died in Brittany of wounds suffered in a skirmish, and that his longtime mistress, La Belle Isolde, Queen of Cornwall, has subsequently died herself of a broken heart, Queen Guinevere and her trusted lady Rosemounde immediately suspect that there is more to the story of the lovers' deaths than they are being told. It is up to Merlin and his faithful assistant, Gildas of Cornwall, to find the truth behind the myths and half-truths surrounding these untimely deaths. By the time they are finally able to uncover the truth, Gildas and Merlin have lost one companion and are in danger of losing their own lives.
Order from Amazon here: https://www.amazon.com/Bleak-Empty-Sea-Tristram-Mystery/dp/1893035735/ref=sr_1_1?s=books&ie=UTF8&qid=1503328086&sr=1-1&keywords=Bleak+and+Empty+Sea
Order from Barnes and Noble here: https://www.barnesandnoble.com/w/the-bleak-and-empty-sea-jay-ruud/1126958139?ean=9781893035737
Comments
comments
http://jayruud.com/wp-content/uploads/2017/12/IMG_4017.jpg
3024
4032
Jay Ruud
http://jayruud.com/wp-content/uploads/2014/08/JayRuud.png
Jay Ruud
2017-12-18 09:40:54
2017-12-18 09:40:54
Hideaway Pizza