Review No. 102: Jim's Razorback Pizza
815 Hogan Lane
51.1 percent finished reviewing Conway restaurants
(501) 327-1180
The Situation
He Said: Jim's Razorback Pizza has a couple of other locations in central Arkansas, plus some in other parts of the state, so it's a local kind of chain. The restaurant here opened quite recently, in the old Pizza Inn location on Hogan. It all happened quickly, and we were interested to see what the new place was like. There are after all, a whole lot of pizza places in Conway.
She Said: As my dear readers know, I think about pizza 95 percent of the time, and though we had previously planned to review another restaurant that day, I couldn't get this new pizza place out of my mind, so off we scooted to western Conway to feed our pizza cravings.
Ambience
He Said: If you were a frequenter of this place in the Pizza Inn days, you'll be taken aback a bit when you walk in, since the interior is quite different. The buffet has disappeared. The colors are richer and darker with a lot more wood. There is a full bar, and the ceiling is open, showing the venting system and the like, which is kind of the new cool thing to do with restaurants these days. There are large screen TVs tuned to different sports networks—it has basically been turned into a sports bar, which, with the name "Razorback Pizza," you might have expected.
She Said: Yes, I was surprised when we entered at the difference in the interior, but it was a pleasant change, making the restaurant more inviting, somewhere you wouldn't mind sitting awhile and hanging out. The Razorback-red walls make a large space cozier, and the bar is an appealing addition.
Drinks
He Said: They have Coke products here, but that does not include Barq's Root Beer, so I had Dr. Pepper instead. And it tasted like Dr. Pepper should.
She Said: I asked for a red wine and I was offered merlot or cabernet sauvignon. I chose the cab, and I was really happy to see it arrive in a proper large red-wine glass (not the wee wine glasses you see a lot in pubs). It was a nice pour and was pleasingly dry and went well with my pizza. The waitress also brought me a water without my asking for it, which was perfect.
Food
He Said: There is a full menu here that includes a lot of baked pasta dishes, hot sandwiches, salads and desserts, in addition to the pizzas. There are specific pizzas or make-your-own opportunities with either thin or thick crust options in three different sizes, the smallest of which is an 11-inch pizza cut into eight slices. I liked the fact that they used all genuine Wisconsin cheeses and that they made their dough fresh daily from scratch. I also liked the fact that there was a long list of ingredients that included turkey, green peppers, and mushrooms, none of which has much fat content, and so on my low-fat diet I was able to order a pizza that wasn't going to flip my pancreas into overdrive.
There was, of course, still mozzarella on the pizza, though it was subtle and not thrown on in globs, as I've seen in other places that shall remain nameless. So there was some fat content, and I was only able to eat five slices before I was getting full and figured I'd better cool it. But I was able to get a box to take home the rest of the pizza for the dogs. If I let them have any.
The pizza was very good with a nice crispy crust and fresh, tasty ingredients. I should mention that it wasn't cheap: If you come here expecting Pizza Inn prices—where I could have fed the two of us at the lunch buffet for $15—you will be shown the error of your ways pretty quickly. But then, they didn't have a bar at Pizza Inn either.
She Said: Well, Ruud, since you always pay the bill, I didn't even look at the prices. But I agree that the pizza was very, very good. In fact, I ate all but a few bites of my 11-inch thin-crust pizza. I ordered mine with pepperoni, mushrooms and green olives, and it was very satisfying, for this pizza lover. The crust was crispy, not greasy, and delightfully thin. The ingredients were plentiful without any one of them being overwhelming. It was nicely cooked through, and I could not stop eating it. I gained 2.2 pounds (how is that possible… I didn't eat 2.2 pounds of pizza!), but it was worth it. And, I didn't need to eat much for the next 48 hours, since I rolled out of there 95 percent pizza and 5 percent vino.
The large menu offers many promising dishes that in theory I would like to try, but let's be honest; I'll never be able to come here and not eat PIZZA!
Service
He Said: We were met by a friendly hostess when we entered and sat at a booth near the bar (nothing here is very far from the bar). Our server was quick and attentive, without rushing us or being intrusive. She checked back with us three times during the meal to make sure we weren't wanting anything. She was clearly a veteran server. We did not run into any of the problems one often runs into with new restaurants of problems caused by untrained or inexperienced staff.
She Said: The service was polite, attentive, professional and efficient. I commend them!
What We Got and What We Paid: Two build-your-own 11-inch, thin-crust pizzas, each with three toppings, plus a glass of cabernet and a glass of Dr. Pepper all for $35.48 before tip.
Elapsed Time from Our Arrival to Food Arrival: 26 minutes for two made-to-order pizzas.
Rating
He Said: Go here for delicious thin-crust pizza with fresh—not cheap—ingredients.
She Said: This is a top pizza contender in Conway, where the competition is fierce.
So… He Said and She Said: Go here for a pleasant and delicious pizza-pub experience.
NOW AVAILABLE:
If you like these reviews, you might enjoy Jay Ruud's most recent novel, now available from the publisher at https://encirclepub.com/product/the-bleak-and-empty-sea/. Also available from Amazon or Barnes and Noble.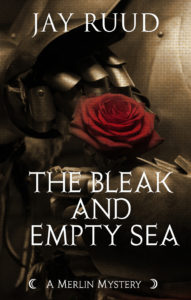 When word comes to Camelot that Sir Tristram has died in Brittany of wounds suffered in a skirmish, and that his longtime mistress, La Belle Isolde, Queen of Cornwall, has subsequently died herself of a broken heart, Queen Guinevere and her trusted lady Rosemounde immediately suspect that there is more to the story of the lovers' deaths than they are being told. It is up to Merlin and his faithful assistant, Gildas of Cornwall, to find the truth behind the myths and half-truths surrounding these untimely deaths. By the time they are finally able to uncover the truth, Gildas and Merlin have lost one companion and are in danger of losing their own lives.
Order from Amazon here: https://www.amazon.com/Bleak-Empty-Sea-Tristram-Mystery/dp/1893035735/ref=sr_1_1?s=books&ie=UTF8&qid=1503328086&sr=1-1&keywords=Bleak+and+Empty+Sea
Order from Barnes and Noble here: https://www.barnesandnoble.com/w/the-bleak-and-empty-sea-jay-ruud/1126958139?ean=9781893035737
Comments
comments
http://jayruud.com/wp-content/uploads/2018/04/IMG_9070.jpg
2534
3640
Jay Ruud
http://jayruud.com/wp-content/uploads/2014/08/JayRuud.png
Jay Ruud
2018-04-09 07:52:52
2018-04-09 07:52:52
Jim's Razorback Pizza