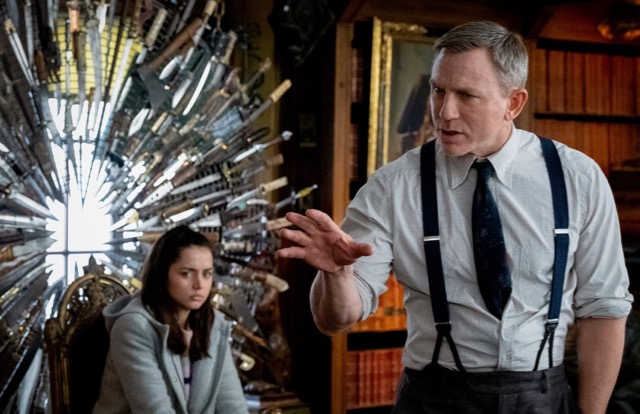 Knives Out
Rian Johnson (2019)
So start with a large Gothic mansion owned by a wealthy patriarch, surrounded by a houseful of his leeching family members who owe their comfortable lives to his fortune. Let him be found dead in the morning of an apparent suicide, but then bring in a quirky, self-satisfied detective with an unusual accent, who is not convinced that this is not a murder. No, it's not one of Agatha Christie's Hercule Poirot mysteries, but it's a darned close facsimile thereof. It's Rian Johnson's star-powered new comedy/mystery Knives Out! And if you love Agatha Christie, you will adore this movie, because rest assured Johnson loves her as much as you do.
Johnson, best known as writer/director of Star Wars VIII: The Last Jedi, the critically acclaimed but fan-disappointing penultimate Skywalker film, made a name for himself earlier as an admirer and maker of traditional genre films, always giving them his own personal flair. His first film, Brick (2005), was a neo-noir throwback. The follow-up,The Brothers Bloom (2008) had an all-star cast in a modern con-man caper comedy that most critics liked but that didn't set any records at the box office. But Looper (2012) Johnson's futuristic science-fiction time-travel film, was loved by critics and audiences alike, and made significant money at the box office, netting Johnson the enviable gig of writing and directing the eighth Star Wars film. And the rest, as they say, is history.
With Knives Out!, Johnson gets back to the smaller genre films that he seems to revel in, and we get a throwback old-time mystery with the super-detective who's so much smarter than the police that they welcome him sitting in on their questioning of witnesses when he turns up, hired by a mystery client, the day after the murder of the family patriarch. Upon meeting the famous investigator, one character cries "I read a Tweet about a New Yorker article about you!"—just one of the sad but entertaining truths this film portrays about our contemporary world and the depth of people's knowledge of it.
That patriarch is Harlan Thrombey (played impeccably by the venerable Christopher Plummer), a well-known and incredibly successful mystery writer who has just celebrated his 85th birthday, and is found the next morning with his throat slashed. His family, all gathered in his posh mansion for his birthday party, are suitably distraught. These include his oldest daughter Linda (a self-assured Jamie Lee Curtis), who likes to present herself as a self-made businesswoman, and her husband Richard (Don Johnson), who married into money but naturally resents any lazy immigrants who haven't worked for their benefits; Harlan's youngest son Walt (an intense Michael Shannon), whom Thrombey has made head of his publishing house and who rankles at his lack of real control; Walt's wife Donna (an all-but-silent Riki Lindhome of TV's Big Bang Theory); Harlan's daughter-in-law Joni (a whiny Toni Collette), widow of Thrombey's middle child, who is a kind of self-appointed "lifestyle guru" living mainly on Thrombey's dole. Then there are the grandkids: Ransom (Chris Evans, far from his Captain America persona), Linda's son and the spoiled black sheep of the family, who has had a row with dear old granddad and left the party before the murder; Walt's fascist-in-training teenaged son Jacob (Jaeden Martell of It); and Joni's college-aged daughter Meg (Katherine Langford from TV's 13 Reasons Why), the sort of avowed liberal who loves mankind, it's people she can't stand. And yes, Thrombey's mother is still alive (how old can she be?), Greatnana Thrombey (K. Callan from TV's Veep), who watches everything from the corner and keeps her own counsel.
And then of course there's the help. These include Fran (Eli Patterson from TV's Vice Principals), the housekeeper who finds the body; and most importantly Marta Cabrera (Ana de Armas of Blade Runner 2049), the Latina nurse with an undocumented immigrant mother, who keeps tabs on Harlan's health and gives him his necessary daily injections. Everybody in the family professes to love Marta (though they can never get straight whether she's from Paraguay, Bolivia, Brazil, or whatever), and they claim to consider her part of the family—until they suspect she might get in the way of their own barely-veiled greed. It comes as no surprise that in his last years Harlan's only trusted confidante and closest companion was Marta, who is kind, unassuming and devoted.
And it comes as no surprise either that the Great Detective Benoit Blanc (Daniel Craig kicking off the bonds of Bond and having a great time in a comic part) gloms on to Marta as his "helper" in the investigation, making use of her knowledge of the family, her intimacy with the deceased, and her fundamental aversion to lying, which literally makes her vomit. Blanc, speaking with what one character calls a "Foghorn Leghorn" accent, is an urbane and genteel Poirot-like sleuth, transplanted (from where? Louisiana?) to the Massachusetts setting of the Thrombey estate and hired by, it turns out, an anonymous client to investigate Harlan's murder. He is assisted by (though technically it's their investigation) two police detectives: the all-business Lieutenant Elliott (LaKeith Stanfield from Get Out!), who seems to resent Blanc's intrusive presence, and Trooper Wagner (Noah Segan from Johnson's Star Wars VIII: The Last Jedi), who seems to welcome it.
Needless to say, everybody's a suspect, and just when you think you've got things figured out, Johnson's script throws in another wrinkle for you—and frankly, pretty much anything I say is going to be a spoiler, so I won't say much about the plot beyond what I've said already. This film will keep you guessing amongst the various characters in the same classic way that Murder on the Orient Express or Death on the Nile will, while at the same time holding its tongue in its cheek and tossing in meta-moments like the episode of Murder, She Wrote that pops up on television at one point.
Beyond the fun, the film manages to wander unobtrusively into the area of social commentary on the question of inherited wealth, as we witness the behavior of a whole group of figures who, born on third base, are glad to pat themselves on the back when they score, and feel justified in their superiority over those losers who have to struggle. Harlan himself knew this about his family and was about to pull the plug on the lot of them before his untimely demise. Is that what got him killed? And what about Marta, the immigrant who really has made something of herself through her own efforts and retained her good humor and her empathy for other human beings in the process? Is her example what has influenced Harlan to let his progeny sink or swim on their own? This is a film that goes beyond its genre nostalgia to make a statement about the contemporary world.
The movie is fun and clever, and has perhaps the best ensemble cast of any film this year. Three Tennysons and half a Shakespeare for this one.
NOW AVAILABLE:
"The Knight of the Cart," fifth novel in my Merlin Mysteries series, is now available from the publisher, Encircle Publishing, at https://encirclepub.com/product/theknightofthecart/
You can also order from Amazon at
https://www.amazon.com/Knight-Cart-MERLIN-MYS…/…/ref=sr_1_1…
OR an electronic version from Barnes and Noble at
https://www.barnesandnoble.com/w/the-knight-of-…/1133349679…
Here's what the book is about:
The embittered Sir Meliagaunt is overlooked by King Arthur when a group of new knights, including Gildas of Cornwall, are appointed to the Round Table. In an ill-conceived attempt to catch Arthur's notice, Meliagaunt kidnaps Queen Guinevere and much of her household from a spring picnic and carries them off to his fortified castle of Gorre, hoping to force one of Arthur's greatest knights to fight him in order to rescue the queen. Sir Lancelot follows the kidnappers, and when his horse is shot from under him, he risks his reputation when he pursues them in a cart used for transporting prisoners. But after Meliagaunt accuses the queen of adultery and demands a trial by combat to prove his charge, Lancelot, too, disappears, and Merlin and the newly-knighted Sir Gildas are called into action to find Lancelot and bring him back to Camelot in time to save the queen from the stake. Now Gildas finds himself locked in a life-and-death battle to save Lancelot and the young girl Guinevere has chosen for his bride.
Comments
comments
http://jayruud.com/wp-content/uploads/2019/12/merlin_164868198_872c64c4-866c-471d-a14a-5dd68a278ec6-superJumbo-1.jpg
414
640
Jay Ruud
http://jayruud.com/wp-content/uploads/2014/08/JayRuud.png
Jay Ruud
2019-12-04 11:43:04
2020-02-03 16:51:40
Knives Out