Review No. 143: La Huerta Mexican Restaurant
1052 Harrison Street
(501) 764-0202
65.8 percent finished reviewing Conway restaurants
The Situation
He Said: We've lived in Conway for more than 15 years now and have never before eaten at La Huerta. Part of the reason for this is that, even though it is downtown, it's a little off the beaten path, and so we almost never drive by it to notice it. The other reason is that there are about 275,625,246 other Mexican restaurants in Conway, so it's easy to get lost in the shuffle. But the little woman (i.e., She Said) picked this one to review this week, so after driving around downtown for a bit, we found it. There are several other "La Huerta" restaurants in Arkansas, but as far as I can tell it's not a chain. "La Huerta" means "The Garden" in Spanish, which is just a common name for a restaurant.
She Said: Since as I was at my lowest weight since Christmas, I felt a celebration was in order, and we love ourselves some Arkansas-Mexican food. I know people who do love La Huerta, so I felt it was time to visit ourselves.
Ambience:
He Said:La Huerta doesn't really look like much from the outside—just kind of a gray, small, squat nondescript building. But inside it's like a whole new world The walls are a rich gold with interesting art, the booths and chair backs are decorated with painted scenes giving the atmosphere of old Mexico, and the place is bigger than it looks, but with partitioned areas that make it cozy. It's quite a comfortable space.
She Said:  Yes, don't judge this restaurant book by its cover! It has such a homey and fun interior, with little casitas, fun-painted booths and well partitioned dining areas. I loved it!
Drinks
He Said: Looks like Pepsi Products here, and for me, that meant Mountain Dew. It was fine.
She Said: I had a mango margarita on the rocks (#friyay y'all!), and it was nice, though maybe not quite "adult" enough. I'm not sure what size it was… I just ordered it without specifying a size. It was not "big as yo head," and at lunch time, that was just right.
Food
He Said:As is typical of a Mexican restaurant, we were brought chips and salsa as soon as we sat down, and I particularly liked the chips here—they were very fresh and crispy and were served warm. The salsa, too, was the way I like it: mild but tangy. I'd go back just for the chips and salsa.
They've got the usual huge menu that you see at Mexican restaurants, so I was frozen by choice for a while there, but after making the server wait for several mind-numbing moments, I chose a burrito with red sauce, refried beans and Mexican rice. The server said yes, I could have chicken instead of beef in the burrito, so I was happy. It's hard for me to say how I did on the fat-o-meter with that order, since nutritional information for La Huerta is not available online, but the chicken was certainly low fat, and rice is always fatless. Refried beans do have a significant amount of fat in them, but not enough, I judged, to throw me over my diet restrictions.
I found the food very tasty. The chicken was done just right, and there was a generous portion in the burrito, and the red sauce was tasty, tomato-y and not overwhelming. The rice and beans were as good as I've had anywhere in town. I felt by the time I'd finished that this was definitely one of the better Mexican places I've eaten at in Conway, and I was interested in trying some of the other entrees here at some future date.
She Said: Yes, the menu here is extensive, and I hovered over a number of offerings, but in the end, I went with a vegetarian combination that included a refried bean enchilada, a chalupa and a quesadilla—the grilled-cheese sandwich of Ark-Mex restaurants. First, of course, I asked for a small guacamole to go with the chips, since I don't like salsa. The chips, as He Said said, were tasty, and served warm. The guac was creamy and tasty, and not hot, but I did put some salt in it to liven it up a bit. My entrée was perfection. The refried beans in the enchilada were tasty and creamy, the chalupa offered all the tastes and textures promised by lettuce, cheese, guac and beans on a crispy tortilla, and the quesadilla was comforting and satisfying. Again, though, I added salt to the plate, the freshness of all the ingredients was front and center, and I was really pleased and satisfied. I ate about half the food so I wouldn't roll out to the car, but each bite was a pleasure.
Service
He Said:We were provided with the chips and salsa immediately upon sitting down, and were waited on fairly quickly after that, with just enough time to peruse the large menu. The food was brought very promptly—it's a sit-down place but we were served almost as speedily as a fast-food restaurant. This makes La Huerta a perfect place for lunch if you've only got an hour, especially if you work or are shopping downtown.
She Said: Yes, service was efficient but not brusque. We were munching almost as soon as we sat down and were checked on enough to ask for anything we found we needed. Everyone was friendly and professional.
What We Got and What We Paid: One burrito, rice, and refried beans order with a Mountain Dew, plus one vegetarian combination D and a mango margarita, all for $27.51.
Elapsed Time from Our Arrival to Food Arrival:10 minutes.
Rating:
He Said:I'd put this in the top echelon of Mexican places in Conway. Maybe in the top million.
She Said (or is it worth the weight I gained): HaHa, Ruud! I see what you did there! I gained 2 pounds eating here. TWO POUNDS. And I ate less than half of my food and almost nothing the rest of the day. I'm not sure any place is worth that, but as far as Mexican restaurants in Conway go, this one is definitely a contender for the two-pound-weight-gain prize.
La Huerta Good At What It's Good For? Abso-weightgain-lutely! It's got the usual suspects, just mores in terms of goodness, with a pretty interior and friendly, professional service.
NOW AVAILABLE!!!
Jay Ruud's most recent novel, Lost in the Quagmire: The Quest of the Grail, IS NOW available. You can order your copy direct from the publisher (Encircle Press) at http://encirclepub.com/product/lost-in-the-quagmire/You can also order an electronic version from Smashwords at https://www.smashwords.com/books/view/814922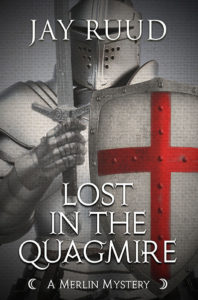 When Sir Galahad arrives in Camelot to fulfill his destiny, the presence of Lancelot's illegitimate son disturbs Queen Guinevere. But the young knight's vision of the Holy Grail at Pentecost inspires the entire fellowship of the Round Table to rush off in quest of Christendom's most holy relic. But as the quest gets under way, Sir Gawain and Sir Ywain are both seriously wounded, and Sir Safer and Sir Ironside are killed by a mysterious White Knight, who claims to impose rules upon the quest. And this is just the beginning. When knight after knight turns up dead or gravely wounded, sometimes at the hands of their fellow knights, Gildas and Merlin begin to suspect some sinister force behind the Grail madness, bent on nothing less than the destruction of Arthur and his table. They begin their own quest: to find the conspirator or conspirators behind the deaths of Arthur's good knights. Is it the king's enigmatic sister Morgan la Fay? Could it be Arthur's own bastard Sir Mordred, hoping to seize the throne for himself? Or is it some darker, older grievance against the king that cries out for vengeance? Before Merlin and Gildas are through, they are destined to lose a number of close comrades, and Gildas finds himself finally forced to prove his worth as a potential knight, facing down an armed and mounted enemy with nothing less than the lives of Merlin and his master Sir Gareth at stake.
Order from Amazon here: https://www.amazon.com/Lost-Quagmire-Quest-Merlin-Mystery/dp/1948338122
Order from Barnes and Noble here: https://www.barnesandnoble.com/w/lost-in-the-quagmire-jay-ruud/1128692499?ean=9781948338127
Comments
comments
http://jayruud.com/wp-content/uploads/2019/01/IMG_1273.jpg
2374
3653
Jay Ruud
http://jayruud.com/wp-content/uploads/2014/08/JayRuud.png
Jay Ruud
2019-01-28 10:13:11
2019-01-28 10:13:11
La Huerta Mexican Restaurant