Review No. 126: Las Delicias
1120 West Oak Street
(501) 358-7577
57.1 percent finished reviewing Conway restaurants
The Situation
He Said:Las Delicias has a couple of locations in Conway: One of them, on Old Morrilton Highway, opened a couple of years ago. The second, downtown on Oak Street, has only been open since August 16. In our continuing quest to try to keep ourselves and others abreast of the latest goings on in the Conway restaurant landscape, we opted to try out the new location, and popped in for lunch.
This is mainly a sweets place, with authentic traditional Mexican popsicles, ice cream treats, fruity desserts and snacks, all homemade. Most of the treats here are unique in Conway and have a definite south-of-the-border twist. I was a bit cautious coming in here, since ice cream is not exactly a low-fat option, and most of the snacks here are made with a snack-food base of Doritos or Cheetos or Fritos, with a plethora of added cheeses—also not a good low-fat option for me. But I knew the job was dangerous when I took it, so in we came to check it out.
She Said: It was my birthday week, and while I was trying to be good in preparation for a blowout meal on the day, I couldn't resist finally indulging in a sweet treat at a place we'd been hearing a lot about for a long time. We decided, since they also offer savory "snacks" to make a meal here for lunch.
Ambience:
He Said: The Oak Street location is a cute little place, brightly and newly painted in pastel pinks and blues. There's not a huge dining area, just four small tables and a fairly extensive counter along the windows on two sides. There were also tables outside on the sidewalk, in the shade of an awning, which might have been nice to sit at if it hadn't been so danged hot. Not many people were sitting inside either when we arrived just after noon on a Wednesday—just one other person at the counter. A few people did come in and order their ice cream to go, though, and I'm assuming that's what most customers do. Still, it was fairly comfortable lunching inside, and we didn't feel rushed or cramped or awkward sitting there.
She Said: The place is totes adorbs and made me think of Candyland, the board game (kids, ask your parents what that is), the colors and design hit all the notes of sweet, fun treats. I was very comfortable dining in there, and particularly enjoyed the slide show that played for a while on the television of photos from around the world.
Drinks
He Said:They have a pretty good selection of Mexican sodas in the bottle, as well as Coke and Fanta. I had a Coke, but it was one that was bottled in Mexico, hence the extra-large, half-liter-sized bottle.
She Said:I almost never have soda anymore and given the caloric nature of our visit, I very nearly asked for a bottle of water, but when I saw the Mango Jarritos soda in a bottle, I chose that. This alone was a lovely treat, really tasting like mango and not sickly sweet. It was particularly delightful because it was such a hot day.
Food
He Said: My worries about not finding something to eat that wouldn't wreak havoc with my pancreas proved to be unfounded. They had chicken tamales and I ordered two of them. On the sweet side, they had a yogurt cup with fruit. So despite my yearning for ice cream, I kept my head and opted for the yogurt.
The tamales were fresh and flavorful and took me right back to some I had for lunch that had been made by local Mayan women after we'd explored a Yucatan cenote (or sinkhole) a few years ago. That's how authentic those tamales tasted. They'd been steamed in their cornhusks, the masa perfectly undry (Note: She Said would not allow me to use the "m" word) with tasty chicken inside. I remember having a red salsa with those tamales in Mexico, and perhaps I could have had some here but didn't know to ask; still, they were quite tasty as they came.
The yogurt cup was much larger than I thought it would be. I asked for granola and chocolate sprinkles on top of it, and it came with apples, bananas, grapes and strawberries. It was a cool, fruity delight on a hot day, and there was enough of it that, with the two tamales, I needed nothing more for lunch. (Note: I did try one small bite of She Said's churro, and had confection envy. Not that I was dissatisfied with my yogurt. But still: Ice cream.)
She Said: There were more snacks on the menu than I expected, and though a friend told me she loves the "flaming Cheetos" (spicy melted cheese poured over them in the bag), I couldn't quite go there. I settled on one tostada, with cured pork rinds (they were described to me as "pickled"), slaw, avocado, tomatoes and hot sauce. I asked for less sauce, and the mix was very, very good. The cured rinds were something I'd never had before, and their briny smoothness was a great contrast with the slaw and crispy corn tortilla base. It was a super-fresh, light yet filling lunch dish, and I would have it again, even if I weren't going to Las Delicias for sweets (but why would I do that?). I tried He Said's tamales, and they were also very tasty, and will definitely be contenders for my future orders here.
But Las Delicias is here for sweet treats, so we moved happily on to dessert. I had done some pre-visit fact finding, and though many options sounded good, including the mango dessert, I chose the churros with Mexican chocolate ice cream (I love fry-bread!). The clerk gave me a sample of the ice cream to make sure I liked it—she said it has cinnamon and wanted me to be prepared. The dish is two cinnamon-and-sugar churros (with caramel inside!) and a healthy scoop of ice cream to top them. It was dessert excellence. The churros were perfectly fried and sweetened, and would have been great on their own, but the ice cream topping brought them up a dessert level to decadent. The ice cream is so obviously homemade, with fresh flavors instead of things that taste likethe real things they're supposed to represent. The cinnamon in the chocolate is subtle and adds instead of distracting from the chocolate. This is the best dessert I've eaten in months, not just in Conway, but anywhere.
Service
He Said:The woman who waited on us was cheerful, helpful, even kind of bouncy, and made us feel at home. I thought at first that she was watching the place on her own, even making the dishes in the back, but I do believe there was someone else there doing the cooking in the back room. It was not the fastest service I'd seen, but things were made fresh and by hand, so it wasn't going to be McDonald's drive-through.
She Said:Yes, when we said we were eating in, she offered to bring us our desserts later when we were finishing the snacks. She was very helpful to us as newbies when choosing our dishes, and she was friendly and approachable. The service was perfect.
What We Got and What We Paid: Two tamales, one tostada, one fruit yogurt, churros with one scoop of Mexican chocolate ice cream, and two bottles of soda, all for $19.60.
Elapsed Time from Our Arrival to Food Arrival: 14 minutes to lunch snacks, 27 minutes until desserts arrived.
Rating
He Said: This is a surprisingly good and original place to stop in for, or pick up, unexpected sweet desserts or traditional Mexican snacks.
She Said (Or Was It Worth the Weight I Gained): Well, I lost 1.2 pounds eating lunch here, so CHURROS FOR EVERYONE! Let's start the churros diet, y'all! This level of homemade deliciousness was worth some weight gain, though, and I'll definitely be coming back for caloric goodness again in the future.
Is Las Delicias Good at What it's Good For? Yes, this sweet-treaterie sells very reasonably priced homemade, fresh and tasty sweets and savories. Stop in or get it to go and know you're getting an authentic, delicious treat.
COMING SOON!
Jay Ruud's most recent novel, Lost in the Quagmire: The Quest of the Grail, will be available from the publisher on OCTOBER 15. You can preorder your copy direct from the publisher (Encircle Press) at http://encirclepub.com/product/lost-in-the-quagmire/You can also order an electronic version from Smashwords at https://www.smashwords.com/books/view/814922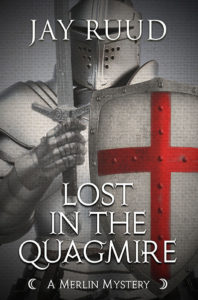 When Sir Galahad arrives in Camelot to fulfill his destiny, the presence of Lancelot's illegitimate son disturbs Queen Guinevere. But the young knight's vision of the Holy Grail at Pentecost inspires the entire fellowship of the Round Table to rush off in quest of Christendom's most holy relic. But as the quest gets under way, Sir Gawain and Sir Ywain are both seriously wounded, and Sir Safer and Sir Ironside are killed by a mysterious White Knight, who claims to impose rules upon the quest. And this is just the beginning. When knight after knight turns up dead or gravely wounded, sometimes at the hands of their fellow knights, Gildas and Merlin begin to suspect some sinister force behind the Grail madness, bent on nothing less than the destruction of Arthur and his table. They begin their own quest: to find the conspirator or conspirators behind the deaths of Arthur's good knights. Is it the king's enigmatic sister Morgan la Fay? Could it be Arthur's own bastard Sir Mordred, hoping to seize the throne for himself? Or is it some darker, older grievance against the king that cries out for vengeance? Before Merlin and Gildas are through, they are destined to lose a number of close comrades, and Gildas finds himself finally forced to prove his worth as a potential knight, facing down an armed and mounted enemy with nothing less than the lives of Merlin and his master Sir Gareth at stake.
Pre-Order from Amazon here: https://www.amazon.com/Lost-Quagmire-Quest-Merlin-Mystery/dp/1948338122
Pre-Order from Barnes and Noble here: https://www.barnesandnoble.com/w/lost-in-the-quagmire-jay-ruud/1128692499?ean=9781948338127
Comments
comments
http://jayruud.com/wp-content/uploads/2018/09/IMG_5803.jpg
2118
3023
Jay Ruud
http://jayruud.com/wp-content/uploads/2014/08/JayRuud.png
Jay Ruud
2018-09-17 08:37:25
2018-09-17 08:37:25
Las Delicias on Oak