Review No. 111: Little Caesars Pizza-Oak Street
2235 East Oak Street
(501) 327-0630
55.0 percent finished reviewing Conway restaurants
The Situation
She Said: I had about 18 hours at home between flights for a work trip and a fun trip, and the last thing I wanted to do was go out for a review meal, but we needed sustenance for our bodies and our writing, so we decided to order pizza, and Little Caesars is somewhere you cannot dine in. So, order we did, for carry out.
He Said: There's more than oneLittle Caesars in Conway, one on the east end and one on the west end of town. We picked the eastern, the newer store, for this review. From what I have read, Little Caesars is the third largest pizza chain in the United States (behind Pizza Hut and Domino's). It was founded in Detroit in 1959, and now has restaurants all over the United States, Canada, Australia, Asia and the Middle East, the Caribbean and Latin America. But not so much in Europe. Don't ask me why.
Ambience
She Said: Well, the ambience of my kitchen was amazing, so friendly, lots of books, and I allow dogs! I'll let He Said share what he thought about the ambience of the pick-up environment. But one thing that does drive me crazy about Little Caesars is the absence of the apostrophe on the proper noun… or is the place named after multiple Caesars, without being possessed by them? Grr.
He Said: Yes, we have apostrophes in English usage for a reason. If only people would learn to use them. But I digress. It's a small and clean lobby, with a couple of places to sit. Not exactly off-putting, but I've been in more welcoming places. A dentist's chair, for instance. Note the use of the apostrophe.
Drinks
She Said: We did not order drinks, because I had a nice Malbec to go with the pizza right here in my kitchen.
He Said:I just want to verify what She Said said. I think I had a root beer from my own refrigerator.
Food
She Said: One thing I like about Little Caesars is that they are really set up to customize the pizza, though they don't offer a large variety of options. We wanted to share a pizza, so we chose a thin crust with mushrooms on all of it, and pepperoni and extra cheese on half of it. (I was supposed to order green peppers on the nonmeat side of things for He Said, but in the ordering hassle—see below—I forgot). They also offer jalapeño peppers and pineapple, among just a few other toppings.
Maybe it was because I was between airport visits, the slices tasted to me like airport pizza, only maybe a little fresher. The thin crust wasn't quite crispy enough for my taste, but it folded nicely for easy one-handed eating whilst I surfed New York City weather forecasts on my phone in preparation for our trip. Otherwise, it was rather standard-offering pizza, not amazing, not awful. As you know, I think about pizza 95 percent of the time, but I'm willing to blow calories on it about 5 percent of the time. Next time I'm making that investment, I probably won't choose this pizza, but if it were offered to me, I'd probably eat one piece (which means probably two—or three—pieces).
He Said: In the interest of full transparency, I have to admit I've never been a fan of Little Caesars, but then I remember their old gimmick of giving you two pizzas for the price of one ("Pizza! Pizza!"), which came in a weird package and were square. And that didn't really taste very good, but were cheap. That I believe, is how they were able to play in the same league as Pizza Hut and Domino's—the pizza was not so good, but it was cheaper.
I have to admit, though, that this time when I had the thin crust pizza with the mushrooms, I was pleasantly surprised. It's been at least 20 years since I've eaten Little Caesars pizza, and I think it's really gotten much better in that time. Or else I've gotten less critical. But I think She Said might disagree with that last statement. I can't say it's my favorite pizza in town, but it's not bad.
Pizza is always a challenge for my low-fat diet. From Little Caesars online nutrition chart, I am estimating that each slice of pizza from our order had about 10 grams of fat, which is not too bad. I ate half the pizza, which means I had about 40 grams of fat. This is not going to send me into hospital-bound pancreatitis, and if I don't eat anything fatty the rest of the day I should be perfectly fine. So good on ya, Pizza Pizza!
Service
She Said: I can address the ordering service, and He Said can tell you about the pick-up, dear readers. I tried twice to order online, and both times the site hung up. The first time, I got the spinning wheel of eternity after I put in my credit card and thought I had ordered the pizza. I called the store to see if it had gone through, and it hadn't. I checked my bank account, and it hadn't gone through, so I tried again. This time I couldn't even get that far and everything broke down. I like the ideaof ordering online because I'm an introvert, and it's nice to "design" your pizza to your specifications and then choose what time you want to pick it up all without talking to someone, but I had to give up. When I called the store back, the staffer was very helpful, took the order and told us that yes, indeed, we could pick it up in 90 minutes.
He Said: Of course, 90 minutes is a long time to wait for pizza, but that was the time we wanted it, not how long it was going to take to make. Picking the pizza up was easy and the server was friendly and helpful. No problem there.
It may be pertinent to mention under "service" the public service that Little Caesars has become known for: In addition to a veterans' program that gives incentives for veterans to open franchises, Little Caesars has also won President's Volunteer Action Awards from both Bill Clinton and George W. Bush for its "Love Kitchen," which serves pizza to those in need. It does feel good to patronize businesses with some sense of being part of the community.
What We Got and What We Paid: One thin-crust pizza with pepperoni, mushrooms and extra cheese for $8.94.
Elapsed Time from Our Arrival to Food Arrival: It was ready when He Said got there to pick it up.
Rating
She Said: This is pretty standard pizza, and not expensive; I'll go here again if I'm looking for any pizza port in a storm, but otherwise, there's better pizza in Conway. For the money, though, it's not bad.
He Said: It's not the best pizza in Conway but it's not bad, and it probably isthe cheapest.
So… He Said and She Said: Go here for standard, slightly-fresher-than-airport pizza made to order and reasonably priced.
NOW AVAILABLE:
If you like these reviews, you might enjoy Jay Ruud's most recent novel, now available from the publisher at https://encirclepub.com/product/the-bleak-and-empty-sea/. Also available from Amazon or Barnes and Noble.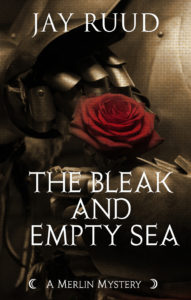 When word comes to Camelot that Sir Tristram has died in Brittany of wounds suffered in a skirmish, and that his longtime mistress, La Belle Isolde, Queen of Cornwall, has subsequently died herself of a broken heart, Queen Guinevere and her trusted lady Rosemounde immediately suspect that there is more to the story of the lovers' deaths than they are being told. It is up to Merlin and his faithful assistant, Gildas of Cornwall, to find the truth behind the myths and half-truths surrounding these untimely deaths. By the time they are finally able to uncover the truth, Gildas and Merlin have lost one companion and are in danger of losing their own lives.
Order from Amazon here: https://www.amazon.com/Bleak-Empty-Sea-Tristram-Mystery/dp/1893035735/ref=sr_1_1?s=books&ie=UTF8&qid=1503328086&sr=1-1&keywords=Bleak+and+Empty+Sea
Order from Barnes and Noble here: https://www.barnesandnoble.com/w/the-bleak-and-empty-sea-jay-ruud/1126958139?ean=9781893035737
Comments
comments
http://jayruud.com/wp-content/uploads/2018/05/IMG_0456.jpg
3024
4032
Jay Ruud
http://jayruud.com/wp-content/uploads/2014/08/JayRuud.png
Jay Ruud
2018-06-04 09:00:46
2018-06-04 09:00:46
Little Caesars Pizza--Oak Street