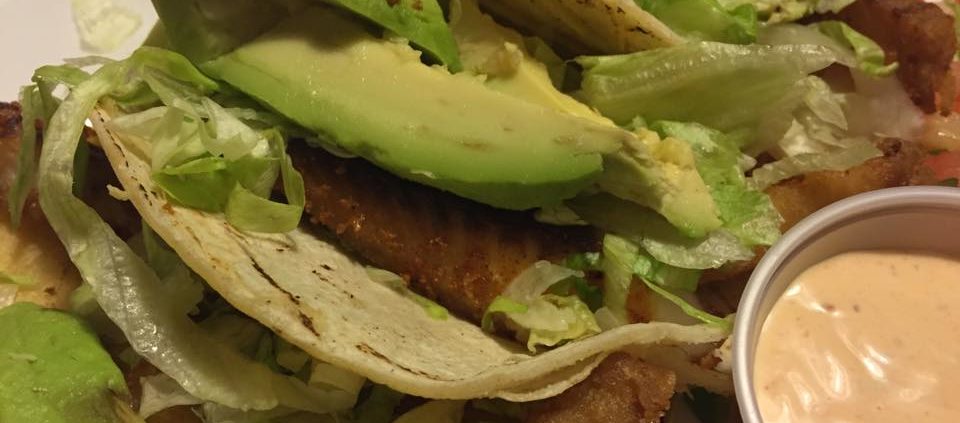 Review No. 29: Los 3 Potrillos Mexican Restuarant
1090 Skyline Drive (Inside the Howard Johnson)
(501) 327-1144
17.6 percent finished reviewing Conway restaurants
The Situation
She Said: 'Twas the night before Thanksgiving… and we were finished with hot yoga and looking for a supper we didn't have to cook. One of our gentle readers had suggested we try Los 3 Potrillos Mexican Restaurant in the Howard Johnson, so we headed in that direction. We had been there for social events twice before, but had never gotten to really sample the cuisine of our choosing. I was hungry and ready to see how good this place was.
He Said:  Los Tres Potrillos—The Three Young Horses in English—has the virtue of being in a hotel, which means you can pretty much count on it being open at any reasonable hour seven days a week, since travelers at the hotel have got to eat. Very often hotel restaurants are sub-par, since they often serve to a captive audience, or else they are unabashedly overpriced, since they figure you may be stuck eating there if you're a hotel guest and can charge whatever the market will bear. We quickly discovered that Los 3 Potrillos was neither one of these things.
Ambiance
She Said: Inside this place the aesthetic is straight up Conwegian-Mexican style through and through. Colorful seating in booths and tables, with bright, festive decorations make the whole restaurant feel like it's ready to host a party. It feels intimate and cozy and I was very comfortable in our happy-colors booth.
He Said: Yes—it's not quite as bright and festive as, say, El Parion, but some people might find that too much while this is more subdued and comfortable. There are televisions about, showing—what else?—soccer games.
Drinks
She Said: I was ready for a cocktail, so I perused the margarita menu. The restaurant offers a few different margarita options, frozen and rocks, of course, but others with various qualities of tequila, etc. I went for the basic frozen margarita, but livened it up by choosing the mango flavor. I got a medium, and I will say I'm glad I didn't get the large; I can only imagine what a bigger goblet of margarita would be like, given the plentiful nature of the medium. This is the best mango margarita I've had in Conway, with the fresh mango flavor quite tasty and prevalent without being annoying or heavy. It was delicious.
He Said: They did have soft drinks too, but I'm trying to cut back so I ordered the unsweetened iced tea, and proceeded to sweeten it with the sugar on the table. They did refill it at regular intervals.
Food
She Said: Once we sat down, I realized that while I was ready to eat, I wasn't famished. At the same time, I did want to try a few things to get a good idea of the quality of the food. I ordered guacamole to go with the complementary chips the waiter brought immediately to our table (I don't like salsa). The guacamole was tasty, a little spicy, but not too tomato-y, which I approve of. I did add a little salt to it, though, and that made it just right. I ordered my mango margarita and started to look over the huge menu. It was a little overwhelming because it was so extensive, and I wanted to make the right choice for my dinner… I had the big-menu trepidation that I get when I feel like I'll miss the perfect offering for me just because I didn't have time to read the whole thing to decide. But this menu is logically divided into various sections so you can easily find the kind of thing you're looking for. What I didn't find was a "vegetarian" section I use as my guide in other Mexican restaurants in town (but there are a la carte listings I could easily use to assemble the kind of meatless meal I usually select from vegetarian-combination items). After scanning, and looking, and reading ingredients for a little while, I chose the fish tacos, which include lightly fried tilapia, lots of avocado, greens, a fresh tomato-onion-pepper salsa on the side and a spicy cream sauce, also on the side. There are three of these little gems that come in flour tortillas with this dish.
Those fish tacos are some of the best I've ever eaten! The fish wasn't overwhelmed by heavy breading and oil, and tasted as if it had been pan sautéed lightly to allow the perfectly done taste of the tilapia to be enhanced by the cooking instead of overwhelmed by it. This actually was the approach of the whole dish: fresh, natural ingredients perfectly prepared to make the most of their inherent deliciousness. I liked that the sauce, which was pretty spicy for my bland taste sensitivities, was on the side so I could mete it out just right for my preferences. I had also asked for refried beans instead of the Mexican rice that is offered with the tacos (I don't like tomato-y rice, of course), and our waiter brought a salad bowl full of it. It was a little soupier than I am used to, but the beans were also very tasty and satisfying.
I was disappointed in myself that I couldn't eat it all. I had the margarita, chips and most of the guac, but only one of the tacos and a few bites of the beans; however, there was no way I was leaving that deliciousness behind, so I shared the beans and brought the other two tacos home in a to-go box. Even with all the Thanksgiving leftovers calling my name, those tacos are what I'm looking forward to digging into as soon as possible.
He Said:  Yes Jones, your anti-salsa fetish is a little bit sick, if you ask me, but I found the chips and salsa to be quite tasty. You are correct about the menu—lots and lots of choices, but I didn't really see any vegetarian entree either. There were, it appeared, several possibilities for someone like me looking for a low-fat option. The dish that really caught my eye was the "3 Potrillos Special": this is a dish where you can choose grilled chicken, shrimp or a mixture of both that comes on a bed of Mexican rice with sautéed onions, green peppers and tomatoes, all topped with a "special cheese." All of this sounded pretty savory but also low fat—except for the cheese. This could add a lot of fat to the equation, depending on how rich it was and how much they put on the dish. But they were very accommodating, agreeing to bring me the cheese on the side, so I could control how much of it actually went on the entrée and, ultimately, in my belly.
When the order came it looked beautiful, and I had the cheese sauce on the side, adding it sparingly to the first few bites of the dish—which, by the way, knocked me out: it was light and flavorful, and there was a lot of it. Certainly one of the best dishes I've had at any of the twelve thousand Mexican restaurants in Conway. I would go back here tomorrow just to have this dish again, but I also want to try a few of the other items on the menu.
Service
She Said: Our waiter was efficient and professional. We arrived at 6:15 p.m. and it was filling up around us during our stay. We waited a little while to make our order and for the waiter to come back for our check, but it wasn't intolerable. More than one person asked me if I wanted another margarita, though. I like a place that's attentive to your glass.
He Said: No real complaints, though I did think the food took longer than is typical. Also, I ordered a side dish of refried beans with my meal, but the waiter seemed to have forgotten about it. I didn't remind him because the special was so much food I couldn't have eaten the beans anyway.
What We Got and What We Paid: Guacamole, fish tacos entrée, 3-Potrillos Special, soda and a medium house margarita for $34.19.
Rating:
She Said: This is my new favorite Mexican restaurant in Conway! I'll be craving those fish tacos and that mango margarita again soon… heck! I already am!
He Said: You have good taste after all, Jones. We'll be back here again, probably many times.
So…He Said and She Said: With its delicious food and reasonable prices, Los 3 Potrillos is a great Mexican-food go-to for Conwegians.
Comments
comments
http://jayruud.com/wp-content/uploads/2016/11/15135929_304983836568115_6733713788277211789_n.jpg
720
960
Jay Ruud
http://jayruud.com/wp-content/uploads/2014/08/JayRuud.png
Jay Ruud
2016-11-28 08:14:22
2016-11-28 08:14:22
Los 3 Potrillos Mexican Restaurant