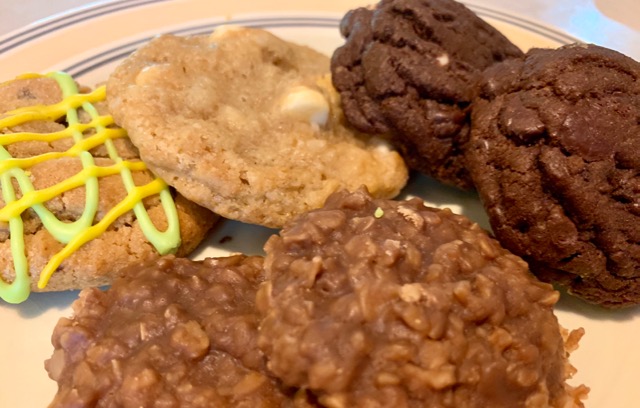 Review No. 165: Maggie's Original Cookie Company
2850 Prince Street, Suite 17
(501) 336-9600
74.5 percent finished reviewing Conway restaurants
The Situation
She Said: After a ladies-who-lunch outing with my mom and a friend, I wanted to take a little sweet treat home to my husband, so I pointed the car toward Maggie's, a cookie-making fixture in Conway I hadn't visited for a while.
He Said: This all happened without me. I just got to sample the cookies when they were brought home. I should add that She Said did not appreciate my singing Bob Dylan's "Maggie's Farm" through the devouring of the cookies.
Ambience:
She Said: This little shop has a counter, but is not for "dining in," so it's cheery, and it's also rather functional and efficient. You walk in and there's the cookie display, and it's obvious what you're supposed to do: choose cookies!
He Said: If you say so.
Drinks
She Said: I honestly didn't even check for drinks, but I don't think they sell them.
He Said: I'll take your word for it.
Food
She Said:I couldn't just get one cookie for me and one for He Said, so I chose two of the no-bake cookies I went there seeking, and then an assortment of chocolate chunk, chocolate sin and white-chocolate-chip macadamia. It was hard to wait to eat them when I got home, but I did wait and applied one of the no-bakes to my face tout de suite. It was very good, chocolatey and nicely textured with the oatmeal but not chunky or bland. I couldn't wait to eat another, but I was trying not to over-do it, so I had one bite of the peanut-butter chunk cookie, which had thin lines of icing on top. It was very good, but the icing made it a bit on the sweet side. I was very happy with my cookies, with my choices overall.
He Said: I am also very happy with your choices. I grabbed one of those chocolate sin cookies and it was so good I immediately grabbed the other one. Next day I had the white-chocolate chip macadamia cookie ,which was also excellent—macadamias have a lot of fat in them, which is not particularly too good for my pancreas but it was just one cookie and there were only a few slices of macadamia so shut up, pancreas. Then the next day I had what was left of the frosted peanut butter chocolate chunk cookie that She Said had tried, and it certainly wasn't too sweet for me. I also had the second no-bake cookie, which was to die for. Just let me say that all of the cookies I had were delicious, and I'd get cookies here any time. I'd like to come back tomorrow and pick some more.
Service
She Said: The staffer who waited on me was patient and helpful, though not particularly smiley or friendly, though you kind of expect hyper smiles at a cookie place. Still, I was pleased the service overall.
He Said: Yeah, I was very pleased with the service I got: She Said came home and put a bag of cookies into my hand. And I didn't even have to tip her.
What We Got and What We Paid: Six cookies for less than $5.
Elapsed Time from Our Arrival to Food Arrival: 3 minutes.
Rating:
She Said: The variety of cookies is perfectly tempting without being overwhelming, the service is efficient and the cookies themselves are scrumptious!
He Said: Delicious cookies for a decent price. As someone once said, that's good enough for me.
Is Maggie's good at what it's good for? Yes, it is! Beautiful cookies to take home and devour!
NOW AVAILABLE!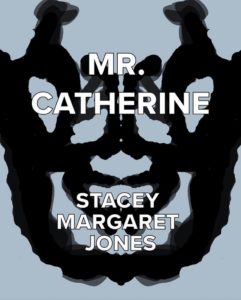 Stacey Margaret Jones's novel, Mr. Catherine, is available online from the following sellers (ebook only through June 24, ebook and paperback as of June 25, 2019): Amazon, Barnes & Noble, Google Play and Apple Books.
Where is Catherine? Catherine has gone missing, a year after confessing to having an affair. Her husband, a marriage and family therapist, hides her infidelity from the police to protect her reputation—and to shelter his pride.
As the secrets begin to pile up, Mr. Catherine, the unnamed husband of the missing woman, is plunged into a world of underground dealings, kidnappers, ex-lovers and drug running in Little Rock, Arkansas, all while grappling with his part in the highs and lows of the life they led together.
With each passing day, a sleepless Mr. Catherine grows more frantic, drinking and popping pills, which stir up painful visions and remembrances that hold a mirror up to the narrator as he comes to terms with his own emotional betrayals.
Mr. Catherine is a fast-paced domestic noir that explores the dangerous secrets between a husband and a wife, as well as a deeper meditation on marriage, connection and honesty.
Comments
comments
http://jayruud.com/wp-content/uploads/2019/07/IMG_6615-1-1.jpg
408
640
Jay Ruud
http://jayruud.com/wp-content/uploads/2014/08/JayRuud.png
Jay Ruud
2019-07-21 19:11:52
2019-07-21 19:11:52
Maggie's Original Cookie Company