Review No. 122: Marco's Pizza
2501 Dave Ward Drive
(501) 327-7070
57.2 percent finished reviewing Conway restaurants
The Situation
She Said: Still trying to eat down a cold, I believed pizza would be the remedy once and for all, and feeling sick and committed to my pajamas, a carry-out/delivery pizza provider looked like the best way to go. I had probably parked in front of Marco's on Dave Ward hundreds of times when dropping off or picking up dry cleaning, but I had never noticed it until we started our project to eat in every restaurant in Conway. Unwilling to leave the house, I recalled Marco's, and our lunch plans were made.
He Said: Marco's is one of the larger pizza chains in the United States. Founded in Oregon, Ohio (no, that's not two states), in 1978 by an Italian immigrant (Pat Giammarco) with a secret recipe for pizza sauce, by 2017 Marco's had more than 800 restaurants across 34 states as well as Puerto Rico, the Bahamas, and, strangely enough, India (which of these things is not like the others?). The chain expects to open its 1,000th franchise before the end of 2018. In addition to the one in Conway, there are Marco's restaurants in Little Rock, North Little Rock, Cabot, Maumelle and Sherwood, so Central Arkansas is pretty well covered.
Ambience
She Said: I placed the order online and He Said picked it up. I found the online ordering interface easy to use, and delightful for introverts who don't like to talk on the phone. More about this process in the "Service" section.
He Said: It's less delightful for introverts to actually go and pick the pizza up, but it's not bad. There's a friendly guy at the counter who hands you the pizzas if you've placed a pickup order. There are also tables off to the side in a separate area if you want to eat there—something She Said didn't realize when she placed the order online.
Drinks
She Said: Marco's sells small-bottled Pepsi products, including Mug rootbeer, but since we were eating at home, I skipped them, and enjoyed my pizza with a nice Malbec.
He Said: Yeah, I had water. But I would have had a root beer if I'd been eating in.
Food
She Said: Given the unassuming store-front and the chain's under-the-radar pizza presence in the market (or in my awareness), I think I was expecting a slight upgrade from Totino's frozen pizza, maybe at a Tombstone level, though given the prices, I would have been unhappy if that had been the case. This pizza was delicious.
First off, for those thin-crust connoisseurs out there, Marco's thin-crust option is the real deal. It's crispy and stands up to the pizza toppings (it's not "wiggly" as our 4-year-old grandson complains about pizza at times). I was impressed. For my pizza, I chose pepperoni, mushrooms and green olives. The pepperoni was a touch greasy, and even though the mushrooms seemed to have come from a can, the pieces were generous and tasty. The green olives delivered that salty punch. I enjoyed it so much I ate five of the six pieces of my small pie.
He Said: Normally I skip pizza, or have one small piece, because the cheese and the sausage or pepperoni normally added to pizza throws the fat content up beyond what is healthy for me. She Said ordered my small pizza, and she checked the boxes for grilled chicken and green peppers, neither of which is bad fat-wise. She stipulated half the cheese, which Marco's apparently interpreted as "half cheese," and so sent me a pizza that had cheese on half of it and no cheese at all on the other half. I guess I can understand where they were coming from. Apparently, there is an option of "lite cheese," which aside from its egregious spelling would be the better option for me. In any case, I did look up Marco's nutrition page, which gives you nutritional facts by the slice (assuming one slice equals 1/6 of the pizza). My pizza, given the half-cheese option, contained only six grams of fat. Which sounds pretty good, but remember that's only one slice. I did end up eating the whole pizza, which gave me 36 grams of fat. That's a lot. But if I was careful the rest of the day, and it was not disastrous.
I ate the whole pizza because dang it, it tasted pretty good, and I hadn't had real pizza in a while. The chicken was tender and tasty, and the cheese and pizza sauce blended into that salty, tomato-y, cheesy flavor that makes pizza so popular a dish. The crust was thin enough and crispy enough, and to top it all off, She Said had had them cut it into squares instead of pie-shaped pieces, which is to me the archetypal language of pizza. Marco's might not be the best pizza in Conway—there are a lot of good pizzerias in town. But it's certainly a good one, and really hit the spot.
Service
She Said: When I put in our address in the online form, we were not eligible for delivery, and I'm not sure if this Marco's delivers anywhere in Conway. I will caution readers that a small pizza that starts out at one price quickly increases, if you build your own, to close to double the price advertised. I wanted three small pizzas for three very particular eaters, He Said, My Mom and me, so I racked up the bill. Also, I selected half the cheese for He Said and what we got, as he wrote, was cheese on half the pizza, so some of the items are not completely intuitive. I liked being able to choose from the master list for each pizza, including the crust specifics (I got garlic-butter), cheeses, sauces, etc. Also, if you choose thin crust pizza, you can ask them to slice it in squares, just like He Said's hometown pizzas in Racine, Wisconsin! I did think the order process was quick and easy, and I immediately got a confirmation email and an order-tracking tool to see where my pizzas were in the process.
He Said: All I can say is, the pizza was ready and already paid for online when I got to Marco's, and the friendly server just handed it to me with a smile. So, they got that going for them.
What My Mom Thought: This was good pizza with a nice, thin crust. I saved half of mine and reheated it the next day.
What We Got and What We Paid: One small thin-crust cheese pizza, with pepperoni, mushrooms green olives and garlic-butter crust; one small, thin cheese pizza with grilled chicken, green peppers and half without cheese; and one small thin cheese pizza with Italian sausage and green peppers for $40.48.
Elapsed Time from Our Arrival to Food Arrival: I completed the order at 11 a.m., and it was listed as ready for pickup at 11:23 a.m., when the projected time for pickup was initially listed as 11:25 a.m. to 11:35 a.m. It was ready when He Said arrived.
Rating
She Said (Or Was It Worth the Weight I Gained): I gained 1.2 pounds eating most of a small, thin-crust pizza, and it was worth it. This pizza is a quality pie offering in Conway that is also high on the convenience scale.
He Said: The pizza was good. It was not cheap.
So… He Said and She Said: Go here for pizza you can pick up without talking to anyone on the phone, especially if you're looking for real thin-crust pizza in Conway, but not if you're particularly price-sensitive.
NOW AVAILABLE:
If you like these reviews, you might enjoy Jay Ruud's most recent novel, now available from the publisher at https://encirclepub.com/product/the-bleak-and-empty-sea/. Also available from Amazon or Barnes and Noble.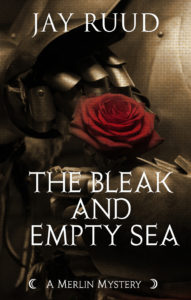 When word comes to Camelot that Sir Tristram has died in Brittany of wounds suffered in a skirmish, and that his longtime mistress, La Belle Isolde, Queen of Cornwall, has subsequently died herself of a broken heart, Queen Guinevere and her trusted lady Rosemounde immediately suspect that there is more to the story of the lovers' deaths than they are being told. It is up to Merlin and his faithful assistant, Gildas of Cornwall, to find the truth behind the myths and half-truths surrounding these untimely deaths. By the time they are finally able to uncover the truth, Gildas and Merlin have lost one companion and are in danger of losing their own lives.
Order from Amazon here: https://www.amazon.com/Bleak-Empty-Sea-Tristram-Mystery/dp/1893035735/ref=sr_1_1?s=books&ie=UTF8&qid=1503328086&sr=1-1&keywords=Bleak+and+Empty+Sea
Order from Barnes and Noble here: https://www.barnesandnoble.com/w/the-bleak-and-empty-sea-jay-ruud/1126958139?ean=9781893035737
Comments
comments
http://jayruud.com/wp-content/uploads/2018/08/IMG_5432.jpg
3024
4032
Jay Ruud
http://jayruud.com/wp-content/uploads/2014/08/JayRuud.png
Jay Ruud
2018-08-20 06:50:12
2018-08-20 06:50:12
Marco's Pizza