Review No. 93: MarketPlace Grill
599 Skyline Drive
47.0 percent finished reviewing Conway restaurants
(501) 336-0011
The Situation
She Said: Some morning conference calls for my paying job as a market researcher gave me an appetite, and I recalled MarketPlace Grill, which we had not visited in at least 10 years, maybe more. I figured they'd have a nice variety of luncheon foods, from which I could choose a salad or something healthy (more on that later).
He Said: She Said she was only going someplace where she could get a salad, so this was a bit of a compromise. MarketPlace Grill has a flagship location in Springdale, and had expanded into Little Rock and the Northwest Arkansas Mall in the last decade or so, but has had to close those last two locations in the past few years. The Springdale location and the one in Conway continue to do well, however.
Ambience:
She Said: I classify the décor as "Classy Cracker Barrel," "Bland Americana" or "Vaguely Folksy." You enter into a long, wide hallway with a lot of benches and seating with a shabby-chic aesthetic (which I guess is for Sunday crowds, because there was plenty of room at 12:30 on a weekday afternoon). We turned into the restaurant where we were greeted by shellacked desserts in a display case—hey, brownie, that's not a good look for you. The dining room is large, but it's decorated and broken up enough that it doesn't feel like you're eating in your local Legion Hall (not that there's anything wrong with that).
He Said: Yes, it does have the feel of a Cracker Barrel or a barbecue joint, which is, I guess, to emphasize that what we've got here is casual American dining. That's the décor, and that's the menu.
Drinks
She Said: I've gotten away from my no-soda rule since we had a book party for He Said in December and had left-over Cokes and diet drinks, so launching the theme of my meal, which apparently was "throw all weight and health concerns to the wind," I ordered a Diet Coke. It was lovely, and I was kept in D-Cokes throughout the meal.
He Said: The server said something about cherry Cokes when we sat down, and I couldn't get the image out of my head, so I ordered a cherry Coke. Which was all you would want from a cherry Coke. And she brought me more without ever needing to be asked.
Food
She Said: The menu is extensive, with lots of categories—salads, pasta, sandwiches, burgers, etc. And, they had pizza, which is always hard for me to refuse (95 percent of my time is spent thinking about pizza). I looked over the salads, as that would be a good thing for me as I'm still trying to shed Swiss Vacation Weight. But when our waitress asked us if we wanted some cheese or spinach dip, I felt my discipline go crashing down around me, and I said "Yes!" to the spinach dip. Our server also brought the MarketPlace Grill bread to our table, melted butter on the side, so in true Non-Atkins style, I used the bread for the spinach dip, instead of the chips, which I found uninspiring. The bread, however, was nearly a spiritual experience. The spinach dip is very cheesy and satisfying. It could be more than enough of a lunch on its own.
For my entrée, I finally settled on the crab cakes with a baked potato, which is the side for this dish, though I gathered when He Said was ordering I could have made a substitution. I found the crab cakes very satisfying. The remoulade that accompanies them has a little spice but doesn't take over the taste. I ate just a few bites of the potato, which I ordered with sour cream and butter, and it was fine. I did think the entrée crab cakes were a wee bit on the expensive side: around $18 for two cakes, but it did include the potato side and the salad. About that…
I did substitute a Caesar salad for the house salad, and this was not good. A couple of forkfuls in, I bit down on a frozen piece of lettuce, which is unpleasant and indicates things about the kitchen a diner doesn't really want to think about (pre-packaged, thoughtless preparation, old food). It really was "ice-berg lettuce." Yuk. I was glad I hadn't ordered it as my entrée and I made a mental note not to get a salad here again.
He Said: There were a lot of choices. I was tempted by several different chicken possibilities, and by a teriyaki stir-fry, and of course the salmon, but I went for the grilled barramundi, which seemed a particularly healthy choice, billed as having only 325 calories. I don't know if this was with or without the potato side, which to me seemed a bit of a danger for the old pancreas, with either butter or sour cream, so I had a side of grilled vegetables instead. The garramundi is described as a "mild flaky Asian sea bass fillet lightly glazed with Korean gochu sauce then garnished with pineapple salsa."
The sea bass was indeed mild and flaky. The gochu sauce gave it a little bit of a chili-like tang, complemented by the sweetness of the pineapple salsa. It was a flavorful combination, though ultimately the flavors were so strong as to all but drown out the taste of the sea bass itself, which I happen to like a lot. The salad was fine, and the poppy seed dressing quite tasty, though it was an ordeal for me to choose it (see below). The grilled vegetables were mainly squash and were pretty forgettable.
Service
She Said: Our service was stellar. Our waitress answered my, "And how are you?" with "Living the dream!" in a tone of irony that was suitably veiled so we didn't feel she was complaining, but rather that we were in on the joke. She checked on us a lot, kept me in Diet Coke (it's not her fault I'm off the wagon) and made us feel at home from beginning to end. She was the best part of the experience.
He Said:  I must admit that I was a difficult customer for our poor server. I was a bit concerned about getting a low-fat salad dressing, and though I wanted the honey-mustard dressing, I knew that some restaurants will throw mayonnaise into the honey-mustard, which turns a perfectly fat-free choice into one loaded with fat—and they do it without telling the customer. I mean, for crying out loud, if you're going to do that, then call it "honey-mustard-mayonnaise dressing," all right? Is that so hard? Anyway, I digress. I asked her about the honey-mustard, she didn't know, but said she would bring it on the side. However, she did come back and tell me that yes, it did have mayonnaise in it, so I switched to their poppy seed dressing. And through all of this, our waitress continued her "living the dream" attitude. Shout out to Symantha.
What We Got and What We Paid: Spinach dip, cherry Coke, Diet Coke, barramundi, and crab cakes (entrees included salad course) for $56.54.
Elapsed Time from Our Arrival to Food Arrival: 11 minutes to appetizer, 25 minutes to entrées.
Rating
She Said: This place brings to mind the old saw that compromise means no one gets what they really want: MarketPlace Grill does so many things, I wondered what they do well. Most of our dishes were fine, nothing was stellar, and the salad was bad.
He Said: On the whole, it was just kind of all right. I'd put it in the category of something like a TGI Friday's, with passable if forgettable food, though overall perhaps a bit healthier than Friday's.
So… He Said and She Said: Go here to cater to many different tastes at the risk of not delighting anyone. (Great service, though!)
NOW AVAILABLE:
If you like these reviews, you might enjoy Jay Ruud's most recent novel, now available from the publisher at https://encirclepub.com/product/the-bleak-and-empty-sea/. Also available from Amazon or Barnes and Noble.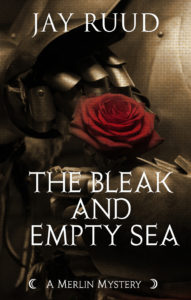 When word comes to Camelot that Sir Tristram has died in Brittany of wounds suffered in a skirmish, and that his longtime mistress, La Belle Isolde, Queen of Cornwall, has subsequently died herself of a broken heart, Queen Guinevere and her trusted lady Rosemounde immediately suspect that there is more to the story of the lovers' deaths than they are being told. It is up to Merlin and his faithful assistant, Gildas of Cornwall, to find the truth behind the myths and half-truths surrounding these untimely deaths. By the time they are finally able to uncover the truth, Gildas and Merlin have lost one companion and are in danger of losing their own lives.
Order from Amazon here: https://www.amazon.com/Bleak-Empty-Sea-Tristram-Mystery/dp/1893035735/ref=sr_1_1?s=books&ie=UTF8&qid=1503328086&sr=1-1&keywords=Bleak+and+Empty+Sea
Order from Barnes and Noble here: https://www.barnesandnoble.com/w/the-bleak-and-empty-sea-jay-ruud/1126958139?ean=9781893035737
Comments
comments
http://jayruud.com/wp-content/uploads/2018/02/IMG_7274.jpg
3024
4032
Jay Ruud
http://jayruud.com/wp-content/uploads/2014/08/JayRuud.png
Jay Ruud
2018-02-04 22:03:25
2018-02-04 22:03:25
MarketPlace Grill