Martita's Restaurant
2915 Dave Ward Drive, No. 1
(501) 932-6202
56.4 percent finished reviewing Conway restaurants
The Situation
She Said: We were looking for something different to lunch on after church one Sunday, and I'd heard there was a Salvadoran restaurant open in Conway, so after a little Googling and Facebooking, we headed to Martita's, which also offers Mexican dishes, to try a new-to-us cuisine.
He Said: Yeah, I had driven by this strip mall countless times since the beginning of the year, when Martita's opened and never noticed it was here. It's where the other Faby's used to be—parking signs still have the "Faby's customers only" text on them, but you'd have a long walk if you were going to park here now for Faby's. But I digress.
Ambience
She Said: It certainly has a family-restaurant atmosphere, as one of the children was watching an Ella Enchanted movie on the dining room television, and I liked that, as it made the food feel homemade for me, too. It's a small dining room, with an ocean-villa scene on one wall, and felt cozy to me.
He Said: It was cozy. Felt kind of like we were in somebody's living room. And we were the only customers here after church on Sunday. This place definitely deserves more business than it had the day we were there.
Drinks
She Said: I had unsweetened iced tea, and it was very pleasantly brewed and nicely iced.
He Said: One of the few restaurants that actually lists its soft drinks on the menu, a real plus since I hate having to play the guessing game of what the restaurant might have that I can drink. Anyway, they have Coke products here, and I had a Dr. Pepper. It had clearly come from a fountain.
Food
She Said: The menu is extensive, so I started out by ordering a small guacamole to keep me company whilst I perused and pondered. He Said was perfectly happy with the salsa that comes with the chips, but you know, dear reader, how I dislike tomato-flavored food products. I was torn among many offerings: the tilapia special on the board, shrimp tacos, enchiladas with house mole, and something called a pupusa, which I suspected might be Salvadoran. They offer several choices of pupusa at Martita's, and after I asked our waitress for her opinion on what I should choose, she encouraged me to try the pupusa, as it is indeed a Salvadoran dish and is all handmade at Martita's from their own recipe. A pupusa is a thick corn tortilla stuffed with a savory filling. I chose the refried-beans-and-cheese pupusa and the pork. A bigger eater might be able to sample more flavors. As it was, I could eat about half of each, as I also ordered a side of refried beans, and I was still noshing on the guacamole and chips.
And what did I think of my food at the Salvadoran/Mexican restaurant? I thought the guacamole was obviously fresh and tasty, but I added a bit of salt. The chips were fine. I lovedthe refried beans and cheese pupusa and liked the pork version. The refried beans side dish was also quite satisfying and tasty. In fact, I took home all I couldn't eat, had the guacamole on some scrambled eggs that night and finished it up by reheating the pupusa the next morning for breakfast and topping them off.
He Said: So, Jones, what you're saying is you got three meals out of your Martita's lunch? I guess you'd call that economic. And by the way, I wouldn't say I was perfectlysatisfied with the salsa that came with the chips. For me it was really thin and watery.
But that's really my only complaint. I had one of the specials they had listed on a board on the wall: the Mexican Snapper special, which was cooked in a kind of tomato-ey jalapeño sauce and came with refried beans and Mexican rice, and a choice of corn or wheat tortillas. My palate being extremely sensitive, despite what you may have heard from She Said, I asked them to "go easy on the jalapeños," which they did. I found the dish to be a real joy to eat, and had myself a happy time rolling snapper, refried beans and rice up in my corn tortillas and adding some of that thin salsa, which was ideal for this particular purpose.
The food tasted fresh and seemed authentic to me, not some Americanized version of what we think Mexican—or Salvadoran—food should be.
Service
She Said: At Martita's, you are seated by the staff, and waited upon, and then you pay at the counter. Our service was very good. Our waitress was happy to explain the dishes to us and share her recommendations, she checked on us often and shot me no judgment when I ordered a side of refried beans to go with my refried-beans pupusa.
He Said: Yes, she didn't look down her nose at my wussing out about the jalapeños either. I will venture to say that we got a lot of attention partly because we were the only customers at the time, but I'm sure they are friendly to everyone.
What We Got and What We Paid: One small guacamole, two pupusas, one snapper special, one side of refried beans, one Dr. Pepper and one unsweetened iced tea for $29.52.
Elapsed Time from Our Arrival to Food Arrival: 20 minutes.
Rating
She Said: I'll be eating those pupusas again as soon as I can, and if you haven't tried them, you should!
He Said: This is definitely a place worth visiting, not just another of the 87,524,659 Mexican restaurants in Conway. Spread the word: This place is for real.
So… He Said and She Said: Go here for friendly, authentic, homemade Salvadoran food and Mexican offerings as well.
NOW AVAILABLE:
If you like these reviews, you might enjoy Jay Ruud's most recent novel, now available from the publisher at https://encirclepub.com/product/the-bleak-and-empty-sea/. Also available from Amazon or Barnes and Noble.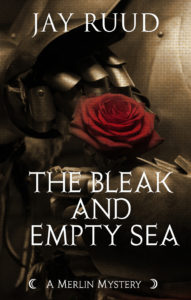 When word comes to Camelot that Sir Tristram has died in Brittany of wounds suffered in a skirmish, and that his longtime mistress, La Belle Isolde, Queen of Cornwall, has subsequently died herself of a broken heart, Queen Guinevere and her trusted lady Rosemounde immediately suspect that there is more to the story of the lovers' deaths than they are being told. It is up to Merlin and his faithful assistant, Gildas of Cornwall, to find the truth behind the myths and half-truths surrounding these untimely deaths. By the time they are finally able to uncover the truth, Gildas and Merlin have lost one companion and are in danger of losing their own lives.
Order from Amazon here: https://www.amazon.com/Bleak-Empty-Sea-Tristram-Mystery/dp/1893035735/ref=sr_1_1?s=books&ie=UTF8&qid=1503328086&sr=1-1&keywords=Bleak+and+Empty+Sea
Order from Barnes and Noble here: https://www.barnesandnoble.com/w/the-bleak-and-empty-sea-jay-ruud/1126958139?ean=9781893035737
Comments
comments
http://jayruud.com/wp-content/uploads/2018/05/IMG_1227.jpg
2162
3423
Jay Ruud
http://jayruud.com/wp-content/uploads/2014/08/JayRuud.png
Jay Ruud
2018-06-18 10:12:24
2018-06-18 10:12:24
Martita's Restaurant