Review No. 142: McAlister's Deli
2465 Sanders Road
(501) 513-1311
64.6 percent finished reviewing Conway restaurants
The Situation
She Said: After successfully eating down a cold, I was ready to get back to low-carb eating and healthy foods, and I was hungry after a treadmill run, so when He Said suggested McAlister's, I was here for it, because I had eyeballed a salad there recently and was ready to return and apply that salad to my face.
He Said: We had tried to review this place before, but had hit it at a time when they seemed to have been hit by a sports team in the middle of the afternoon and were way understaffed, so after waiting awhile we had left. This time we got up to the counter pretty quickly.
I remember when my son-in-law first moved to Arkansas and saw the "Jeet Yet?" billboards on I-40. He thought they were hilarious and never forgot them. So I guess they did their job! McAlister's is a chain that operates in 26 states (apparently not New Jersey where my son-in-law is from) and has more than 400 locations, mostly in the south: Their first restaurant was in Oxford, Mississippi, and they are currently headquartered in Sandy Springs, Georgia, but they do have locations as far west as Arizona and actually as far north as Michigan.
Ambience:
She Said:McAlister's is clean and open, and that's about all I can say about the décor. It's rather bland, though not spartan, and I did like the Conway mural wall with Hendrix and UCA depictions.
He Said: I thought a little more of the décor than She Said did. There's a lot of dark wood (or wood-flavored wall product) and tables that gave you some privacy. It felt comfortable to me.
Drinks
She Said: Even though the company is known for its sweet tea, I went with the unsweetened because I just like it better. It was very tasty, nicely brewed and was refreshing with my meal. The cup was so big, I didn't need a refill, though it was easy to help yourself to more drinks.
He Said: Barq's Root Beer. The usual.
Food
She Said: First, let me say that I can attest to the comforting goodness of this restaurant's chicken salad served on a croissant, a likely contender any time I might have the opportunity to choose a last meal. In fact, He Said brought me one last October when I was recovering from surgery. But, alas, January brings other food requirements to the fore, so I perused the salad menu and chose the Savannah chopped salad with the additional avocado. This colorful, largesalad offers grilled chicken as the protein base. And there is plenty of chicken, which is tender, though bland. But the dried cranberries, gorgonzola crumbles, honey-roasted almonds and cucumbers make up for that (I forgot to tell them to hold the tomatoes, but I ate around them). The greens are dark, varied and fresh. The salad itself is 480 calories, though after eating the chicken and avocado, I probably ate one quarter of the rest of it before getting full. But, dear readers, the sherry-shallot dressing that is recommended with it is 450 calories—nearly doubling the caloric load of this lunch if you ate the whole thing with all the dressing. I got mine on the side and drizzled just a bit about because the salad itself was tasty and filling enough.
I cannot resist a brownie, especially when one is sitting right in front of me on the counter as I prepare to order. I wasn't wrong in choosing this dessert: It was chocolatey, with chunks of chocolate in the dense brownie goodness. I couldn't finish it as it was so rich and filling.
He Said: Thinking only of you, dear readers, I figured I'd try as many things as I reasonably could, so I ordered the "Choose 2" option so I could get half a sandwich and cup of soup, and then capped it off by grabbing a large chocolate chip cookie.
Turkey is usually the low-fat option on the sandwich menu. McAlister's, though, actually has five different turkey sandwiches, some of which really aren't all that healthy: These include the California turkey reuben (which has cole slaw, Swiss cheese, and a serious fat-adding Thousand Island dressing); the turkey Cobb (which has super-fat-adding bacon, avocado, mayo and ranch dressing); the smoky pepper jack turkey sandwich (more bacon added); the southwest turkey melt (with more cheese, guacamole and chipotle ranch dressing)—the half-sandwich portions of each of these "healthy" choices, according to McAlister's own nutritional chart, include, respectively, 530 calories with 33 grams of fat for the California reuben, 370 calories and 18 fat grams for the turkey Cobb, 390 calories and 18 fat grams for the smoky pepper jack, and 380 calories and 19 fat grams for the southwest turkey melt. Remember this is for half the sandwich.
I chose the garden fresh turkey sandwich. This comes with avocado, spinach, tomatoes and Swiss cheese, and is topped with salt and pepper and olive oil vinaigrette, all on a nine-grain bun. Half a sandwich contains 330 calories and 12 fat grams, so I did choose the healthiest option for my low-fat diet. I reduced the fat a bit more by ordering the sandwich without the avocado. The sandwich was really delicious, with tender turkey with a tasty collection of vegetables on a multi-flavored multi-grained bread.
I've had the chicken tortilla soup here many times—I used to stop here fairly often for lunch if I was in the neighborhood. A cup of the chicken tortilla soup has 120 calories and only 4.5 grams of fat, so this was ideal for my diet. I'm sure the tortilla chips that came with it added several fat grams as well, but not significantly so. The soup is full of tasty chicken, tomato, cilantro, cheese and peppers, and a tangy, creamy base. Have it with the tortillas and it's quite good.
Then I went and blew my healthy diet choices with the irresistible chocolate chip cookie, which added 370 calories and 27 grams of fat (bringing my fat total to 43.5 grams—within my limit as long as I had almost nothing the rest of the day).  But I felt like it was worth it—this cookie was so undry (censoring the M-word in deference to She Said's delicate sensibilities) that it was almost like eating chocolate chip cookie dough, and if you like that, you'll love these cookies.
Service
She Said:We waited a minute or two to be waited on at the counter, where you place your order, receive a number and then retire to your chosen table to receive your mild repast. Our server was very friendly, helpful and appropriately attentive. As He Said mentioned, we had tried to eat here recently around mid-afternoon on a Saturday, though, and after 20 minutes standing in a line that did not move, we left to try JJ's instead. We timed this visit to avoid lines!
He Said: Yes, service was prompt and friendly and even good-humored: When I ordered my sandwich with no avocado right after She Said had asked for extra avocado on her salad, he said "We'll just put it on hers!"
What We Got and What We Paid: A Savannah chopped salad plus avocado (extra), one unsweetened iced tea, one brownie, one "Choose 2" order with a garden turkey sandwich (sans avocado), a cup of tortilla soup, one chocolate chip cookie and a Barq's Root Beer, all for $29.21.
Elapsed Time from Our Arrival to Food Arrival:8 minutes
Rating:
She Said (or is it worth the weight I gained): I forgot to weigh myself, but I think this salad could be a healthy option if you watch the dressing. I would order it again as it was tasty and filling, though I wish they offered a half size.
He Said: I do love the soup here, and the turkey sandwich was quite tasty. I also know that the baked potatoes here are also a nice treat. So I do think McAlister's is a cut above the more fast-food like Subways and Quizno's of the world. And there are healthy choices—if you avoid the enticing lure of the dessert menu.
She Said: And the dressing.
Is McCalister's Good At What It's Good For? From salads to comfort foods, McAlister's is a solid option in Conway.
NOW AVAILABLE!!!
Jay Ruud's most recent novel, Lost in the Quagmire: The Quest of the Grail, IS NOW available. You can order your copy direct from the publisher (Encircle Press) at http://encirclepub.com/product/lost-in-the-quagmire/You can also order an electronic version from Smashwords at https://www.smashwords.com/books/view/814922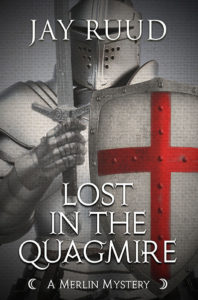 When Sir Galahad arrives in Camelot to fulfill his destiny, the presence of Lancelot's illegitimate son disturbs Queen Guinevere. But the young knight's vision of the Holy Grail at Pentecost inspires the entire fellowship of the Round Table to rush off in quest of Christendom's most holy relic. But as the quest gets under way, Sir Gawain and Sir Ywain are both seriously wounded, and Sir Safer and Sir Ironside are killed by a mysterious White Knight, who claims to impose rules upon the quest. And this is just the beginning. When knight after knight turns up dead or gravely wounded, sometimes at the hands of their fellow knights, Gildas and Merlin begin to suspect some sinister force behind the Grail madness, bent on nothing less than the destruction of Arthur and his table. They begin their own quest: to find the conspirator or conspirators behind the deaths of Arthur's good knights. Is it the king's enigmatic sister Morgan la Fay? Could it be Arthur's own bastard Sir Mordred, hoping to seize the throne for himself? Or is it some darker, older grievance against the king that cries out for vengeance? Before Merlin and Gildas are through, they are destined to lose a number of close comrades, and Gildas finds himself finally forced to prove his worth as a potential knight, facing down an armed and mounted enemy with nothing less than the lives of Merlin and his master Sir Gareth at stake.
Order from Amazon here: https://www.amazon.com/Lost-Quagmire-Quest-Merlin-Mystery/dp/1948338122
Order from Barnes and Noble here: https://www.barnesandnoble.com/w/lost-in-the-quagmire-jay-ruud/1128692499?ean=9781948338127
Comments
comments
http://jayruud.com/wp-content/uploads/2019/01/IMG_1107.jpg
2144
3417
Jay Ruud
http://jayruud.com/wp-content/uploads/2014/08/JayRuud.png
Jay Ruud
2019-01-20 17:49:52
2019-01-20 17:49:52
McAlister's Deli