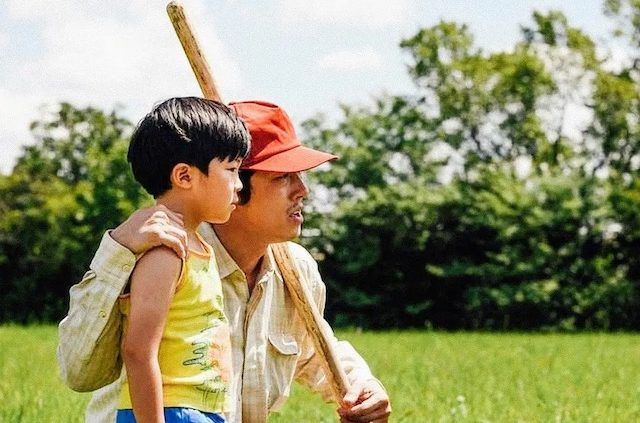 Minari
Lee Isaac Chung (2020)
Facts for You:
Where to Watch: Rentable on Prime Video, Apple TV, VUDU, Fandango Now
Length: 1 hour 55 minutes
Rating: PG-13
Names You Might Know: Steven Yeun, Will Patton, Yuh-Jung Youn
Language: Mostly Korean with English Subtitles
She Said: We fired this up in an Oscars-nominated-movie watching quest. I was thinking it would be a "good for me" film, because I thought there is no way it could be as enjoyable as last year's Korean stunner, Parasite. In the end, I enjoyed it more, and it's stuck with me in a more meaningful way.
The simple story is of an American immigrant family, who have recently relocated from California to Arkansas (though it was filmed in Oklahoma, I read). Jacob and Monica are working as chicken-sexers, at which Jacob is a known savant. But they've come to Arkansas because Jacob has bought a farm, which comprises a run-down trailer house without steps to the front door or skirting around the outside, and wild-grown acreage along a creek. Their children, Anne and David, have come with them, and soon Monica's mother joins them from Korea to help with the children.

The move is not easy on Monica, who does not like the trailer home, the isolation and the farming life. She doesn't share Jacob's dream of making a success on the farm, and she is very concerned about the distance the home is from the hospital because her son's David's heart has a hole in it. The first scene shows them arriving at the farmstead, and as the children begin to explore, Monica calls out to her son, "Don't run!" He's 5 or 6 years old, and this seems an impossible command, but he obeys, and we see instantly that he is used to doing so.
The movie follows the particularities of their difficulties as immigrants in Arkansas as well as their successes, such as they are. What I loved about the film is that it resisted the tropes of such coming-to-America films. Jacob finds a local man to hire to help him grow Korean vegetables to sell in regional markets, and while Paul's (Will Patton) Pentecostal Christianity is very different from Jacob and Monica's experience of the religion, the relationship is a positive one, as Paul gets behind Jacob's vision and encourages his new boss. But as we know, life is hard for poor, beginning, inexperienced farmers—even harder than it is for well-off, experienced farmers—and things that can't be helped combine with things that can be helped to throw obstacles in the family's way. Things break down, situations are dire, what will become of this family and each one of their dreams, for they all hold different hopes that sometimes conflict.
Each character is relatable and likeable and fallible. I was reminded of that Buddhist saying, "You are perfect just as you are, and you could use some improvement." I won't spoil the movie by outlining the ups and downs, but I will say that loveliest of all was the hope that emerges from the marriage of the family's Korean heritage with its 20th-century pioneering hopes. Or do you feel differently, Ruud?
He Said: You're so right, Jones. The hope that emerges is symbolized by the minari (hence the movie's title), which is a peppery Korean vegetable, something like watercress, which the grandmother (Yuh-Jung Youn of TV's Series8) plants along the creekbed. Minari apparently can take root anywhere and grow and thrive. The Yis of this movie are, it turns out, an immigrant family that, like the minari itself, can thrive where they are planted, even if that's in rural Arkansas.
But they do go through a great deal of difficulties. Jacob (Steven Yeun of The Walking Dead) has bought his farm in the 1980s, a time when, according to his banker, "Reagan's out to make sure the farmers are happy." And Jacob's plan is to grow specialized crops that will appeal to the 30,000 Korean immigrants arriving in the United States every year. And he hires a quirky but kind local farmhand (Patton from TV's 24 and The Good Wife) who helps him get his farm going, but he is plagued by setbacks until you begin to think this is just not going to work out.
But it's not all about immigrants struggling on the land, like a Reagan-era Korean Willa Cather novel. There's a rather delightful sub-plot involving the antagonistic relationship between Grandma and 7-year-old David (Alan Kim), a rivalry that begins when the boy is forced to share a bedroom with his grandmother, whom he resents for making him drink a rather disgusting Korean concoction and, he insists, because she "smells like Korea." As a Grandma, David feels, she falls short in not baking the way grandmothers are supposed to do. Indeed, this grandma's childcare consists of dealing cards, swearing heavily in Korean, and watching wrestling on TV.
Kim is a very watchable young actor, and recently received the 2021 "Critics' Choice Award" for "Best Young Actor/Actress." But other performances in the film are outstanding as well, with Yeun as Jacob Yi nominated for the Best Actor Oscar, and Youn as Grandma nominated for Best Supporting Actress. Director Lee Isaac Chung is also nominated, both for directing and for Best Original Screenplay. The story is apparently semi-autobiographical, which accounts for the very vivid details that seem to come straight out of real life. Chung was a young boy on an Arkansas farm himself, and thus it's no surprise that much of the movie seems to be seen from David's perspective.
Interesting that you mention the success of last year's Parasite, Jones. Without the prior example of that film, it's hard to imagine this movie actually being made in America with mostly Korean dialogue—or at least getting as much recognition as it has. But it's an extremely timely film, in terms of its focus on immigrants, and in view of the alarming current issues of violence against Asian Americans. What do you think about that, Jones?
She Said: I agree that it's a timely movie and gives a deep look into the struggles of those who believe and want to participate in the "American dream," and that those people may not only be Caucasian from Europe. I think the film succeeds because it isn't didactic; the Yis are hardworking, and focused on their children, but they are also imperfect. As I said while we watched the movie, Monica is a "tough crowd" in her judgment of her husband's behavior, and his machinations with the family's water supply to keep the crops growing aren't exactly honest. But they are so relatable! The little boy and the grandmother are examples of what the film does well: They're both so watchable because they are appealing and surprising, as all humans can be when you zoom in.

I give this movie four Hitchcocks; it's a masterclass in being good at what it's good for… and more!
He Said: I'm gonna have to go along with your four Hitchcocks in this case. I really didn't expect to like this film as much as I did, but it's so real, and the performances so spot on, that it's hard to see any serious flaws in it. You just get caught up in the characters' lives, and your emotions go up and down with what happens to them. There's one memorable scene when the parents are arguing and the worried children make paper airplanes to toss with the message "Don't Fight!" that just kind of sticks with you long after the movie ends. Unless you just have an aversion to all movies like this—relatively quiet movies about real life issues, or about rural areas, or largely in a foreign language—you can't help but like this film.
This week's We Watched It and You Might Want To
He Said: Inspector Morse
Hot Take: If you're looking for a great classic series to stream (and let's face it, who isn't these days?), you might want to take a look at this British crime drama (available on BritBox) that aired for seven seasons and five "special" episodes (33 total 100-minute episodes) stretching from 1987 to 2000. Based on a series of books by Colin Dexter, and set in Oxford, with the stately university buildings as background, this is a highly entertaining series. It won three BAFTA Awards for Best Drama Series, and John Thaw as Chief Inspector Morse won three BAFTAs for Best Actor. Morse, who loves classical music and a pint in a pub, solves the most difficult crimes with the help of his sometimes plodding sidekick, Sergeant Lewis (Kevin Whately), who bears Morse's irascible personality like a saint. And if you like this series, there are two long-lived spinoffs—the sequel Inspector Lewis and the prequel Endeavor—for you to continue with!
NOW AVAILABLE
To the Great Deep, the sixth and final novel in my Merlin Mysteries series, is now available from the publisher, Encircle Publishing, at http://encirclepub.com/product/to-the-great-deep/
You can also order from Amazon (a Kindle edition is available) at https://www.amazon.com/Jay-Ruud/e/B001JS9L1Q?ref=sr_ntt_srch_lnk_1&qid=1594229242&sr=8-1
Here's what the book is about:

When Sir Agravain leads a dozen knights to arrest Lancelot in the queen's chamber, he kills them all in his own defense-all except the villainous Mordred, who pushes the king to make war on the escaped Lancelot, and to burn the queen for treason. On the morning of the queen's execution, Lancelot leads an army of his supporters to scatter King Arthur's knights and rescue Guinevere from the flames, leaving several of Arthur's knights dead in their wake, including Sir Gawain's favorite brother Gareth. Gawain, chief of what is left of the Round Table knights, insists that the king besiege Lancelot and Guinevere at the castle of Joyous Gard, goading Lancelot to come and fight him in single combat.

However, Merlin, examining the bodies on the battlefield, realizes that Gareth and three other knights were killed not by Lancelot's mounted army but by someone on the ground who attacked them from behind during the melee. Once again it is up to Merlin and Gildas to find the real killer of Sir Gareth before Arthur's reign is brought down completely by the warring knights, and by the machinations of Mordred, who has been left behind to rule in the king's stead.
Comments
comments
http://jayruud.com/wp-content/uploads/2021/03/5fd147f4240ebd00126be135.jpeg
433
640
Jay Ruud
http://jayruud.com/wp-content/uploads/2014/08/JayRuud.png
Jay Ruud
2021-03-31 09:59:54
2021-03-31 09:59:56
Minari