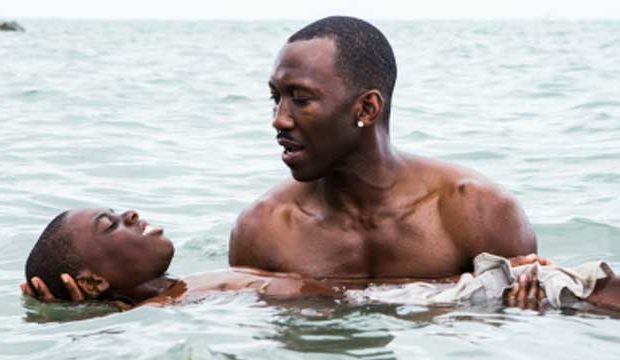 Moonlight
Barry Jenkins (2016)
One of the 2016's most acclaimed independent films has at last made it to the cinema in Conway, so you'd better get to see it quick before it's gone. Barry Jenkins' Moonlight won the Golden Globe award for the outstanding movie of the year in the drama category, and Mahershala Ali (best-known for T.V.'s House of Cards) recently won the Screen Actors' Guild award for Outstanding Performance by a Male Actor in a Supporting Role. The film is nominated for eight Oscars including best picture, and it may well have the inside track as the movie most likely to give La La Land some competition for that award.
The story of Moonlight was first conceived as a semi-autobiographical play called In the Moonlight Black Boys Look Blue, by the distinguished playwright Tarell Alvin McCraney (recently named the chair of playwriting at the Yale School of Drama). Jenkins, who grew up only blocks away from McCraney in Liberty City, the Miami neighborhood in which McCraney sets his story, adapted his screenplay from the shelved play and has made it into a quietly compassionate film concerned with a youth trying to find himself in a hostile world.
The film is structured like a play in three acts: It tells the story of a young man, Chiron, by presenting significant events in his maturing process at three stages of his life. The first act, entitled "Little," the name be which he is known at that time, introduces us to the child Chiron (played by Alex R. Hibbert), running and hiding from bullies hurling abusive homosexual slurs at him. He is befriended by a neighborhood drug dealer named Juan (Ali), who, unable to get a word out of the boy regarding his home, feeds him and brings him home to his girlfriend Teresa (Janelle Monae of Hidden Figures). Juan ultimately returns Chiron to his mother Paula (Naomi Harris—Moneypenny in the recent Bond films)—an abusive addict buying from his own dealers. But he continues to serve as a father-figure for Chiron, a role dramatized memorably in a tender scene where Juan teaches the young Chiron to swim.
The second act shows Chiron (played here by Ashton Sanders) in high school, still the target of bullies and still searching for his identity. His mother has become more abusive and less in touch with reality, and it is clear that he is essentially the parent in the home. He has a sexual encounter with longtime friend Kevin (Jharrel Jerome), but the environment of his school and neighborhood make that relationship impossible, and this chapter of Chiron's life ends in a violent encounter that sends Chiron into the correctional system.
In the final act, entitled "Black," the grown-up Chiron (Trevante Rhodes), now hard-muscled and looking a lot like his old mentor Juan from his childhood, is running his own drug ring in Atlanta. Out of the blue he receives a call from Kevin (now played by Andre Holland of Selma and 42), and Chiron returns to Miami to reconnect with his old friend and erstwhile tormentor. It is clear that Chiron is still searching, still confused under his veneer of toughness symbolized by the gold grills he wears in his mouth and removes when he sits down with Kevin in the diner where his one-time intimate now works as a cook. In another remarkable scene, the two exchange a few words over a meal Kevin cooks, and they manage to reconnect without ever saying the things that must be simmering within them. This is the whole movie in a nutshell: There are deep emotions that are stirred, but all action and all speech is restrained—buried under the stoic shell that the characters' environment has imposed upon them.
Such a bald summary may make the film seem like a cliché of growing up in poverty and intolerance, with a crack-addicted mother and a drug dealer with a heart of gold. That is not what it is. Yes, it is about transcending those things, and ultimately coming to terms with a sexuality despised in one's own culture. But the characters in this film are individuals, made so by the serious acting talents of the entire ensemble cast—particularly Ami as the drug dealer and Harris as the distant and demanding mother (both nominated for Oscars in supporting roles), and Andre Holland as the adult Kevin, who shines in the diner scene as he struggles to reconnect with the friend and lover he betrayed. Thus the film is very much about these individuals and Chiron's intensely personal struggle. But the situations—the inner turmoil of the lonely, bullied child, the seething struggle of the beleaguered adolescent, the impenetrable façade of the insecure young adult—these are things that everyone can relate to, which allows the audience to emphasize with Chiron, even if they have never been where he is.
But the film is probably not for everyone. In the end not a whole lot happens. And Chiron is equally withdrawn and reticent in each segment of the movie, so that there's not a lot of snappy dialogue—or, from Chiron's corner, not much dialogue at all. The action of the film is largely internal, and the focus begins and remains on Chiron's inner turmoil. So, as much as a movie can, this film depicts the inner workings of its central character without giving that character the voice to articulate that turmoil. And nothing is hurried in the film. The characters dance around Chiron, trying to give him the opportunity to open up, and eventually he may oblige them. But then again he may not. Thus the film moves at, shall we say a leisurely pace—so leisurely that I did catch myself falling asleep at one point. Or I should say my wife caught me, poking me to stop my snoring.
That slow pace is, I suppose, the necessary tradeoff for a sensitive film dealing with the inner man. So if you're all about action, you probably want to skip this movie. If not, you will find the film rewarding. Whether it will win the Best Picture Oscar is questionable. La La Land, which seems to be the early favorite, is attractive because of its uplifting mood, in sharp contrast with most of the other nominated films, particularly this one. On the other hand, there may be enough sentiment in Hollywood aimed at correcting the "whitewashed" Oscars of last year, that many voters may vote for Moonlight because of its African-American filmmakers and cast. But that would be a political rather than an aesthetic statement. If Moonlight wins it should be because of its high quality filmmaking, which is undeniable. I think it is ultimately a better and more important film than La La Land. I have my own opinions about the year's best film (to be expressed in an upcoming column!), but Moonlight is certainly a contender. Go see it quickly, before they yank it to put Monster Trucks on another screen.
I'm going to give this one three Tennysons and half a Shakespeare. My nap cost it the four stars.
Comments
comments
http://jayruud.com/wp-content/uploads/2017/02/Moonlight-620x360.jpg
360
620
Jay Ruud
http://jayruud.com/wp-content/uploads/2014/08/JayRuud.png
Jay Ruud
2017-02-01 09:19:57
2017-02-01 09:19:57
Moonlight