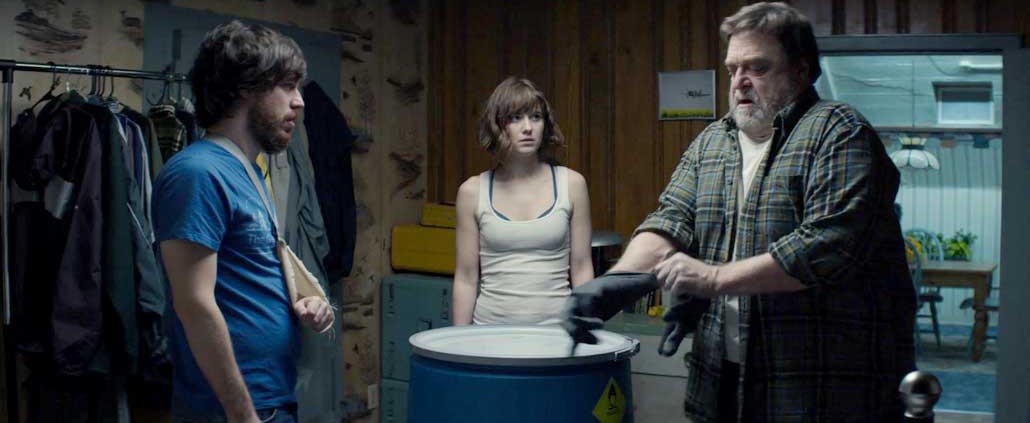 In the early scenes of the new J.J. Abrams production 10 Cloverfield Lane, Michelle (Mary Elizabeth Winstead) is leaving her current relationship, and while driving through the night is suddenly the victim of a serious accident. When she wakes up, she finds herself in a cinder-block basement room with an IV attached to her arm and a leg that is chained to the wall. A large hulking form enters the room, which turns out to be Howard (John Goodman). When she tells him in a not-so-convincing voice that her boyfriend will be looking for her, he tells her no, there's nobody looking for her. About this point in the movie, you may get the feeling that you've seen something just like this recently. One of last year's "Best Picture" nominees, Room, tells a similar story of a woman trapped in a hidden bunker by a psychopathic kidnapper. But hold on. A new twist is coming.
Actually, a plethora of new twists are coming, and that is what makes this film a whole other thing than Room or, frankly, anything else you might have seen, like, maybe, ever. Howard, it turns out, is a survivalist nut who has built this large bunker, filled with food, equipped with air filters, and in the living area all the comforts of home. But his insistence that an apocalyptic attack has occurred—a disaster that has wiped out every living thing on the surface, launched by either terrorists, or the Russians, or perhaps Martians—goes far to convince Michelle (and the audience) that Howard is even more crazy than the run of the mill psychotic kidnapper.
But it turns out that there is a third person in the bunker: a handyman named Emmett (John Gallagher, Jr.) who helped Howard build the bunker in the first place. Michelle assumes that Emmett, too, has been kidnapped and forced to stay in the bunker, but it turns out that Emmett had seen a great red flash, and pounded on the door to get Howard to let him into the bunker. Add to that the detail we might remember from Michelle's car radio in the first scene—there has been a massive power failure on the eastern seaboard. Could that have been connected to some sort of attack? And why does Michelle get no service on her cell phone? Or why is there nothing coming in on the radio? And on top of all of that, Howard has given Michelle a glimpse of the outside, and his two pigs that appear to have been killed by some fiery blast.
So the question is, is Howard just some nut, or has there indeed been some kind of apocalyptic event outside in the air that he tells Michelle will burn her if she goes out in it? Or, is he in fact right about the apocalypse but still some kind of psycho? After all, he talks about his daughter, who is "gone." His wife apparently left him (go figure) and "turned his daughter against him." And one assumes that she is now dead, along with everyone else. Or at least he believes she is. And it sure seems as if Howard is seriously planning to replace that daughter with Michelle. Except…is that picture he's been flashing really his daughter, or is that some kind of delusion as well?
There really isn't any more I can tell you about the plot of this film that won't contain major spoilers, so suffice it to say that there are more surprises to come. In his first feature film, director Dan Trachtenberg keeps us on the edge of our seats waiting for the next revelation, sometimes lulling us with a false sense of security before throwing the next curve at us. Bear McCreary's  (The Walking Dead, Battlestar Gallactica) tense score keeps us on edge, and Howard's juke box tunes blast out sometimes eerily appropriate old pop songs, like Tommy James' version of "I Think We're Alone Now."
Goodman is scarily impressive as a man who tries on the surface to keep up a veneer of sane rationality while barely repressing the broiling rage and resentment and fear under the surface. And often failing at the repression. Think a less reality-bound Walter from The Big Lebowski. Gallagher (from T.V.'s The Newsroom) is likeable and believable as the hapless Emmett. But both of these performances are one-note. The character with whom the audience empathizes, and the one with a real character arc, is Michelle, and Winstead (acclaimed for her performance in Smashed) is letter perfect in the role. She begins by admitting to Emmett that she has never stood up for herself and always deals with things by running from them, but she develops into someone who faces and conquers monsters both on the inside and the outside.
The film's first 90 minutes play like a three-person stage drama on a single set, and are so intense that you may not notice certain inconsistencies (like, for example, why would a guy the size of Goodman build an apocalypse-surviving bunker with the air filtering unit—necessary for actual survival—in a place only accessible through a skinny air shaft? But the biggest problem with the film is actually the title.
The original script, written by Josh Campbell and Matthew Stuecken, was entitled The Cellar. When Abrams bought the script, he had Damien Chazelle (Whiplash) polish it up and change the ending, and he retitled the movie 10 Cloverfield Lane, presumably with the idea that people familiar with his earlier opus Cloverfield (2008) would be drawn to attend this film. But what it does, unfortunately, is spoil any surprise that the movie's conclusion might have for those people. So actually, if you have seen Cloverfield, you may feel a bit cheated when you see the film, since the worst possible spoiler has already been thrown in your face with the movie's title. In fact, you're apt to enjoy the film more if you haven't seen Cloverfield.
Despite the blatant stupidity of that title choice, this is a surprisingly good movie. I'll rate it three Tennysons.
Comments
comments
http://jayruud.com/wp-content/uploads/2016/03/cloverfield.jpg
440
1030
Jay Ruud
http://jayruud.com/wp-content/uploads/2014/08/JayRuud.png
Jay Ruud
2016-03-13 21:46:29
2016-03-13 21:46:29
Movie Review: 10 Cloverfield Lane by Dan Trachtenberg