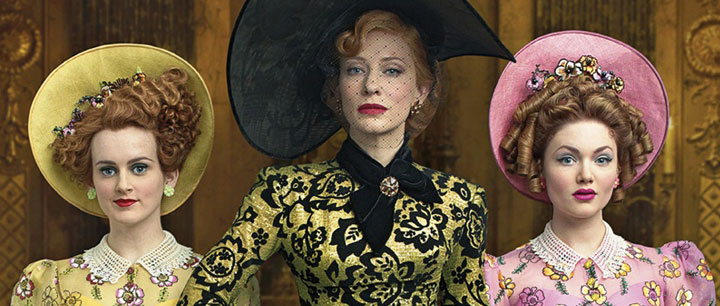 In Kenneth Branagh's new retelling of the classic fairy tale, when her fairy godmother (Helena Bonham Carter) prepares to put her in a stylish new dress, Cinderella (Downton Abbey's Lily James) stops her, insisting that she wear her mother's classic old gown, with just a little touching up and color added. The brief scene is a metaphor for the entire film: it's a flashy, colorful reboot of the familiar story that parallels fairly closely Disney's seminal 1950 animated film. And like Cinderella's dress, its elegant old-school style outshines more innovative recent versions of traditional fairy tales.
This is not to say that the film is precisely the same as the earlier Disney classic. Chris Weitz's script gives enough new material to give his audience a bit of insight, if not sympathy, for the motivations of Cinderella's stepmother (a brilliant Cate Blanchett), and a good deal of sympathy for the Prince's father, the old king (a superb Derek Jacobi). Cinderella's backstory is given a bit more space, and we witness her happy childhood her sympathetic parents, and a wrenching deathbed scene with her mother (Hayley Atwell, Captain America: the Winter Soldier), in which her mother gives her a code to live by: "have courage and be kind"—a code that governs her life and that she passes on to her prince. In today's cynical world, the simplicity and sincerity of that sentiment may seem hopelessly outdated, but the film plays it straight and makes you want to believe it. It's a deathbed scene that Weitz parallels later in the film between the Prince and his father, who likewise leaves his son with a prescription for happiness.
Nor, of course, does this live-action film feature talking and singing (and sewing) mice—though fans of Jaq and Gus won't be disappointed in Ella's somewhat more subtle communication with her own pet mice. And there is no "Bibbity-bobbitty-boo" song (though that highlight of the cartoon version does get a bit of a shout-out), but there are a few computer generated special effects that provide some magic to the transformation of the pumpkin, the mice, and lizards, and a goose who becomes the coach driver. But the film does not rely on effects, and it doesn't rely on a revisionist feminist reading of the fairy tale (as Disney did in last year's remake of its Sleeping Beauty cartoon in Maleficent).
Branagh has the wisdom to know that the reason the classic stories survive for centuries is not because clever contemporaries rewrite then to make them flashy and new. They survive because there is something universal in them. The plot of this film is nothing if not predictable. It is, after all, the story of Cinderella, and the story as it has been perpetuated over the years and as it has been loved over the years. The traditionalist in Branagh extends even to the incredibly retrograde act of using actual film rather than digital recording in shooting the film. Its costumes are gorgeous, its colors vivid, and its sets sumptuous.
And though it relies on a few magical effects, it depends more on character made real by an intelligent script and real human performances, led by Richard Madden (Game of Thrones' Rob Stark), who plays the young-and-in-love prince not as a sappy romantic but a sincere young idealist, and by James, who could be nauseatingly saccharine in such a role but instead comes across as believably good and naturally kind.
It's precisely that goodness and kindness that could make adult audiences in 2015 look at the film with jaded eyes (the kids will feel no such compunction). Wouldn't it make a better story if Cinderella rebelled against her virtual imprisonment, fled her home and came back with a band of soldiers or at least a lawyer, to take back her ancestral home from her usurping stepmother. And she could follow this by leading a revolution against the old king to create a new democracy, be elected its first president, and marrying the prince who would become the First Gentleman in her new White House. And sure, that would be quite a story, but it wouldn't be Cinderella.
Some such reimagining could occur to a writer who saw Cinderella's traditional role as one of passivity and weakness, that of a victim who needs a Prince to come along as a deus ex machina to deliver her from a situation she has no power to remove herself from. But a close look at what Cinderella does in the movie dispels any notion of passivity or weakness. Cinderella always has the power to leave her situation, but the house is her family estate and is the symbol of her loving family, so her staying in her situation is an act of courage. In returning good for evil from her stepmother and stepsisters, she not only follows her mother precept but is an example of an almost saint-like kindness, an attitude we can scoff at if we wish, but what does that say about us?
In the end, Cinderella presents herself to her prince as nothing more than the simple soul that she is: "Will you take me as I am, an honest country girl who loves you?" Take it or leave it, this is the fairy tale as it has survived through the centuries, and it is the film that we have. Branagh shows us that the old virtues are not dead, and that the old ways of making films and telling stories are still viable. Three big Tennysons for this worthwhile film for the whole family.
Comments
comments
http://jayruud.com/wp-content/uploads/2015/03/cinderells.jpg
306
720
Jay Ruud
http://jayruud.com/wp-content/uploads/2014/08/JayRuud.png
Jay Ruud
2015-03-16 10:57:10
2015-03-16 10:57:10
Movie Review: Cinderella by Kenneth Branagh