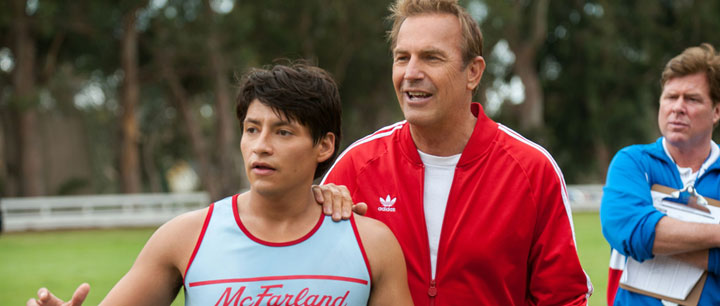 I've never been a huge fan of the whole "Based on a True Story!" thing, the note that you see at the beginning of movies that I assume is supposed to make the audience sit up and take note, that is supposed to give the film the weight of authority that couldn't possibly attach to those made-up stories that could never happen. I imagine that's why nobody ever cared about Star Wars or The Lord of the Rings, and why, say, Gone with the Wind, Casablanca, Citizen Kane, and The Godfather were such flops with audiences.
Of course that's absurd. What appeals to us in movies, in novels, in plays, is the narrative. The stories that we hear help shape our consciousness of the world, not the other way around, and what appeal to us most are stories that reflect what Jung called the archetypal patterns of our minds. What appeals to us is the quest, whether it is Sir Galahad's or Frodo Baggins'; the fall of tragic figures, whether Oedipus or Michael Corleone; the comic resolution of the barriers to love, whether for Kate and Petruchio or Maria and Captain von Trapp; and sometimes even the crushing of the human spirit by natural forces too much for our yet indomitable souls, whether in Moby-Dick or Still Alice.
The opposite of that is also the case: there is an archetypal appeal to the story of one who succeeds against all odds, whose spirit carries one to triumph beyond the malign forces arrayed against him. Certain war stories have always reflected this kind of narrative. In modern America, this archetype is often seen in the area of sports. Think what a great story it will make when the Cubs finally win a world series. In films, we've seen this archetype play out from The Natural to Chariots of Fire to Hoop Dreams. One of the most effective manifestations of this archetype on celluloid is David Anspaugh's 1986 film Hoosiers, in which Gene Hackman plays a coach who lost a previous college coaching job for striking a student, and is hired by a small rural Indiana high school as essentially his "last chance" and, against all odds, is able to turn a small group of mainly unremarkable players into a state champion team.
It doesn't take a rocket scientist to figure out that this is precisely the same plot as the new Kevin Costner vehicle MacFarland, USA, a Disney film directed by Niki Caro (Whale Rider). In this film, set in 1987 (the year after Hoosiers hit the theaters), Jim White (Costner) loses his job coaching high-school football in Boise after an incident with a mouthy student and must move his family to the only place he can find that will hire him: a high school in McFarland, in California's San Joaquin Valley, one of the poorest towns in the United States, populated almost exclusively by Hispanic farm laborers. He is hired to teach life science and P.E., and as assistant coach on the football team. He and his family are uncomfortable in the town and with their neighbors—one of his daughters voices the wish that "Dad will lose it again, and we'll get to move somewhere else." And White doesn't understand the people and generally assumes the worst of those he meets. He, too, is clearly hoping that he can weather a year at MacFarland and find a better job—he feels he couldn't find a worse one.
Having lost his assistant coaching gig after a disagreement with the head coach, White begins to notice that some of his students are particularly good at long-distance running, as he observes them running (since they can' afford cars) to school and out to work in the fields. It occurs to him to start a cross country team, though MacFarland has never had one and he himself has no experience coaching one. Yet he recruits seven student athletes (played mostly by actors from MacFarland or surrounding towns) and forms a team, though his inexperience is evident in their first meet, against a team of privileged white kids from three prep schools. But White finds ways to improve his coaching and the students' training, and the team begins to surprise people as the season goes on.
So far I know this sounds like a huge cliché (down-and-out kids saved from lives of poverty or even crime, a la Sidney Poitier in To Sir with Love), perhaps made worse by the insulting implication that the people of this town need to be shown the way to succeed and happiness by the white (literally White) savior who swoops in and changes their backward ways (a la Peter O'Toole in Lawrence of Arabia). But you say cliché, I say archetype, and there wouldn't be so many movies of this type if the basic story arc of the triumphant underdog were not so powerful for audiences.
Nor does a familiar story necessarily lack quality if it is well told and well acted. Costner, the plain spoken, never flashy Everyman, the Gary Cooper of his generation, is easy for Anglo viewers to identify with (as he was in Dances with Wolves). This story, like that one, begins with his character in ignorance about the people among whom he is living, and ends with his growth into an informed empathy with his students and their families. He works with three of his students in the fields, he visits their home and breaks bread with them, he sees the hard labor of the kids and their parents to put food on the table and their frustrations in the face of grinding poverty. The movie is not about the white coach saving his students from lives of crime and rescuing them from their abusive parents. There are no villains here, unless it is an economic system in which one's future is largely the product of the accident of one's birth.
There is something incongruous in the title "McFarland, U.S.A.": it evokes the myth of the American dream, and the film is in many ways a modern Horatio Alger, rags-to-riches story. But the "riches" in this case are really merely high school graduation and the opportunity for a college education that under most circumstances are available to all Americans. Here is a case where even those basic expectations are beyond many families, and the result of this Disney movie is not, in the end, a reaffirmation of the American dream but rather an ironic—perhaps unintentionally ironic—censure of a society that promulgates the myth but erects barriers to its fulfilment for a good section of its population.
This is a feel-good movie that makes good use of the archetypal underdog sports story. But more deeply it is about success attained by teamwork, not just among the runners, but among the entire community—the school, the parents, the students, and the coach—who find a way to achieve success in an incredibly difficult situation. A minor concern of the film is whether White will actually accept a job offer from a rich school district that his coaching success at MacFarland has earned him, but the movie is predictable enough that you can be pretty sure that the outcome of that will be a replay of Sidney Poitier's final shot in To Sir with Love.
In addition, of course, the story of McFarland has what my colleague Philip Anderson always calls the "minor virtue of being true." I said at the outset that this was never something that necessarily recommended a movie to me, but it certainly adds a layer of interest to this film as the "where are they now" ending details the subsequent lives of MacFarland's first seven cross-country stars. Cynics might scoff at the feel-good ending and the predictable plot, but most viewers are going to be moved by the story, and it will give them plenty to think about as well. Three solid Tennysons for this one!
Comments
comments
http://jayruud.com/wp-content/uploads/2015/03/McFarland.jpg
306
720
Jay Ruud
http://jayruud.com/wp-content/uploads/2014/08/JayRuud.png
Jay Ruud
2015-03-02 09:17:36
2015-03-02 09:17:36
Movie Review: MacFarland, U.S.A. by Niki Caro