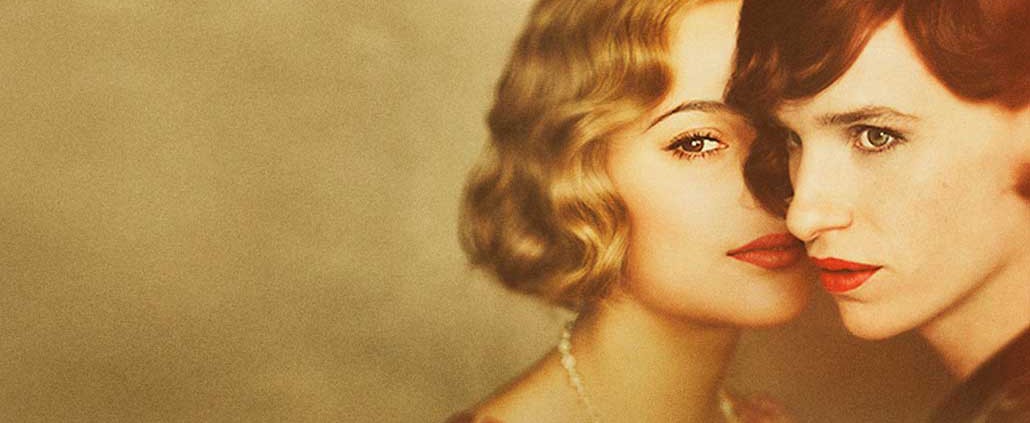 With the Academy Awards almost upon us and with a number of nominees that I have not reviewed, I've decided to put together a grab-bag of short reviews of four well-received smaller films that have been noticed—in some cases barely noticed—during this awards season: Tom Hooper's The Danish Girl nominated for four Oscars (for Lead Actor, Supporting Actress, Production Design, and Costume Design); Todd Haynes' Carol, nominated for a surprising six Oscars (Lead Actress, Supporting Actress, Adapted Screenplay, Cinematography, Costume Design, and Original Score); John Crowley's  Brooklyn, nominated for three Oscars (Best Picture, Lead Actress, and Adapted Screenplay); and Paolo Sorrentino's Youth, which garnered only one nomination (for Original Song). At the time of this writing, all but Brooklyn are still currently playing in Central Arkansas.
The Danish Girl by Tom Hooper (2015)
I wonder what Edie Redmayne would be like playing a run-of-he-mill role? Last year's Oscar-winner for his role as Stephen Hawking in The Theory of Everything is nominated again this year for his humane and sympathetic portrayal of Lili Elbe in Tom Hooper's The Danish Girl, a Dutch artist who undergoes gender reassignment surgery after suffering through a gender identity crisis her entire life. Redmayne's performance is achingly sensitive, though it's unlikely to garner him a second Best Actor Oscar, that category being pretty well reserved this year for Leonardo DiCaprio (as evidenced by his Screen Actors Guild award this weekend). In fact, it is Alicia Vikander who truly steals the show in this film as Lili's wife Gerda. Vikander (who won the Supporting Actress award from the SAG) is passionate, heartbroken, understanding and entirely believable as a woman in an impossible situation as the wife of the well-known landscape painter Einar Wegener who becomes Lily Elbe.
The knock against this film for some people is Hooper's direction. Though the film is beautifully shot and timely in its subject matter, some critics have faulted Hooper for playing it too safe. Hooper (an Academy Award winner himself for directing The King's Speech) seems at pains to make a good-looking film that offends no one. Vikander's brilliant performance turns the film into more of a painful story of unrequited love than the story of a courageous transgender pioneer. While there is certainly some truth in this, the problem with the criticism is that it faults Hooper for not making a film he did not intend to make. He wants to make a love story and he succeeds. He does not make a groundbreaking political statement, but in chronicling of the medical establishment's hysterical reactions to Lili's conflict (radiation treatments, drilling holes in her head, a straitjacket), and through Redmayne's virtuoso performance, he does make a film that allows the general public to understand and appreciate the difficulties of transgender people.
Three Tennyson's for this one.
Carol by Todd Haynes (2015)
It may be that Todd Haynes' acclaimed Carol was to be the Brokeback Mountain of lesbian movies, but I'm afraid it's not quite in that class.  Yes, it has Cate Blanchett in the title role as middle-aged New Jersey housewife Carol Aird, and she is always worth watching. But her secretive romance with Therese Belivet (Rooney Mara), technically criminal in the repressive atmosphere of 1950s America, lacks warmth and passion. Oh, no doubt there are smoldering embers within Carol and Therese, but despite a rather torrid sex scene, on the surface it is as if the aloof lady Galadriel has enchanted some poor unworldly hobbit. There's a coldness in Carol, and she's simply not that likeable a character. From the beginning she seems manipulative as she catches the attention of the meek, malleable salesgirl Therese. As Therese, Mara seems like a tabula rasa on which Carol can write her story. It's just as difficult to give Therese complete sympathy. Oddly enough, the villain of the story, Carol's husband Harge (Kyle Chandler) comes across as relatively sympathetic by comparison: even though he personifies the homophobic fifties and uses Carol's affair with Therese to win custody of their daughter in the divorce proceedings, he has recognizable human motivations.
Part of the reason for the apparent coldness in the film may have to do with Patricia Highsmith's 1952 novel The Price of Salt, on which screenwriter Phyllis Nagy has based the script. Highsmith, best known for her Tom Ripley crime novels, adds an understanding of the criminality of homosexuality in the 1950s. But the novel is told from Therese's point of view, as she tries to determine what she can read into Carol's actions and statements. That sort of internal storytelling is very difficult to translate to film—without things seeming cold and distant. But the film is well-plotted, with an opening scene revisited in the end as we come to a deeper understanding of the relationships involved, and a fateful road trip that isn't quite Thelma and Louise but is nearly as eventful. This is a film worth seeing, but I would probably like the characters more if I didn't feel like I was being lectured both this and The Danish Girl are in some ways "good for you" movies from which we are supposed to emerge more enlightened people.
Three Tennysons for this one as well.
Brooklyn by John Crowley (2015)
A much simpler movie than Carol or The Danish Girl is John Crowley's eminently likeable Brooklyn, skillfully adapted by Nick Hornby from Colm Tóibín's novel. No, it doesn't deal with any major political or social issues, but ultimately it turns out to be about universal things: leaving home, finding love, tension between homesickness and a new life. One thing that the film does do: it makes the 1950s look a lot more appealing than Carol does.
In the film, Eilis Lacey (the charming Saoirse Ronan), a young Irish girl who, reluctant to leave her home, her mother, and her loving sister, is forced for economic reasons to emigrate to the United States, where she makes her home among the Irish community of Brooklyn. Painfully homesick in the beginning, Eilis blooms in her new country when she meets a nice Italian boy, Tony (Emory Cohen) and begins taking classes in bookkeeping at Brooklyn College. But just as things are looking up for Eilis in America, she is forced to travel back to Ireland, where the local pub owner Jim (the ubiquitous Domhnall Gleeson) tempts her to stay there in the cocoon of her youth rather than return to her new life and her new love in Brooklyn.
This is a film without villains—well, I take that back, there is an incredibly vile old bitty back in Ireland. But it has the feel of a classic film that does what films have always done best: give us a sense of joy and satisfaction.
Three Tennysons and half a Shakespeare for this one.
Youth by Paolo Sorrentino (2015)
My personal favorite of all these "small" films is the one least honored by the Academy—Youth. I'm not absolutely sure why this is, but it could be that the story of two old men vacationing at a resort in the Swiss Alps and thinking about age, legacy, and regret is one for which, as my wife would say, I am in fact the target audience.
There's Michael Caine, of course of whom my son would ironically say "He never made a bad movie!" but the fact is Caine is a working actor who has been constantly working for more than 50 years, and though he's not going to be fondly remembered for things like Jaws: the Revenge, Austin Powers in Goldmember, or the truly awful Bewitched, such roles, like his Alfred in the Batman movies, no doubt paid the bills while he waited for roles in films like Zulu, Alfie, Sleuth (the original), Educating Rita, Hannah and Her Sisters, The Cider House Rules, and The Quiet American. And this one, in Sorrentino's Youth.
Caine plays Fred Ballinger, an influential composer and conductor, whose daughter (Rachel Weisz) has accompanied him on this Alpine getaway, and has a doctor examine him regularly as she simultaneously worries about his failing health and blames him for his treatment of her mother. Fred's best-known compositions are a certain collection of "Simple Songs" that seem to be all people want to remember him by. When an emissary from the Queen shows up to ask him to conduct a performance of these songs for Prince Phillip's birthday, Fred inexplicably refuses.
Fred's lifelong friend Mick Boyle (Harvey Keitel) is a successful filmmaker but something of a has-been at this point in his career. He has brought a team of writers to the resort to finish the script for what he thinks will be his last important film, and one he wants to make his "testament." Paul Dano plays an American film star, like Fred known almost exclusively for a single character, who has come to the spa to work on a new role.
It doesn't sound like much to make a movie out of. But in a quiet way Sorrentino (who won an Oscar for Best Foreign Language Film for The Great Beauty in 2013) explores hopes and dreams—regrets for mistakes long past resolving, or for possibilities long past achieving, and continued hopes for some last things yet to be achieved. Fred has no hopes left, and in the end we learn the reason why. Mick still strives for something more, and his muse, played with raw abandon in what is little more than a cameo by Jane Fonda, cruelly undercuts him in what may be the film's most memorable scene. Well, second most memorable, but I can't tell you about the other without spoiling it.
The film is beautiful to look at, as Sorrentino makes the most of his Alpine location. And, befitting a movie about a composer, it has a great score, its one Oscar nomination coming for David Lang for "Best Original Song." In many ways this is an old man's movie. But that makes it mine.
I give it three Tennysons and half a Shakespeare.
Comments
comments
http://jayruud.com/wp-content/uploads/2016/02/danishgirl.jpg
440
1030
Jay Ruud
http://jayruud.com/wp-content/uploads/2014/08/JayRuud.png
Jay Ruud
2016-02-02 08:53:24
2016-02-19 09:46:57
Movie Reviews: 4 Mini Reviews for Awards Season