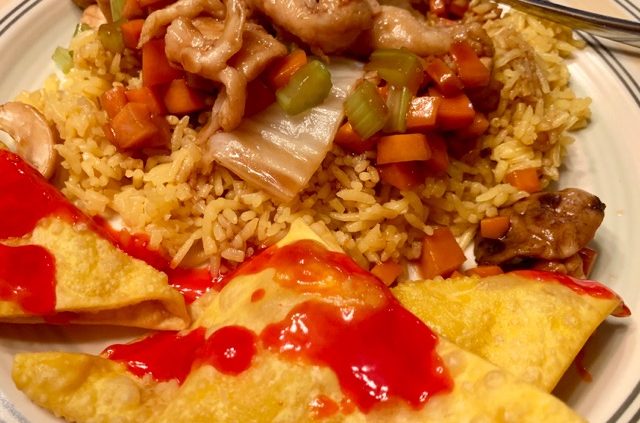 Review No. 180: Panda Wok
2625 Donaghey Avenue
(501) 329-8889
81.5 percent finished reviewing Conway restaurants
The Situation
She Said:He Said picked me up from the airport after I returned from a Las Vegas weekend with a high school friend. Even though I had eaten so much in Vegas that the city government wrote me a letter saying I had to leave because their own people needed some food, too, I was feeling a little peckish after my flight and travel. We thought Chinese take-out was probably the right answer, so I could go home and be with my dogs after my absence.
He Said: So Panda Wok was a place I'd seen out of the corer of my eye when driving down Donaghey, but never gave much thought to. It doesn't have a flashy outside that makes you take notice. But it had risen to the top of She Said's list, so I was time to give it a look.
Ambience:
She Said:It's a shopping-center-mostly-take-out Chinese restaurant, and it's neat and tidy with sparse tables, and a counter with a menu board. It didn't make me change my mind about getting take-away food, but it was clean and bright.
He Said:Yes, but it was also small and not particularly homey. You could eat here if you had to, but take out seemed like it would be cozier.
Drinks
She Said: We didn't get drinks.
He Said:You could, however, get drinks if you wanted. Looked like they had a variety of Coke products.
Food
She Said: The menu was very large, but I saw cashew chicken on the menu board, and crab Rangoon on the paper menu sheets, soI needed to look no further. The crab appetizers were good, actually tasting like they had seafood in them, which in many places, they do not, so that was a nice surprise. The wontons were crispy and the filling was soft and rich, just as I like them.
The cashew chicken was very good, with a nice variety of veggies (not just teeny corns), and very tender, seasoned chicken. There were a lot of cashews and plenty of chicken. I got fried rice with this, as well, and it was also tasty. This is one of the better examples of this dish I've had in Conway, and I would definitely order both of these selections again.
He Said: I checked out the menu, which was so extensive I was paralyzed by choice for a moment. Fortunately, we were the only ones in the place at the time and the server seemed to be perfectly fine giving me all the time I needed. I finally settled on the honey chicken, a personal favorite of mine. It came with white rice but I asked to have fried rice instead because I like fried rice.
The honey chicken may not have been the lowest-fat option I could have had, what with the crispy fried outside of those chicken pieces, but at least it wasn't red meat, which seems to affect my digestive issues. I found the fried rice to be quite nice—it didn't have a lot of extra vegetables in it, as some fried rice does, but it was quite tasty for, essentially, just the rice. The honey chicken itself though, was very tasty. The chicken was crispy on the outside, tender and delicious on the inside, and the sauce was sweet and tangy and they were not stingy with it. Overall, this may have been my favorite Chinese dish anywhere in Conway. I'm sorry not to have made the extreme sacrifice for you, dear readers, and ordered a few other dishes, but this was plenty for me. And the portion was very generous: generous enough for me to save half of it for lunch later in the week.
Service
She Said:Service was prompt, efficient and friendly; I wouldn't change a thing. The food was nicely packaged for transporting, too, which is always appreciated.
He Said: What She Said said.
What We Got and What We Paid: One order of Honey Chicken and Fried Rice, one order of Cashew Chicken and one of Crab Rangoon, all for $21.84.
Elapsed Time from Our Arrival to Food Arrival: 15 minutes.
Rating:
She Said: The cashew chicken was definitely yummy, and it makes me want to try more on their menu.
He Said: I'd definitely come back here for the honey chicken. If I try anything else, it will probably be off She Said's plate.
Is Panda Wok good at what it's good for? Yes, indeed! They prepare the old standards of American Chinese cuisine very well for you to enjoy at home
Comments
comments
http://jayruud.com/wp-content/uploads/2019/11/IMG_1006.jpg
490
640
Jay Ruud
http://jayruud.com/wp-content/uploads/2014/08/JayRuud.png
Jay Ruud
2019-11-12 20:16:02
2019-11-12 20:16:02
Panda Wok