Review No. 77: Panera Bread
1050 Ellis Ave
(501) 764-1623
39 percent finished reviewing Conway restaurants
The Situation
He Said: We were off to a movie so we thought why not have a light supper on the way someplace not far from Cinemark. Panera Bread in Conway is actually in Hendrix Village on the green. It was in fact the first commercial property in the village. It's a national chain, of course, with about 2,000 stores in the United States and in Canada as well, specializing in bakery items, soups, salads, pasta and sandwiches. So we pretty much knew what we were getting when we pulled in, and were confident it would hit the spot and be fairly quick.
She Said: I've never caught the Panera bug, and it's not on my short-list of go-to places because I try to avoid the things Panera is really good at, bread and desserts. But I figured they'd have something for me, and it was on the way.
Ambience:
He Said: I think all Panera stores look pretty much the same. They are pretty comfortable for what is essentially a kind of fast food chain, with the place divided up into small areas to sit in so that you don't feel like you're in a big warehouse or something. The dark wood and the green colors make for a pretty comfortable atmosphere, I think.
She Said: As chains go, it's definitely one of the more comfortable examples, with lots of smaller nooks and dining areas so you don't feel like you're in a dining cavern. I like the colors and décor. I could see myself setting up shop and working here for a morning or an afternoon. I'm sure I wouldn't be the only one.
Drinks:
He Said: This is one of the very few places that actually has some interesting choices for non-alcoholic beverages. One of the choices they have is S. Pelligrino fruit soda. San Pelligrino is an Italian company (though now owned by Nestle), best known for its mineral water, but they also make real-fruit sodas. I had an orange S. Pelligrino and wow, it didn't suck at all.
She Said: They also have flavored teas that are tasty—I've had them before, but I was watching calories, so I skipped them in favor of the unsweetened iced tea, which was very, very tasty. Fresh flavor and rich, without being too strong.
Food
He Said: Because it is a chain, it is easy to do a little homework on the nutritional values of items on the Panera menu, so that if you have any dietary issues, you can make choices ahead of time. Several of the menu items do have a fairly significant fat content, but the breads, of course, do not have much, so I did have a soft dinner roll with my meal (3.5 fat grams), and that was very tasty. Butter pats are available where you pick up napkins and the like. I thought my best bet might be some soup. Indeed, there is a special low-fat chicken noodle soup, a cup of which contains only 3 grams of fat. However, they also have a cup of turkey chili, which had only 8 fat grams, and which looked a lot more interesting to me. And it was not bad at all. The turkey did a very good imitation of beef, the beans were tasty and the sauce just the right shade of tomato flavor. I will say that the chili was a bit thinner than I think is optimal for chili—it was in act more soupy than I would call ideal but I wouldn't call it disappointing.
In fact the reason I particularly wanted to keep the fat content down on the soup was that I wanted something for dessert—Panera is after all a bakery of sorts. They have a large triple chocolate cookie that is to die for and has only 13 grams of fat. That, boys and girls, was worth the price of admission.
She Said: I ordered the half spicy Thai chicken salad, because it had about 250 calories, and I, like Ruud, wanted a cookie. It comes dressed, with a peanut dressing, which I thought they were a little stingy with, but that probably helped keep it to the calorie count. It was spicy, but not too hot, and there was a goodly amount of chicken, and lots of edamame with the other veggies. I would order this again, but next time I will ask for extra dressing, calories be damned. The half size was definitely plenty. I was full-ish, but also getting a little tired of eating it by the end, so that meant I had hit my salad limit. I also had the famous chocolate cookie of which Ruud speaks, and it was delicious, very cakey, and light, while also tasting quite chocolaty and rich. I brought half of it home.
He Said: Which I ate the next day. Ha!
Service
He Said: Panera is one of those places where you walk along, collect items like your drink and your cookie, and get a number so they can bring the rest of the order to your table. The young man taking the order was patient, friendly and efficient as we contemplated our choices, and the food was brought out pretty speedily by a smiling server, so considering the format, the service was fine.
She Said: Friendly service from the counter staff to the server who brought our food.
What We Got and What We Paid: One cup of turkey chili with soft dinner roll, one half Thai chicken salad with an apple, one iced tea, one S. Pelligrino orange soda, and two triple chocolate cookies, all for $19.76.
Elapsed Time from Entry to Food Arrival: 8 minutes from arrival to all food being delivered to the table.
Rating:
He Said: You can get a tasty, dependable, and relatively healthy meal here for not a lot of money, so, as She Said likes to say, I'd say that Panera is good for what it's good for.
She Said: Lots of choices with dessert to reward you for being healthy and a comfortable place to dine or work awhile.
So…He Said and She Said: Come here for Panera's specialties, don't forget the cookies and enjoy the quick service and friendly environment.
And by the way, if you like reading "Eat It, Conway," you might be interested in Jay Ruud's new "Merlin Mystery" novel, the third in the series, which will be released on November 10 and now available for pre-ordering on Amazon and on Barnes and Noble: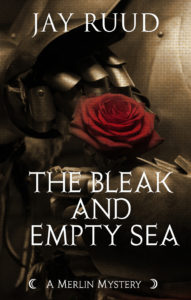 When word comes to Camelot that Sir Tristram has died in Brittany of wounds suffered in a skirmish, and that his longtime mistress, La Belle Isolde, Queen of Cornwall, has subsequently died herself of a broken heart, Queen Guinevere and her trusted lady Rosemounde immediately suspect that there is more to the story of the lovers' deaths than they are being told. It is up to Merlin and his faithful assistant, Gildas of Cornwall, to find the truth behind the myths and half-truths surrounding these untimely deaths. By the time they are finally able to uncover the truth, Gildas and Merlin have lost one companion and are in danger of losing their own lives.
Pre-order from Amazon here: https://www.amazon.com/Bleak-Empty-Sea-Tristram-Mystery/dp/1893035735/ref=sr_1_1?s=books&ie=UTF8&qid=1503328086&sr=1-1&keywords=Bleak+and+Empty+Sea
Pre-order from Barnes and Noble here: https://www.barnesandnoble.com/w/the-bleak-and-empty-sea-jay-ruud/1126958139?ean=9781893035737
Comments
comments
http://jayruud.com/wp-content/uploads/2017/10/IMG_1118.jpg
1512
2016
Jay Ruud
http://jayruud.com/wp-content/uploads/2014/08/JayRuud.png
Jay Ruud
2017-10-02 07:32:33
2017-10-02 07:32:33
Panera Bread