Review No. 96: Red Robin
1025 South Amity Road
48.9 percent finished reviewing Conway restaurants
(501) 585-6600
The Situation
He Said: The Red, Red Robin came bob-bob-bobbin' into Conway a couple of weeks ago. Its arrival was much anticipated by folks who have eaten at this chain restaurant before in other cities, and naturally there has been a huge clamor for Eat It, Conway to do a review. (Well, one person asked me if I knew about it anyway). In addition to the Conway location, the Colorado-based chain has restaurants in Fayetteville and Rogers, and is planning to open another soon in Benton. The company, known mainly for its gourmet burgers, originated with a single location in Seattle in 1969, and currently has between 500 and 600 locations nationwide.
Conway's Red Robin is located at the nearly inaccessible Lewis Crossing shopping center, that new space that Conway's city planners decided to make approachable only through two multi-lane roundabouts, neither of which clarifies what lane you need to be in and when, in order to be thrown off into that parking lot, which in itself is unnavigable. So that you take your life, or at least your car's integrity, in your hands trying to get there. But I digress.
She Said: Yes, it's unpleasant to get to, but I was curious about Red Robin, given the enthusiasm shown to it on the Eat It, Conway! Facebook page. I had never heard of the chain, so I was indifferent, but once I knew it was burgers, was intrigued. I rarely eat them any more for many reasons, but I do love them. If this was their thing, I was down! After He Said got home from his art history class, we took off.
Ambience:
He Said: The place has a friendly vibe. It reminds me of a TGI Friday's or a Chili's inside, and those are similar kinds of chains it seems to me. We were seated at a high four-top table with high chairs, on the margin of the dining area.
She Said: Yes, I was looking right at the bar in my very high chair (I do not like those—does anyone like those?), and found the restaurant was well partitioned to create small dining spaces while accommodating a lot of diners. The Americana on the walls was appealing and the mood was "and a good time was had by all."
Drinks
He Said: Coke products, and that included Barq's root beer, which I ordered. It was fine, and our server brought me a refill halfway through the meal without being asked, which I thought was danged nice of her.
She Said: I know they have "grown-up" shakes and malts, with alcohol added to them, and that always sounds appealing, but I was breaking the calorie bank on the food, so I went slightly lighter with a glass of cabernet. Wine is not Red Robin's raison d'etre, so to speak, so they have four offerings, but the cabernet I chose (there was no Malbec) was nice and served in a pretty stemless glass.
Food
He Said: You've got to be extremely careful here if you want to eat healthy, especially if, like me, you are on a compulsory low-fat diet. Just a regular fire-grilled bacon cheeseburger has 1050 calories (about 2/3 of a healthy day's intake) and 71 grams of fat—significantly more than the 50-60 grams I am allowed for an entire day on my low-fat diet. If you choose one of the more extravagant burgers, say the Royal Red Robin, you get up to 80 grams of fat in a single burger. The Turkey burger might be a healthier option at 720 calories and 40 grams of fat, but don't be fooled by the Veggie Burger—this is a shocker, since most people would assume that with the veggie burger they are getting a healthy alternative. But the Veggie Burger at Red Robin contains 1,200 calories—the most on the menu—and a full 87 grams of fat. That takes care of nearly two days' worth for me.
There are some healthy options, but you really ought to check out the nutrition guide before coming here to make sure—something which for once, I did (at the insistence of my awesome wife She Said). You can get a Simply Grilled Chicken sandwich (only 16 fat grams), a bowl of chili or potato or chicken tortilla soup with around 20 grams of fat, and you can pick some sides (black beans, steamed broccoli, or fruit salad) that have no fat at all.
What I chose for an entrée was the Ensenada Chicken Platter, which the menu describes as "Two fire-grilled chicken breasts basted with ancho seasoning, topped with fresh salsa and creamy salsa-ranch dressing. Served with a mixed-greens salad with cheddar cheese, tomatoes and tortilla strips." I asked for steamed broccoli instead of the salad, and I should note that the salsa actually came on the side.
These are not "chicken breasts" in the normal sense, but more white meat chicken patties. They were very tasty, though, with a grilled-in flavor from the dressing and a bit of a spicy kick, especially after adding the salsa, which did have a slight temperature. The steamed broccoli was perfectly done and delicious. I was pleased with the order, though it was a bit on the cool side when it showed up, of which more later.
She Said: As noted, I wanted a burger, and this seemed to be the place to get one. I looked a long time at the menu, trying to decide if I wanted to try one of the posh burgers with lots of toppings and special ingredients, but in the end, I stuck with the fundamentals and ordered the Keep It Simple burger so I could assess how Red Robin plays the basics of the game. I got a beef patty ("a little pink") on the bun with the traditional burger fixin's: lettuce, onions and pickles (no tomatoes, as you know, dear readers) and my favorite burger topping, mayo. All accompaniments come on the side, which allowed me to make my sandwich just as I pleased. This comes with "bottomless fries," which we were given a basket of before we ever ordered, I think, and which are quite tasty. (I blame them for the pound I gained.)
I'm pleased to report, that even without all the possibilities that could be piled on, this burger was tasty. The beef patty was of the thin variety, but had the outer crispiness and inner tender pinkness of the best of them. The meat was tasty and satisfying and partnered well with the burger basics. I kept trying to make myself stop eating it, but I ate the whole thing. The steak fries were the perfect consistency of crispy exterior and soft and satisfying insides. I asked for mayonnaise to have with them, and it came in a little ramekin instead of mayo packets, of which I heartily approve.
Service
He Said: We were seated immediately by a friendly hostess (it was still only about 11:30, so the full lunch crowd had not arrived yet. All tables were occupied by the time we left). Our server was incredibly friendly and pleasant, and checked back with us several times. There was a bit of a glitch when the entrees came, though the server immediately recognized that she had the wrong order for me and took it back without even setting it down. She was back a few minutes later with the right order, but I suspect there was more of a glitch in the back and my order had been sitting out for some time, thus causing it to be only lukewarm when it came out. Not wanting the hassle of sending it back and then waiting some more, I chose not to complain. I suspect this was one of those kinds of service problems one runs into with very newly opened restaurants, so I would chalk it up to that. Of course, if we go back in two months and something similar happens, it might be worth complaining about.
I have one other complaint, though. There are gadgets on the tables here that you use to pay your bill, inserting your credit card and adding what tip you want. It will then either print or send you and e-mail receipt. I chose the "print" option, and what I got was a blank sheet of paper. And by then our server was done with us and I had no one to complain to. My advice to you is, choose the e-mail receipt. My advice to Red Robin is, make sure your card readers work the way they are supposed to.
She Said: Yes, everyone we interacted with was friendly and welcoming, and the glitches are generally those of the recently-opened variety: It took a little while to order; it took a little while to get our food; He Said got the wrong thing, and then his "right" thing wasn't hot; the waitress was very unacquainted with the wines, and I didn't get mayo on my burger (but I had plenty with my fries, so I MacGyvered that sandwich tout de suite). If we return in a few months and experience the same glitches, we'll be more sensitive to them.
What We Got and What We Paid: One "Keep It Simple Burger" with fries, one glass of Cabernet, one Ensenada Chicken Platter with a side of steamed broccoli, all for $38.24.
Elapsed Time from Our Arrival to Food Arrival: 33 minutes
Rating
He Said: The food is tasty, but you need to be careful if you want to eat healthy.
She Said: You can easily go calorie crazy here, but the basic burger is satisfying and very tasty. And, for now, this is not a quick eatery.
So… He Said and She Said: Go here for tasty foods in a pleasant, friendly environment that is not generally speedy or super healthy (unless you look hard).
NOW AVAILABLE:
If you like these reviews, you might enjoy Jay Ruud's most recent novel, now available from the publisher at https://encirclepub.com/product/the-bleak-and-empty-sea/. Also available from Amazon or Barnes and Noble.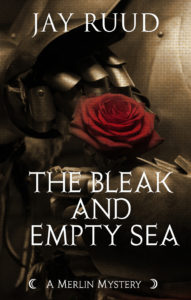 When word comes to Camelot that Sir Tristram has died in Brittany of wounds suffered in a skirmish, and that his longtime mistress, La Belle Isolde, Queen of Cornwall, has subsequently died herself of a broken heart, Queen Guinevere and her trusted lady Rosemounde immediately suspect that there is more to the story of the lovers' deaths than they are being told. It is up to Merlin and his faithful assistant, Gildas of Cornwall, to find the truth behind the myths and half-truths surrounding these untimely deaths. By the time they are finally able to uncover the truth, Gildas and Merlin have lost one companion and are in danger of losing their own lives.
Order from Amazon here: https://www.amazon.com/Bleak-Empty-Sea-Tristram-Mystery/dp/1893035735/ref=sr_1_1?s=books&ie=UTF8&qid=1503328086&sr=1-1&keywords=Bleak+and+Empty+Sea
Order from Barnes and Noble here: https://www.barnesandnoble.com/w/the-bleak-and-empty-sea-jay-ruud/1126958139?ean=9781893035737
Comments
comments
http://jayruud.com/wp-content/uploads/2018/02/IMG_7633.jpg
1854
3674
Jay Ruud
http://jayruud.com/wp-content/uploads/2014/08/JayRuud.png
Jay Ruud
2018-02-26 09:18:19
2018-02-26 09:18:19
Red Robin