Review No. 119: Serranos Mexican Grill
2915 Dave Ward Drive
(501) 358-6763
57.1 percent finished reviewing Conway restaurants
The Situation
She Said: We headed out to review Playa Azul Mexican Grill but realized upon arrival that this restaurant is now permanently closed, which Yelp hadn't yet recorded (but Google had). With Mexican on our minds, I looked for one of the 18,874,084 Mexican eateries in Conway for one we hadn't yet reviewed. And so we were headed to Serranos (the branding of which does not include an apostrophe, so we aren't either).
He Said: I think you may have missed a few Mexican restaurants in your estimate there, but we'll let that go. Serranos menu is so full that it looks like this place may be part of a chain, but although there are "Serrano's" Mexican restaurants around Austin, around Phoenix, in California, in Alaska, and even in Sweden and Iceland, none of these seems connected to this one. I guess Serrano must just be a popular name for Mexican restaurants. There is a Serranos Mexican Grill in Fayetteville that actually doesseem to be connected with this one, but that's it.
Ambience
She Said: I really liked the interior of Serranos, with the warm colors that reminded us of San Miguel de Allende and the cute interior "cantina" for the bar. The booths are the way to go, either along the walls or snuggled inside the pillared interior walls, as the tables in the middle looked less cozy. The booth backs are high which makes for some privacy.
He Said: Yes, the outside is welcoming as well, and the interior's colors and design gives the place an authentic yet understated Mexican atmosphere.
Drinks
She Said: When I noted the bar, I felt it was appropriate for me to celebrate Tequila Day, which social media told me had been the day before. I ordered a regular margarita on the rocks. It was a good size, well blended, suitably grown up. I enjoyed a big glass of water when it was gone.
He Said: They have Coke products here, one of which, to my surprise, was Mello Yello, a drink that you really don't see much anymore, especially at restaurants, so I went for it. It came with a glassful of ice, so let's just say the taste could have been more robust.
Food
She Said: I went hard for the guacamole in my order choices, which were difficult to make given the sheer size of the menu and the number of options therein. At least it's well organized by apps, salads, meat choice, combinations, lunch specials, etc. I'd still be sitting there deciding if I were trying to look over every offering and weigh it against its competitors for space on my plate. After ordering a small guacamole to go with the tasty, crispy chips, I chose the Baja tacos and a chalupa on the side. Both of these dishes included guacamole, so I figured I was on my way to goodness.
The guacamole was tasty and fresh, and I nibbled on it happily before, during and after the meal. The chalupa was fine, a lot of iceberg lettuce with a little guac and refried beans, but, for me, it would be a good snack or light meal (or margarita accompaniment/alcohol absorber). The tacos appealed to me, as they were described as including grilled fish, pico de gallo, guacamole and chopped mango. Mango?! I was sold. This dish comes with rice and beans, and as I don't care for the tomato-tainted rice often served in Mexican restaurants, I told our waitress I'd either like extra beans or just no rice. The three tacos came open on small flour tortillas and looked very pretty, but I found them a little disappointing. At first the fish, in grilled bite-sized chunks, just seemed bland, and with a little salt it improved, but by the second taco, I was becoming distracted by how fishy it was; the flavors of the fish accompaniments weren't very good at minimizing that. I gave up on the tacos mid-way through the second one and nibbled on the chalupa and the refried beans, which were tasty, if a little thin in consistency (I like refried beans to be as thick as cake-frosting). I had retreated fully to the guacamole and chips by the time He Said had finished his meal.
He Said:The refried beans were not particularly thick, it's true, but I think that merely indicated that they were freshly made on site. I found them pretty good, as was the rice, which I happen to love at Mexican restaurants.
Trying to keep my lunch as low fat as possible, I ordered the "pick three combo dinner" option, asking for a chicken taco, a chicken burrito, and the beans and rice. The taco was crispy, which is how I like them, and the burrito came with red sauce (I had opted for this over the fattier cheese sauce). Both of these were substantial, and there were plenty of beans and rice. There as a lot of food here, so I think you'd have a tough time going away from this place hungry.
I added some of the salsa we had been given at the start to the taco, since it would have been pretty dry otherwise. And it tasted fine, probably a notch above a fast-food taco. The burrito was the same, the red sauce having a little bit of a tangy kick. The chicken was a trifle on the stringy side, though that did make me feel that it was pretty fresh and prepared there rather than processed. All in all, I'd say the food was plentiful, fresh, and fairly average for Conway.
Service
She Said:The service was fine. We were seated and waited on quickly in the beginning for drinks and the guacamole, but I was starting to get a little antsy to place our food orders when she returned. When I asked what kind of fish was in the tacos, our waitress said she didn't know, nor did she ever find out. Everyone was friendly and generally efficient. Our dishes came out slightly staggered when the entrees were ready, but not so delayed that it was a problem.
He Said:Yes, the service was not bad, though nobody went above and beyond the call. For instance, I wouldn't have minded some extra salsa for the chips in the beginning, since ours went fairly quickly, but no one ever asked about it. Similarly, I'd have liked some more Mello Yello, having had perhaps 1/3 of a glass originally, supplemented by tons of ice. But nobody ever asked if I wanted any more of that, either.
What We Got and What We Paid: One small guacamole, Baja tacos with extra refried beans, one chalupa, one margarita, a combination meal with a chicken taco, a chicken burrito with red sauce, and Mexican rice and refried beans and a Mello Yello, all for $32.85.
Elapsed Time from Our Arrival to Food Arrival: Entrees arrived in 19 minutes from entry, with guac and drinks in between.
Rating
She Said (Or Was It Worth the Weight I Gained): I gained 1.2 pounds, and I'd say the margarita and the guacamole were worth a pound or less.
He Said: With the number of Mexican restaurant choices in Conway, I wouldn't say this is at the top. It has a nice atmosphere, the food is pretty average, but there's a good deal of it, and it's relatively inexpensive (note that our bill included a margarita and two separate lunch items for She Said).
So… He Said and She Said: Go here for an average, but reasonably priced, Mexican restaurant experience in Arkansas.
NOW AVAILABLE:
If you like these reviews, you might enjoy Jay Ruud's most recent novel, now available from the publisher at https://encirclepub.com/product/the-bleak-and-empty-sea/. Also available from Amazon or Barnes and Noble.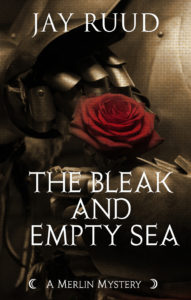 When word comes to Camelot that Sir Tristram has died in Brittany of wounds suffered in a skirmish, and that his longtime mistress, La Belle Isolde, Queen of Cornwall, has subsequently died herself of a broken heart, Queen Guinevere and her trusted lady Rosemounde immediately suspect that there is more to the story of the lovers' deaths than they are being told. It is up to Merlin and his faithful assistant, Gildas of Cornwall, to find the truth behind the myths and half-truths surrounding these untimely deaths. By the time they are finally able to uncover the truth, Gildas and Merlin have lost one companion and are in danger of losing their own lives.
Order from Amazon here: https://www.amazon.com/Bleak-Empty-Sea-Tristram-Mystery/dp/1893035735/ref=sr_1_1?s=books&ie=UTF8&qid=1503328086&sr=1-1&keywords=Bleak+and+Empty+Sea
Order from Barnes and Noble here: https://www.barnesandnoble.com/w/the-bleak-and-empty-sea-jay-ruud/1126958139?ean=9781893035737
Comments
comments
http://jayruud.com/wp-content/uploads/2018/07/IMG_4935.jpg
3024
4032
Jay Ruud
http://jayruud.com/wp-content/uploads/2014/08/JayRuud.png
Jay Ruud
2018-07-30 07:45:52
2018-07-30 07:45:52
Serranos Mexican Grill