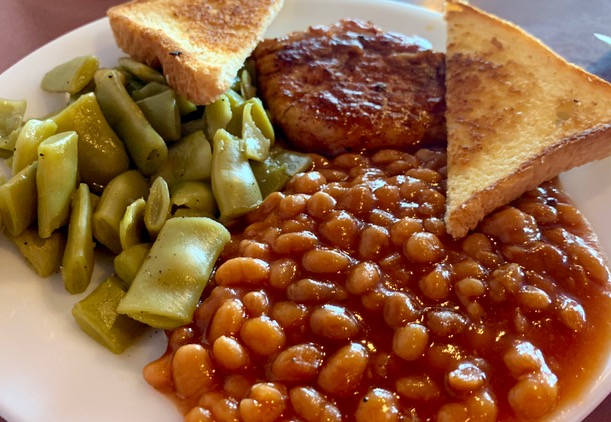 Review No. 155: Shorty's Bar-B-Que
1101 Harkrider Street
(501) 329-9213
70.9 percent finished reviewing Conway restaurants
The Situation
He Said: I didn't really know much about Shorty's Bar-B-Que—hadn't even noticed it before, since, though the address is on Harkider, it's not actually onthat road but slightly off on a short side street. But it was on the list She Said had compiled, and came up on our radar this week. Since barbecue places are almost as numerous in Conway as Mexican restaurants and pizza joints, I had a feeling of déjà vu all over again walking into the place.
She Said: Yes, we're getting to a point in the restaurant list where we're hitting lots of chain pizza joints with the odd barbecue and bakery thrown in. I like to go for meat and veggies on days I'm eating low-carb, so Shorty's was on deck for a recent Tuesday lunch.
Ambience:
He Said: It's a pretty bare-bones interior, with only a few small old historic pictures and a few UCA Bears items on the walls, and one TV set tuned to some daytime talk show aimed at old folks, with the volume turned up fairly high. You order your meal from a guy at the counter, who hands you your drink and takes your cash or check (they do not accept credit or debit cards here—keep that in mind before you go or you're going to be disappointed), hands you your drink, and then brings the food out to your table.
She Said: This place is very "down home." There's a large dining area with booths and tables, and the counter to your right as you enter has a friendly man behind it to take your order. I think if you walked in here without a clue what the cuisine was, you'd know in a moment that you were about to nosh on some barbecued meats.
Drinks
He Said: They have Pepsi products here as fountain drinks. I had a Mountain Dew, as is my wont when Pepsi is at hand. It was 9/10 ice, but what actual soda was there was tasty.
She Said: I had a pretty strong unsweetened iced tea, so I was careful with it so I could go to sleep that night.
Food
He Said: My usual go-to at a barbecue place is some kind of pulled chicken sandwich, because that is likely the lowest-fat item on the menu. That was not an option on the menu here. So I opted for a grilled chicken plate, which came with barbecue sauce on the chicken, and two sides. My wife often considers me full of beans, so I went that direction and ordered baked beans and green beans as my sides. I also had the choice of a roll or toast, and on a whim I picked the toast (there was no choice of what kind of toast—i.e., white, wheat, or rye—and what came was white).
The grilled chicken could have been a little more tender, but it was fine, and the barbecue sauce gave it a nice but not overpowering tang. The baked beans were also fine—the sauce they were in was not as thick as some others I've had in town but it was tasty. The green beans were actually my favorite part of the meal: They were not your typical green beans but rather Italian or Romano beans, the flat-green bean variety. They might have come from a can for all I know but they were still a pleasant surprise and tasted quite nice.
The toast was nothing to write home about, as my mother used to say. If I'd had some butter or jelly to put on it I'd have been happier, or if I'd been able to order rye or wheat toast. I think if I come back to Shorty's I'll try the roll next time—and also hope for some butter.
She Said: I went for the pulled pork plate, and I also chose the green beans, but skipped the baked beans for cole slaw, as I wanted to eat it with the meat, as I would if I had a sandwich. I skipped the toast and roll, and He Said's toast experience assured me I hadn't missed anything there. At Shorty's, we weren't given a choice of sauces, but I liked the house's offering, which was tangy-sweet. I also felt the meat could have been more tender, but overall, it was a solid offering. The cole slaw was very finely grated, and it was tasty and went well with the meat, as I had hoped.
As He Said wrote, the green beans were the star of the plate, nicely salted, tender and tasty. Don't miss these on your next trip to Shorty's—especially since green beans at such venues tend to be disappointing.
Service
He Said: The guy at the counter was friendly and efficient. He may have been the cook too as far as I could tell—fortunately there was only one other couple in the place when we got there at the unusual time of mid-afternoon, so he wasn't terribly busy. It was he who brought the food out to us pretty quickly afterwards. So considering the kind of place this is the service was prompt and satisfactory.
She Said: Yes, I was just thinking of him as the "Shorty," myself. He was helpful at the counter with our questions and did deliver our orders promptly.
What We Got and What We Paid: One grilled chicken plate with green beans and baked beans and toast, one pulled pork plate with green beans and cole slaw, one Mountain Dew and one unsweet tea, all for $24.18. But note that they only take cash or checks here—don't expect to pay with a card. Fortunately, this happened to be a day I was carrying some cash, which is pretty unusual for me these days.
Elapsed Time from Our Arrival to Food Arrival:9 minutes
Rating:
He Said: It's possible that Shorty's has some signature dishes that regulars will rave about. As for me, though, what I had was pretty average. I wouldn't mind coming back again, if I happen to be carrying enough cash on me (which is rare), but there are other places in town whose barbecue I prefer.
She Said:As the basics of barbecue go, I agree with He Said that my food was fine, but didn't stand out—except for those beans.
Is Shorty's Good At What It's Good For? Shorty's provides a down-home atmosphere for a good-enough barbecue plate meal.
Just named a finalist for the INDIE award for best Mystery novel of the year:
Jay Ruud's most recent novel, Lost in the Quagmire: The Quest of the Grail, IS NOW a finalist for this year's INDIE award for books by independent publishers. You can order your copy direct from the publisher (Encircle Press) at http://encirclepub.com/product/lost-in-the-quagmire/You can also order an electronic version from Smashwords at https://www.smashwords.com/books/view/814922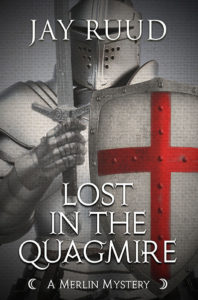 When Sir Galahad arrives in Camelot to fulfill his destiny, the presence of Lancelot's illegitimate son disturbs Queen Guinevere. But the young knight's vision of the Holy Grail at Pentecost inspires the entire fellowship of the Round Table to rush off in quest of Christendom's most holy relic. But as the quest gets under way, Sir Gawain and Sir Ywain are both seriously wounded, and Sir Safer and Sir Ironside are killed by a mysterious White Knight, who claims to impose rules upon the quest. And this is just the beginning. When knight after knight turns up dead or gravely wounded, sometimes at the hands of their fellow knights, Gildas and Merlin begin to suspect some sinister force behind the Grail madness, bent on nothing less than the destruction of Arthur and his table. They begin their own quest: to find the conspirator or conspirators behind the deaths of Arthur's good knights. Is it the king's enigmatic sister Morgan la Fay? Could it be Arthur's own bastard Sir Mordred, hoping to seize the throne for himself? Or is it some darker, older grievance against the king that cries out for vengeance? Before Merlin and Gildas are through, they are destined to lose a number of close comrades, and Gildas finds himself finally forced to prove his worth as a potential knight, facing down an armed and mounted enemy with nothing less than the lives of Merlin and his master Sir Gareth at stake.
Order from Amazon here: https://www.amazon.com/Lost-Quagmire-Quest-Merlin-Mystery/dp/1948338122
Order from Barnes and Noble here: https://www.barnesandnoble.com/w/lost-in-the-quagmire-jay-ruud/1128692499?ean=9781948338127
Comments
comments
http://jayruud.com/wp-content/uploads/2019/04/IMG_3756-1-1.jpg
422
611
Jay Ruud
http://jayruud.com/wp-content/uploads/2014/08/JayRuud.png
Jay Ruud
2019-04-22 09:43:17
2019-04-22 09:43:17
Shorty's Bar-B-Que