Review No. 78: Stoby's Restaurant
805 Donaghey Avenue
(501) 327-6161
39.1 percent finished reviewing Conway restaurants
The Situation
She Said: I was hungry after my weekly Pilates session, so I instructed He Said to meet me at Stoby's afterwards, and, eager to try out the new dog-friendly patio, he scooped up our Cavalier King Charles spaniel, Betty, and met me there.
He Said: Betty and I arrived sometime after 1 p.m., so we missed the noon rush, and we saw She Said sitting on the patio. Betty was anxious to run to her, so everyone was quite excited to be at the newly rebuilt Stoby's with its brand-new outside patio.
Ambience:
She Said: I only went inside to ask about the patio protocols, so I didn't get much of a sense of the redone restaurant, but it looked comfortable and welcoming. The patio is covered and has fans, which is nice for the unpredictable Arkansas weather. Even though it was October, we needed the fans.
He Said: The patio is not a bad place to sit, and does allow you to hang out with a dog or just sit out and enjoy the good weather, if and when it actually arrives. But there is no connection between the patio and the restaurant. You might as well be at Dairy Queen or Starbucks or someplace like that, where you order your food at a counter and then eat it outside rather than in your car. I could not figure out why, if you were building a restaurant from scratch after a fire and you had decided to have an outdoor patio, you would deliberately design it so that you could have no server visiting the patio. It did not make sense to me.
Drinks:
She Said: Well, I went "full Stoby's" and ordered a peanut-butter malt with my meal, and it was delicious. I didn't ask for the spoon they offered, and it was pretty easy to drink through the straw. It had plenty of peanut butter and was well mixed. I will definitely be ordering that again.
He Said: It is hard for me not to drool over a peanut butter malt, but since I am precluded from having them as a result of my enforced low-fat diet, I ordered a soft drink instead. They have Coke products so…Dr. Pepper it is. And it was fine, as Dr. Peppers go.
Food
She Said: I don't eat hamburgers very often, as I generally avoid mammal meat, but in the interest of all y'all, dear readers, I decided to have a cheeseburger at Stoby's because it just seemed like the right thing to do. I also really don't care for cheese on my burgers, but I didn't see a plain burger on the menu, and there were choices of cheese (not just cheddar, which I don't like), so I went for mozzarella on my burger (no tomatoes, though, of course). It was cooked throughout, and I might have liked a little hint of pink, but it was a thick, tasty patty, on a fresh, fluffy bun. The coated fries were stellar, and I had a side of mayo to dip them in, because I was worried my calorie count was just not going to be high enough. (I didn't eat for 24 hours afterwards—I was that full). The food was all good, tasting homemade, rich and fresh.
He Said: The menu listed chicken tortilla soup as an option, which I was quite excited about, since I love chicken tortilla soup. Had there been a waiter on the patio, I might have asked about the chicken tortilla soup and been told at that time not to get my hopes up, because they didn't have any. But no—as it was we had to wait a significant amount of time in a line at the outside window, only to be told when we reached the window that, sorry, there was no chicken tortilla soup.
So I went for the other item on the menu that looked like it could be a low-fat option: the smoked turkey croissant. This is normally served with cream cheese, which would hike up the fat content considerably, but I requested it without cream cheese. It was an excellent sandwich, even without the cream cheese. The turkey was tender and delicious, and the croissant itself was fluffy and tasty. I suppose it was made with butter, which means there was a little fat in the sandwich after all, but not bad. I was happy with the sandwich, and had a pickle and some chips to go with it (and yes, there was some fat in the chips, which I could have refused but, since I didn't have the chicken tortilla soup to fill me up, I needed the chips).
Service
She Said: Stoby's has recently reopened after a fire last year, so they are training their staff, and the menus remind patrons of this and thank them for their patience. I had a few wrinkles with my order—they forgot my malt and my mayo, so I had to go back to the window twice after we picked up our food. But the main issue we had with the patio is the built-in bottle-neck that the pick-up window creates. We got our menus, but before we decided what to order, someone got in line ahead of us at the window that serves to-go orders and Bite Squad drivers plus the patio hoi polloi. The woman ahead of us happened to have a complicated multiple order for which she was paying for each one with different cards and money, and it took so long, the people in line behind us, also patio people, gave up and went inside for table service (or left). Someone in the kitchen took pity on the Bite Squad guy and brought his order out. That left us. We had Betty, so we couldn't go inside and had to wait. Once we got to the window, service was friendly. And, when we were leaving a woman walked right up to the window and placed her order—just lucky timing. Once the drive-through opens, some of the crowd may thin.
He Said: Yes, things weren't completely smooth yet, but I'm sure that will iron itself out. We probably won't be coming back to eat on the patio, though, which is too bad, since we like to bring our dogs places. When we do come back and sit inside, I hope to have chicken tortilla soup. If it's still on the menu.
She Said: What do you mean we're not going back? I'm taking dogs there… but not if I'm in a hurry!
What We Got and What We Paid: A cheeseburger, which comes with fries, a peanut butter malt, a turkey croissant, which comes with chips and pickle, and a Dr. Pepper, for $25 even.
Elapsed Time from Order to Food Arrival: 27 minutes.
Rating:
She Said: Stoby's food is satisfying and the dog patio is a nice addition, but don't count on a short line if you're in a hurry.
He Said: The food was good. The service is probably better inside, which is where I plan to eat when I come back.
So…He Said and She Said: Go here for the Stoby's favorites you love, dine in or dine outside with your dog.
And by the way, if you like reading "Eat It, Conway," you might be interested in Jay Ruud's new "Merlin Mystery" novel, the third in the series, which will be released on November 10 and now available for pre-ordering on Amazon and on Barnes and Noble: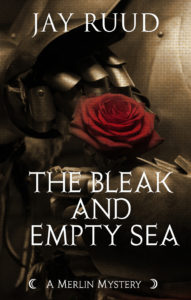 When word comes to Camelot that Sir Tristram has died in Brittany of wounds suffered in a skirmish, and that his longtime mistress, La Belle Isolde, Queen of Cornwall, has subsequently died herself of a broken heart, Queen Guinevere and her trusted lady Rosemounde immediately suspect that there is more to the story of the lovers' deaths than they are being told. It is up to Merlin and his faithful assistant, Gildas of Cornwall, to find the truth behind the myths and half-truths surrounding these untimely deaths. By the time they are finally able to uncover the truth, Gildas and Merlin have lost one companion and are in danger of losing their own lives.
Pre-order from Amazon here: https://www.amazon.com/Bleak-Empty-Sea-Tristram-Mystery/dp/1893035735/ref=sr_1_1?s=books&ie=UTF8&qid=1503328086&sr=1-1&keywords=Bleak+and+Empty+Sea
Pre-order from Barnes and Noble here: https://www.barnesandnoble.com/w/the-bleak-and-empty-sea-jay-ruud/1126958139?ean=9781893035737
Comments
comments
http://jayruud.com/wp-content/uploads/2017/10/FullSizeRender-5.jpg
1996
2778
Jay Ruud
http://jayruud.com/wp-content/uploads/2014/08/JayRuud.png
Jay Ruud
2017-10-09 11:01:12
2017-10-09 11:01:12
Stoby's Restaurant