Review No. 124: Sumo Korean Kitchen and Ramen
305 East Oak Street
(501) 358-4392
56.9 percent finished reviewing Conway restaurants
The Situation
He Said:This building on Oak Street was the one-time location of Saigon and then of the short-lived "The Dive" restaurant. With faith that the "third time's the charm," Sumo has now opened, specializing in traditional Korean fare as well as trendy Japanese Ramen dishes. We had been watching this spot for some time, wondering when it would finally open (delays with its alcohol permit apparently pushed its opening back some months). It's now been open for a few weeks, and apparently, according to our server, the second page of its expanded menu (which includes Hibachi and other popular dishes) has only been available for about a week or so, so we seem to have chosen this restaurant just at the right time!
She Said: As attentive readers may be aware, I've had the Cold That Will Not Die. So, on yet another evening that I was tired of feeling sick and casting about wildly for food that would cure me, I decided we were eating ramen tout de suite, and Sumo is the closest provider to us. After I took Mother to her water aerobics class, I texted He Said to meet us there for supper. One big positive of Sumo is that it is open all day from 11 a.m. to 9 p.m.
Ambience
He Said: As far as I could tell, the place hasn't changed much inside since its "Dive" days. It's not a very large space. It has dark wood paneling and a number of TV sets hanging about, tuned to sports stations. There is a rather incongruous country music channel playing loud enough to make us have to speak up fairly loudly to hear each other talk. The music seemed a strange choice for an Asian restaurant.
She Said: Yeah, I didn't love the music, or maybe it was the volume of it I did not love. My Mom is 92 and has a little trouble hearing, especially if there is ambient noise (dear readers, if you could message us quiet place we can take her for a relaxing meal, we'd love your suggestions!). I was glad to see that Sumo wasn't stripped to the foundations in the transfer and that the inviting and appealing décor of the The Dive did convey to the new business. The bar area is friendly, and the small restaurant has a comfortable, relaxed feel.
Drinks
He Said:I asked for root beer, and was told they have Barq's here. The server brought me some in a very large Ball Mason Jar of the sort used for home canning (like the music, this seemed a holdover from the small-town America theme of The Dive). She also brought me a refill without being asked when I was about half done, and then brought a "to go" cup that I emptied my second Mason Jar into. It was a pretty good root beer score.
She Said:This restaurant is so new, the bar menu is hand written on yellow legal paper, which I found slightly charming. But the list was limited: If there was gin on it, I could not discern it from the brands listed, though there was vodka, and, I believe, some saki options. There were a few wines, so I ordered a glass of cabernet sauvignon, which our server told me sounds "very fancy." Maybe it is; it was also a little sweeter than I liked, but it was a fair pour and went well with the meal.
Food
He Said: One of the Korean dishes here that I was not familiar with is called "dupbap," which simply means "over rice" and is composed of some kind of meat and vegetables with a special sauce over a bowl of rice. It's not a complicated dish, but doesn't have to be, especially if the ingredients are fresh and good. I ordered a salmon dupbap with fried rice (an entrée on the restaurant's new "second page"). It came sprinkled with furikake (a dried seasoning made largely of seaweed), scallions, and a special sauce (which is very mild). The salmon to my surprise was not in pieces and mixed with the rice but was a filet of (apparently grilled) fish sitting atop the rice bowl. This was a delicious entrée. When I had eaten about half of it, and had consumed most of the special sauce, I tried a bit of soy sauce on it and that was delicious in itself. In the end, I had to leave at least a third of the rice in the bowl because I couldn't eat any more. If you leave this place hungry, you must have been doing something wrong.
We had also ordered an appetizer of two egg rolls, which we shared. These came with a scrumptious sweet sauce that I enjoyed a lot. But I'll let She Said talk more about them, if she has the notion.
She Said:I tried to order the chicken-wings appetizer, but they were out of that, so I went with the egg rolls, trying to find something all three of us could eat/would eat. They were quite delicious, with their crispy shells and tasty innards. They were actually difficult for me to share.
They menu is big enough to give me real pause about what to order, even though I came there for ramen for my cold. The Korean dishes with their protein options looked very good to try, but I focused on the ramen options. You can create your own with various meats and proteins and veggies as well as kinds of broth, but I decided to go with the ramen of the house, Sumo Ramen: Japanese traditional noodle soup, soy sauce, pork belly, spinach, bean sprout, green onion and "poached egg." This was delicious, and plentiful for a small portion. Of course, ramen is often beautiful and very Instagrammable (at this writing there are 6,198,442 posts of ramen on IG), and this bowl looked very good, and the soup aroma was appetizing. But the taste was the real payoff: the broth was flavorful and soothing, the pork was tender and filling, and the noodles were plentiful, but not a cheap filler for the good stuff. The standout for me were the eggs the menu lists as poached, but tasted like marinated boiled eggs. They were so uniquely delicious, I was sad when I'd eaten both halves. I did add salt to the broth, but I'm happier doing that than having to eat food the chef has over-salted. I will be getting this again, maybe soon, since my cold seems to have turned into The Consumption.
Service
He Said:We came early, so the place was not crowded (there was only one other table occupied when we got there) so we got pretty quick service from our server. She was very friendly and had a great sense of humor. She didn't know everything about the menu, particularly the new part, but found out the answers to any questions we had. She was attentive and helpful afterwards. The service was excellent.
She Said:Yes, I agree, that the service was attentive and helpful. As I've written before, I don't mind if serves and staff don't know everything when they admit it and find out the answers. We're all in this together!
What My Mom Thought: She said she liked the chicken and egg Dupbap, but there was far too much rice in the dish, and seemed like it was kind of a filler, since there's no way she could eat that much rice, once the protein was gone.
What We Got and What We Paid: Two egg rolls, a small Sumo ramen, a salmon Dupbap with fried rice, chicken with egg, a root beer and a glass of house red wine, all for $46.29 (for three meals).
Elapsed Time from Our Arrival to Food Arrival: 17 minutes for the appetizer, 29 minutes to get all the entrees.
Rating
He Said: I had my doubts about this place: because they had taken so long to open, I was afraid they might not have their act together. I'm happy to say I was quite wrong: I enjoyed the food a lot, and the service was great. Maybe rethink the country music, though, or at least turn it down.
She Said (Or Was It Worth the Weight I Gained): I actually lost .2 pounds after dining here, so it was more than worth it, I'd have gone up to a pound for the Sumo ramen, and I hope to apply it to my face again soon, when hopefully they'll have their bar side of things slightly more polished.
So… He Said and She Said:Go here for tasty Korean (and other Asian selections) food in a pleasant setting with attentive service.
COMING SOON!
Jay Ruud's most recent novel, Lost in the Quagmire: The Quest of the Grail, will be available from the publisher on OCTOBER 15. You can preorder your copy direct from the publisher (Encircle Press) at http://encirclepub.com/product/lost-in-the-quagmire/You can also order an electronic version from Smashwords at https://www.smashwords.com/books/view/814922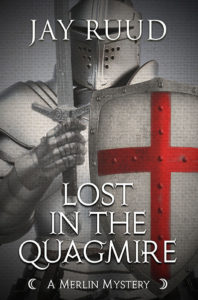 When Sir Galahad arrives in Camelot to fulfill his destiny, the presence of Lancelot's illegitimate son disturbs Queen Guinevere. But the young knight's vision of the Holy Grail at Pentecost inspires the entire fellowship of the Round Table to rush off in quest of Christendom's most holy relic. But as the quest gets under way, Sir Gawain and Sir Ywain are both seriously wounded, and Sir Safer and Sir Ironside are killed by a mysterious White Knight, who claims to impose rules upon the quest. And this is just the beginning. When knight after knight turns up dead or gravely wounded, sometimes at the hands of their fellow knights, Gildas and Merlin begin to suspect some sinister force behind the Grail madness, bent on nothing less than the destruction of Arthur and his table. They begin their own quest: to find the conspirator or conspirators behind the deaths of Arthur's good knights. Is it the king's enigmatic sister Morgan la Fay? Could it be Arthur's own bastard Sir Mordred, hoping to seize the throne for himself? Or is it some darker, older grievance against the king that cries out for vengeance? Before Merlin and Gildas are through, they are destined to lose a number of close comrades, and Gildas finds himself finally forced to prove his worth as a potential knight, facing down an armed and mounted enemy with nothing less than the lives of Merlin and his master Sir Gareth at stake.
Pre-Order from Amazon here: https://www.amazon.com/Lost-Quagmire-Quest-Merlin-Mystery/dp/1948338122
Pre-Order from Barnes and Noble here: https://www.barnesandnoble.com/w/lost-in-the-quagmire-jay-ruud/1128692499?ean=9781948338127
Comments
comments
http://jayruud.com/wp-content/uploads/2018/08/IMG_5456.jpg
3024
4032
Jay Ruud
http://jayruud.com/wp-content/uploads/2014/08/JayRuud.png
Jay Ruud
2018-09-03 08:21:06
2018-09-03 08:21:06
Sumo Korean Kitchen and Ramen