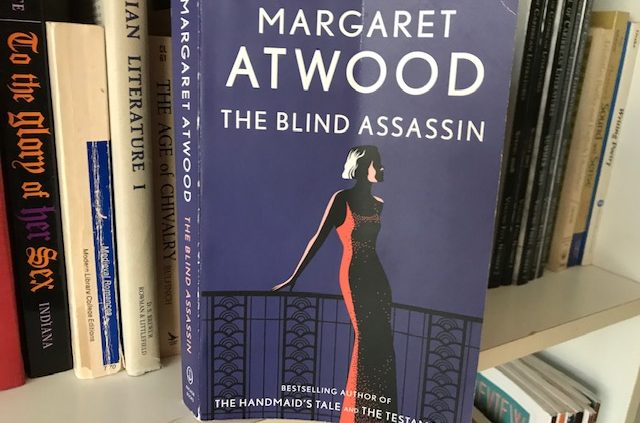 The Blind Assassin
Margaret Atwood (2000)
Margaret Atwood is one of the best-known current novelists in the English language, due in no small part to the popularity of the TV series based on her 1985 novel The Handmaid's Tale, which also fueled her 2019 sequel to that novel, The Testaments that won the coveted Booker Prize. If you're a little more familiar with Atwood's fiction, you might have read her post-apocalyptic science fiction trilogy Oryx and Crake (2003), The Year of the Flood (2009), and MaddAddam (2013), said to be currently in development for a TV series by Paramount Television and Anonymous Content.
What you may not know if you are a casual reader of Atwood's books is that her most acclaimed literary production is actually her 2000 Booker-prize winning novel The Blind Assassin, which was also named by Time magazine as one of the 100 best English language novels since 1923. My advice to you is to read this complex, multi-layered novel and discover for yourself why it deserves this high praise.
There's a good chance that, like me, you will be confused making your way through the first several chapters of the book. There is, in the first place, a dual timeline in the narration, which alternates between the "now" of the narrator (the octogenarian Iris Chase Griffen, speaking in the present, i.e. 1999-2000) and the time she wants to tell us about, chiefly the 1930s and 1940s, but including earlier and later decades as they prove pertinent to her family's history. There are, in the second place, several chapters labeled "The Blind Assassin," which purport to be passages from an acclaimed novel identified as the work of Iris's sister Laura, posthumously published by Iris herself, in 1947. These chapters detail the clandestine meetings of a woman and her secret lover, a man who is constantly moving from one low-rent room to another, apparently one step ahead of authorities who are searching for him. The man, as it happens, is a writer of pulp science fiction stories, and at each meeting with his secretive mistress, he narrates another episode in a tale he calls, you guessed it, The Blind Assassin.
In the third place, the opening chapters are also sprinkled here and there with stand-alone news stories clipped from various newspapers. Several of these are obituaries for some of the novel's chief characters: There is an article from The Toronto Star dated 26 May1945, detailing the death of Miss Laura Chase, 25, who drove off a bridge in Toronto on May 18. Another article, from the Globe and Mail of 4 June 1947, announces the death of industrialist and conservative politician Richard E. Griffen, found aboard his sailboat at his summer home, called "Avilion." A third obituary in The Toronto Star of 25 August 1975 announces the death in a of 38-year old Aimee Griffen—identified as the daughter of the late industrialist Richard Griffen and niece of the noted author Laura Chase. Miss Griffen, the article informs us, died of a broken neck after falling down stairs. She also had a history of drug and alcohol abuse. Finally, there is a notice for 19 February 1998 of the death at 92 of the well-known philanthropist Winifred Griffin identified as the sister of the late industrialist Richard Griffen and sister-in-law of the famous author Laura Chase. She is survived, the article tell us, by her great-niece Sabrina Griffen, "currently traveling in India."
Atwood uses these news clippings to provide us with exposition that our narrator Iris never provides. Since we learn eventually that Iris is writing her narrative specifically with her estranged granddaughter Sabrina in mind, she never identifies her main characters and their relationships. She doesn't have to do so with Sabrina. The clippings inform us that Iris married the business owner Richard Griffen, that she published her sister's novel The Blind Assassin after Laura's suicide in 1945, that she was estranged from her daughter Aimee as well as from Aimee's daughter Sabrina, and that Sabrina deems to have been closer to her aunt Winifred Griffen.
We don't really get started on Iris's narration until the third section of the book, after more than 30 pages of newspaper clippings and passages from Laura's novel. By this time, we probably have several questions, not the least of which is why Laura drove off that bridge. But we also wonder why Iris's husband Griffen died—and so soon after the publication of Laura's iteration of The Blind Assassin. We also have to wonder why Iris was estranged from her daughter and granddaughter, and why they seem to have been closer to Richard's sister Winifred? But just as pressing as these questions is the mystery of what Laura's book has to do with the main narrative.
Atwood's novel The Blind Assassin contains within it the novel attributed to Laura Chase, which is entitled The Blind Assassin, which contains within it a narrative composed by one of its characters entitled "The Blind Assassin." We have a novel telling the story of a novelist who is telling the story of a character who is telling a story. It's the kind of self-reflexive structure beloved by post-modernists, but more than that the book presents us with a mystery whose clues lie in a fiction within a fiction.
Iris and her younger sister Laura are the children of a wealthy factory owner in the fictional town of Port Ticonderoga in Ontario. Iris is born in 1916 while her father is in the trenches of France, and he comes back scarred by the war. Laura is born when he returns, but the girls' mother dies giving birth to a stillborn child, but not before charging Iris to take care of her younger sister. As the girls grow into their teens, the family is held together by Reenie, the Chase's faithful housekeeper, who becomes a mother figure for the two girls. Their father is a progressive business owner who tries hard to keep his factories afloat during the Great Depression in order to save jobs for his employees, and at a company picnic in the mid-1930s, his girls meet a union organizer named Alex Thomas, an ex-divinity student and a fledgling writer, and they are both attracted to him. When their father's workers go on strike and one of his factories is burned, authorities blame Alex for the fire (he was an "outside agitator, so it must have been him). The girls actually hide Adam in the cellar and attic of their home Avilion to save him from capture.
Soon after, the girls' father, reeling from the Depression, the strike and the fire and hoping to save his company and his good name, sells his business to his chief rival—Richard E. Griffen—to whom he also promises the hand of his daughter Iris, though Griffen is twice her age.
Much of the novel details Iris's life as the trophy bride of a man who emotionally abuses her and her sister after their father's untimely death, and whose sister Winifred, heavily invested in the patriarchy—abets his every move. We begin to see some connections between Iris and Laura's lives and the story of the Blind Assassin: In that story within a story, on the planet Zycron, in the opulent city of Sakiel-Norn, the city's governors regularly sacrifice a young virgin to the gods, but first they cut out her tongue to keep her from begging for her life. There is also a guild of assassins, all of whom are blind. In the story, one of the blind assassins rescues one of the silent sacrifices and escapes from the city. We are left to wonder: are the man and woman who met secretly Alex and Laura? Is Iris the silenced sacrifice? Or is Laura? And who is the blind assassin?
If you have formed some conclusions about these questions as you read the novel, be prepared to completely alter your ideas as you approach the book's conclusion and Iris reveals family secrets that she has saved up for the end. If you like Atwood, if you like family sagas with deep secrets, or if you just like books that make you sit up and take notice of the author's language (a newborn has "that squashed face, as if she'd hit a wall at high speed"; Winifred says that "Laura had finally snapped. Snapped, she said, as if Laura was a bean"), then you can't go wrong with this novel. Four Shakespeares.
NOW AVAILABLE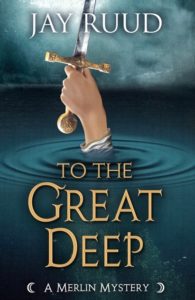 To the Great Deep, the sixth and final novel in my Merlin Mysteries series, is now available from the publisher, Encircle Publishing, at http://encirclepub.com/product/to-the-great-deep/
You can also order from Amazon (a Kindle edition is available) at https://www.amazon.com/Jay-Ruud/e/B001JS9L1Q?ref=sr_ntt_srch_lnk_1&qid=1594229242&sr=8-1
Here's what the book is about:
When Sir Agravain leads a dozen knights to arrest Lancelot in the queen's chamber, he kills them all in his own defense-all except the villainous Mordred, who pushes the king to make war on the escaped Lancelot, and to burn the queen for treason. On the morning of the queen's execution, Lancelot leads an army of his supporters to scatter King Arthur's knights and rescue Guinevere from the flames, leaving several of Arthur's knights dead in their wake, including Sir Gawain's favorite brother Gareth. Gawain, chief of what is left of the Round Table knights, insists that the king besiege Lancelot and Guinevere at the castle of Joyous Gard, goading Lancelot to come and fight him in single combat.
However, Merlin, examining the bodies on the battlefield, realizes that Gareth and three other knights were killed not by Lancelot's mounted army but by someone on the ground who attacked them from behind during the melee. Once again it is up to Merlin and Gildas to find the real killer of Sir Gareth before Arthur's reign is brought down completely by the warring knights, and by the machinations of Mordred, who has been left behind to rule in the king's stead.
Comments
comments
http://jayruud.com/wp-content/uploads/2021/07/IMG_0300.jpg
480
640
Jay Ruud
http://jayruud.com/wp-content/uploads/2014/08/JayRuud.png
Jay Ruud
2021-07-14 17:08:00
2021-07-14 17:08:02
The Blind Assassin