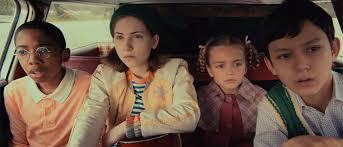 The Mysterious Benedict Society
James Bobin (2021)
Facts for You:
Where to Watch: Weekly on Disney +
Length: 51 minutes per episode
Names You Might Know: Tony Hale, Kristen Schaal, Ryan Hurst
Language: English
He Said: We've known this project was in the works for some time and have been eager to see what the end result was going to look like when the initial volume of our favorite local YA author Trenton Lee Stewart's popular MysteriousBenedict Society series hit the small screen as an eight-part series on Disney+. After watching the first two episodes of the series, which premiered last week, I think we can agree that those young folks who are fans of Stewart's books will find this adaptation faithful and true to its source, and that viewers unfamiliar with the books might well be inspired to begin reading the novels themselves.
Like the books, the TV series seems aimed at tweens and teen in the fourth- to eighth-grade range, though younger viewers will probably like it as well, and older viewers will probably get a kick out of the quirky characters and settings that have what some critics have called a Wes Anderson-like atmosphere. The kind of kookie wardrobe choices and 1960s-like technology that form the milieu of the series are part of the fantasy aspect of the story, but much of it may strike us as all too real given the events of the past several years.
The story is set in a world in which people live in fear because of "The Emergency," a situation that is fed by daily updates of terrible news from news sources trying to stir up people's fears.
And this is exacerbated by subliminal messages secretly transmitted to underscore media broadcasts nationwide. Stewart conceived this plot, which seems prescient now, in 2007. Director James Bobin (known for the Muppets and Muppets Most Wanted) has chosen to underplay any resemblance to current events.
The plot gets under way in the first episode as we follow the story's chief protagonist, Reynie Muldoon (Mystic Insho), an orphan whose teacher shows him an ad in a local paper inviting students to take an exam in order to compete for a scholarship to a prestigious school. Reynie, who has read every book in his institution's library and has a highly analytical mind, passes the first test and moves on to others, along with a few others, including George Washington, nicknamed "Sticky" because everything he sees and learns "sticks" in his mind (Seth Carr); and Kate Wetherall (Emmy DeOliveira), who likes to call herself "Kate the Great," and who carries numerous tools in a bucket and improvises solutions to problems, Batman-like, from the items she carries. There is also Constance Contraire (Marta Kessler), the youngest of the four, who apparently cut the Gordian knot of the tests and simply connived her way past the competition. Anyway, it's Constance who essentially steals the show in these first two episodes with her snarky personality and contrary attitude. Hence her name.
Turns out the kids aren't really being chosen to attend this prestigious school after all. Instead, they've been recruited by the mysterious Mr. Benedict (Tony Hale of Arrested Development and Veep), an eccentric narcoleptic scientist who has discovered the nature and source of the subliminal messages and needs a team of four children to help him shut down the source and save the planet. That's why he needed four such exceptional children. The four have in common not only the fact that they are all orphans or somehow separated from their families, and not only that they are all exceptional intellectually, but also, as Mr. Benedict says, their love of truth and, most importantly, their characteristic empathy—the most important moral quality for this world.
Turns out the broadcasts are coming from a boarding school on Nomansan Island not far off shore near Mr. Benedict's estate, which is why he needs the four children rather than his eccentric adult helpers (Kristen Schaal of Gravity Falls, MaameYaa Boafu of Thru 25, and Ryan Hurst of The Walking Dead): The four children can be enrolled at the Learning Institute for the Very Enlightened (L.I.V.E.) and while there undercover can find the broadcasting tower and figure out how to shut it down. In episode two they begin their schooling at this institute, a place where you can go anywhere as long as you don't step off the path.
The story is certainly meaty enough to reel in the fans. But a series like this is only going to be as good as the child actors who make up the team. What did you think of them, Jones?
She Said: I think the casting is amazing, Ruud. I'm not a big reader of YA fiction, even though my mother is a retired young-adult librarian, because so much of it is post-apocalyptic, dystopian miasma, but this was right up my alley, as it reminds me of Madeleine L'Engle's Wrinkle in Time series. The appeal of the book to me was the children's individual strengths and weaknesses and how both could be either in Stewart's hands. And in the screen adaptation, the children were absolutely just as I imagined them! I do adore that little dickens Constance, of course, but Reynie has my heart, and I was worried about the ultimate choice of actor to play him. I grew up in the '70s and '80s, so I've been deeply scarred by the cloying, twee child actors of sitcoms and movies of the era. Thank the Little Mermaid that Disney is over that business!

I'm really into this adaptation and feel so happy that our friend's book has made a lovely leap to the screen from the page.
He Said: Yes, I thought the kids were appropriate, and they of course will be the ones the kids in the audience will be identifying with. The fact that there are four of them will give those viewers a choice of whom to relate to most closely. For me, I was feeling for the adults. Ryan Hurst, the "muscle" of Mr. Benedict's helpers, is given a sympathetic backstory that helps us relate to him while it would be tempting—and typical—for the audience to overlook him as just a necessary cog. Mr. Benedict himself, Tony Hale, is just bumbling enough for us to fear for the children's safety if he's who they have to rely on, and his narcolepsy that occurs when he experiences strong emotion—particularly laughter—is amusing but viewers will expect that this can cause some difficulties later on, when stakes get higher.
This is charming family entertainment, a cut above the usual cable fare in that genre. Applying my wife's guiding question, "Is it good for what it's good for?" I'm going to go ahead and give this series four Hitchcocks. Over to you, Jones.
She Said: Same here, Ruud! Hitchcocks all around for this!

She Rewatched It And You Should Too: Mad Men. 
I've watched this series, start to finish, about four or five times, and every time I get more out of it than the last. This is literary TV, so engaging and compelling, and meaningful from the surface to the depths. You can watch it free with ads via Amazon Prime. Do it.

NOW AVAILABLE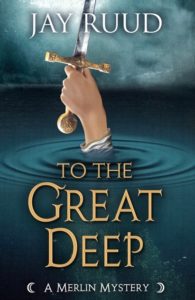 To the Great Deep, the sixth and final novel in my Merlin Mysteries series, is now available from the publisher, Encircle Publishing, at http://encirclepub.com/product/to-the-great-deep/
You can also order from Amazon (a Kindle edition is available) at https://www.amazon.com/Jay-Ruud/e/B001JS9L1Q?ref=sr_ntt_srch_lnk_1&qid=1594229242&sr=8-1
Here's what the book is about:
When Sir Agravain leads a dozen knights to arrest Lancelot in the queen's chamber, he kills them all in his own defense-all except the villainous Mordred, who pushes the king to make war on the escaped Lancelot, and to burn the queen for treason. On the morning of the queen's execution, Lancelot leads an army of his supporters to scatter King Arthur's knights and rescue Guinevere from the flames, leaving several of Arthur's knights dead in their wake, including Sir Gawain's favorite brother Gareth. Gawain, chief of what is left of the Round Table knights, insists that the king besiege Lancelot and Guinevere at the castle of Joyous Gard, goading Lancelot to come and fight him in single combat.
However, Merlin, examining the bodies on the battlefield, realizes that Gareth and three other knights were killed not by Lancelot's mounted army but by someone on the ground who attacked them from behind during the melee. Once again it is up to Merlin and Gildas to find the real killer of Sir Gareth before Arthur's reign is brought down completely by the warring knights, and by the machinations of Mordred, who has been left behind to rule in the king's stead.
Comments
comments
http://jayruud.com/wp-content/uploads/2021/06/images-7.jpeg
147
343
Jay Ruud
http://jayruud.com/wp-content/uploads/2014/08/JayRuud.png
Jay Ruud
2021-06-30 12:06:58
2021-06-30 12:07:00
The Mysterious Benedict Society