Review No. 130: The Purple Cow
1055 Ellis Avenue
(501) 205-4211
59.1 percent finished reviewing Conway restaurants
The Situation
He Said: Ruud2 was in town on a Saturday morning for her rehearsal for the upcoming Red Curtain Theater production of The Rocky Horror Show, and she'd brought her 4-year-old twins and her 40-something-year-old-husband Gerry along for the ride, so we all made plans to have brunch at The Purple Cow, because A) it's gotta be kid-friendly with a name like that, right? And 2) we hadn't reviewed it yet, so we had a two-birds, one-stone thing going on.
She Said: We occasionally take the boys to the Purple Cow in Little Rock when we're watching them, and we know it is kid-friendly, and that they like it. We had only been to the Conway location once, when it first opened, just the two of us. I was looking forward to checking back in with this popular eatery in the area.
Ambience:
He Said: The space is a little larger than the Purple Cow on Cantrell in Little Rock, and they have some nice booths kind of down the center of the space that seat six comfortably, that you can get in and out of from each side. They were ideal for a group with kids, so we sat at one of those. The place is cute inside, with kid-friendly pictures hanging about. The restaurant's name, of course, comes from the famous Ogden Nash quatrain "I never saw a purple cow, I never hope to see one. But I can tell you anyhow, I'd rather see than be one!" But here's a clue: If you go here, you actually will see one. Painted on the wall.
She Said: It's definitely a fun, energetic place, that's casual and dinery, but with its own brand and vibe represented in purples and pinks. I did like the big booths, as the four grownups could sit, two on each side, with a twin between them. Divide and conquer! (If you've dined out with preschoolers, you know what we mean.)
Drinks
He Said: Yeah, I was planning on ordering from the breakfast menu but when I heard Ruud2 order a Cherry Coke I got carried away and ordered one too. And it was pretty dang tasty.
She Said:Unlike the Cantrell location in Little Rock, this Purple Cow does not have "Mommy Juice" or "Bába's Drinks," like wine or beer. I had coffee with cream, and they kept my cup full and kept me in creamer. It was diner coffee; I would have liked it to be a little stronger and more flavorful.
Food
He Said: I believe everybody else actually had something off the lunch menu but I was promised brunch by She Said and so I ordered off the breakfast menu, and what looked good to me was the "Simple Scrambled Eggs," which the menu describes as "three scrambled eggs, plus seasoned potato wedges and wheat toast on the side." I was particularly interested in this because they said they could make them with egg beaters, which is how I ordered them. Eggs are not terribly fatty, but they are fatty enough that when I can get egg whites or egg beaters as a substitute I'll go for it, as a friendlier option for my low-fat diet.
This was a very simple meal, but a meal doesn't have to be fancy to be good, especially at a place that is essentially a diner with a violet domestic bovine as a mascot. The eggs were very basic but perfectly done with fluffy deliciousness. The potatoes were the highlight of the meal. They were nicely crisped and tastily seasoned breakfast wedges and I could have eaten a truckload of them. The toast was, well, wheat toast with a choice of butter or packaged jelly. It was fine.
She Said: I looked over the breakfast menu many times, but nothing floated my boat, so I opted for a hamburger and fries. I ordered an "extra" for my burger, a fried egg, and mayo. The burger comes with its usual accompaniments on the side, lettuce, onions, tomato, pickles. I applied mayo and the pickles, and the burger was satisfying, and nice for brunch with the perfectly fried egg. The fries were a solid offering, and I dipped them in the left-over mayo that I didn't spread on my burger. I ate everything on my plate because I had no complaints.
Ruud-In-Law:Asked for his input, son-in-law Gerry noted that "I was really surprised with how good and crispy the potato wedge fries were." And you didn't even see my lips move, did you Jones?
Service
He Said:The Conway Purple Cow opens at 11 a.m. on Saturday mornings and we were on hand for their opening, along with several other families. We got the impression that they were a little surprised by the numbers. But they made sure that everyone was seated and got their drink orders right away, and they did this by having some of their cooks wait on the tables at first. This was a little bit awkward since the cook that waited on us didn't quite know exactly what to do, but he got it all figured out and was friendly and helpful in the process. Eventually we had a regular server and all was well. The staff did understand the special difficulties of 4-year-olds in restaurants, and were prompt in bringing crayons and coloring sheets for the boys, and in splitting their orders as desired, and getting them their strawberry and purple shakes with lids on them ASAP. Altogether, The Purple Cow does seem like a family restaurant that expects kids, caters to families with kids, and has an atmosphere that is kid-friendly.
She Said:  I was pleased with the service, especially with the fact that the cooks came out of the kitchen when necessary to take care of the guests. Our server was professional and prompt, and management also came over to check on us a couple of times. By the time we left, there were many families waiting for tables, so I was glad we got there when the doors opened.
What We Got and What We Paid: One simple scrambled eggs with egg-beaters, seasoned potato wedges and wheat toast with a Cherry Coke, one hamburger with a fried egg and fries (substituting for chips) plus one coffee, all for $19.89 (before tip). The Ruud2 family had Mac and Cheese, a cheeseburger, a hamburger, the Florentine omelet with potato wedges, a strawberry shake and a purple shake, a Cherry Coke and coffee, all for about $41.
Elapsed Time from Our Arrival to Food Arrival:33 minutes (that's a little long with 4-year-olds, but they were busy with their crayons).
Rating
He Said: Good basic food with a family-friendly atmosphere that make it a favorite hangout for 4-year-olds.
She Said: This is a reliable diner with an extra fun touch for kiddos in Conway.
Ruud-In-Law: When it comes to a kid friendly place, it's hard to beat Purple Cow. Our kids are loud and don't like to wait long. Purple cow has it down to a science. Even though they were short-handed, we got our food quick and everything tasted great.
Is The Purple Cow Good at What it's Good For? Absolutely! The food is tasty, service is attentive and the atmosphere is great for bigs and littles, too.
NOW AVAILABLE!!!
Jay Ruud's most recent novel, Lost in the Quagmire: The Quest of the Grail, IS NOW available from the publisher AS OF OCTOBER 15. You can order your copy direct from the publisher (Encircle Press) at http://encirclepub.com/product/lost-in-the-quagmire/You can also order an electronic version from Smashwords at https://www.smashwords.com/books/view/814922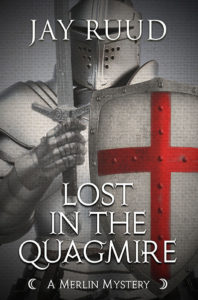 When Sir Galahad arrives in Camelot to fulfill his destiny, the presence of Lancelot's illegitimate son disturbs Queen Guinevere. But the young knight's vision of the Holy Grail at Pentecost inspires the entire fellowship of the Round Table to rush off in quest of Christendom's most holy relic. But as the quest gets under way, Sir Gawain and Sir Ywain are both seriously wounded, and Sir Safer and Sir Ironside are killed by a mysterious White Knight, who claims to impose rules upon the quest. And this is just the beginning. When knight after knight turns up dead or gravely wounded, sometimes at the hands of their fellow knights, Gildas and Merlin begin to suspect some sinister force behind the Grail madness, bent on nothing less than the destruction of Arthur and his table. They begin their own quest: to find the conspirator or conspirators behind the deaths of Arthur's good knights. Is it the king's enigmatic sister Morgan la Fay? Could it be Arthur's own bastard Sir Mordred, hoping to seize the throne for himself? Or is it some darker, older grievance against the king that cries out for vengeance? Before Merlin and Gildas are through, they are destined to lose a number of close comrades, and Gildas finds himself finally forced to prove his worth as a potential knight, facing down an armed and mounted enemy with nothing less than the lives of Merlin and his master Sir Gareth at stake.
Order from Amazon here: https://www.amazon.com/Lost-Quagmire-Quest-Merlin-Mystery/dp/1948338122
Order from Barnes and Noble here: https://www.barnesandnoble.com/w/lost-in-the-quagmire-jay-ruud/1128692499?ean=9781948338127
Comments
comments
http://jayruud.com/wp-content/uploads/2018/10/IMG_6865.jpg
2233
2867
Jay Ruud
http://jayruud.com/wp-content/uploads/2014/08/JayRuud.png
Jay Ruud
2018-10-15 05:31:01
2018-10-15 05:31:01
The Purple Cow