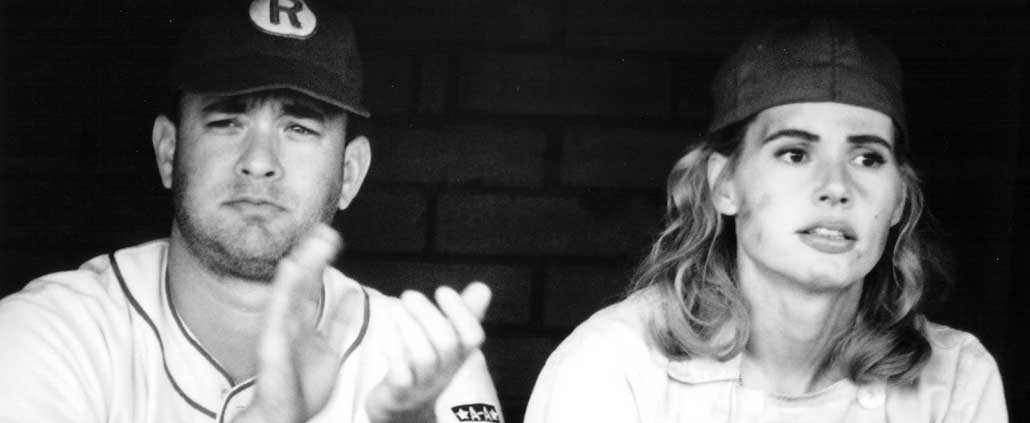 There have been dozens of movies about baseball, from the pure comedy of Walter Mathau's iconic turn in The Bad News Bears, to the singing and dancing double play combination of Frank Sinatra and Gene Kelly in Take Me Out to the Ballgame, to Tommy Lee Jones' brilliant portrayal of a sociopathic star in Cobb. In honor of major league baseball's opening day, this week's "review" is actually a list of my top ten baseball movies ever. The three I've listed above are my honorable mentions Here are my top ten—watch 'em if you haven't seen 'em!
10. 42 (Brian Helgeland 2013)
The breaking of baseball's color barrier in 1947 is not simply one of the monumental events in baseball history, it is one of the most significant events in American history because the integration of America's national game was the forerunner of the integration of American society and the success of the civil rights movement some 20 years later. The story had been filmed in 1950, the year after Robinson led the Dodgers to the National League championship, with Robinson playing himself in the title role of The Jackie Robinson Story. That film had sincerity and the integrity of Robinson's performance, but was hampered by a short and episodic script that tried to cover Robinson's boyhood, army service, UCLA career, and baseball career all in 76 minutes. The story itself as so dramatic, though, that it cried out to be remake on a larger scale with better production values. Robert Redford tried for years to put together a project that would have cast himself as Dodgers' executive Branch Rickey, who took the chance of bringing Robinson into the major leagues on the condition that Robinson take the abuse he was sure to receive from fans and opposing players without reacting in kind. But Redford was never able to put the deal together to make the film. He had been preceded by Spike Lee, who through the 90s tried to develop a film that would have starred Denzel Washington in the lead role (how awesome would that have been!). But that did not work out either. Brian Helelund, who had won an Oscar for writing the screenplay for L.A. Confidential, and was nominated for another for writing Mystic River, gives us in this film not a full blown biography but a look at a brief segment of Robinson's life—from his 1945 signing by Rickey (played against type by Harrison Ford) through his historic rookie season of 1947, climaxed by teammate Pee Wee Reese's public stand against the public abuse of his teammate. Chadwick Boseman (Get On Up) is convincingly heroic in the lead role.
9. A League of Their Own (Penny Marshall 1992)
It took a woman director to bring their story to the screen, but Penny Marshall brought to the public consciousness the role of women in professional baseball with this movie about the All-American Girls Professional Baseball League, fielded during the Second World War as a way of drawing people to the ball parks while most major league stars were serving in the military. What began as a kind of novelty act ended up lasting from 1943 to 1954, and the film shows how it proved to be a serious outlet for athletic women who, though forced to play the game in short skirts which made it a bit difficult to slide into second base, proved more than up to the challenge. Geena Davis is memorable as the Rockford Peaches' star catcher Dottie Hinson, and much of the movie's story arc involves her sibling rivalry with her sister Kit (Lori Petty), the team's best pitcher. The subplot focuses on Jimmy Dugan (Tom Hanks), an alcoholic former big-league player (inspired by ex-slugger Jimmy Foxx, who had managed the Fort Wayne Daisies in 1952) and Dugan's struggles with involvement in a situation he seems to have his doubts about. It's Hanks who gives us that so-quotable line, "There's no crying in baseball!" Though Marshall's film involves a fictional story and characters, it does place them on a real team and gives us a glimpse of an important chapter in baseball history that had been essentially forgotten, at least until 1988, when a wing in the Baseball Hall of Fame commemorating the league was opened, and sparked Marshall's interest. Geena Davis's character is loosely based on Dorothy "Dottie" Kamenshek, outfielder and first baseman for the Peaches and one of six women from the league to have been inducted into the Hall of Fame.
8. Fear Strikes Out (Robert Mulligan 1957)
Maybe a bit of a surprise on his list is this now slightly obscure film based on the Al Hirshberg biography of one of the game's more troubled personalities, Jimmy Piersall. The film follows Piersall's rise from his sandlot days to his breaking in with the Boston Red Sox at the age of 20 in 1950. Piersall suffered a nervous breakdown in 1952, however, displaying a bipolar disorder that led to his being institutionalized for several weeks that year. In the film, the mental break is depicted as the result of Piersall's domineering and demanding father, and Jimmy realizes that his drive to excel at baseball had been all to please his father rather than for himself. The real Piersall, who went on to be selected to two all-star teams and win two gold gloves, eventually disavowed the film, saying that it made too much of his father's influence on his mental condition. But the film is a surprisingly (for its time) sensitive portrayal of mental illness, and the young Anthony Perkins, three years before his iconic role in Psycho, gives a memorable performance as Piersall, as does Karl Malden as the unsympathetic father. Robert Mulligan, who was to go on to direct To Kill a Mockingbird five years later, received a Directors' Guild nomination for outstanding achievement in this, his first feature film.
7. Moneyball (Bennett Miller 2011)
A baseball movie that romanticizes math geeks, Moneyball exposes the underbelly that is the business side of baseball. It takes the science of sabermetrics, the empirical analysis of baseball statistics as they apply to a player's value to his team, and shows how a bold and relentless application of that analysis can lead to success on the diamond by adapting the real-life story of Billy Beane (Brad Pitt), general manager of the cash-poor Oakland Athletics, who, forced to field a team on a shoestring budget, enlists the help of ivy-league statistician Peter Brand (Jonah Hill) and, challenging the conventional baseball wisdom of his own scouts and his manager Art Howe (Philip Seymour Hoffman), puts together a team that wins a record twenty consecutive games and proves the old timers wrong. The appeal of the film to underdogs everywhere, to anyone who wants to challenge conventional wisdom, to anyone respects data-driven rather than anecdotal evidence, is undeniable. Pitt and Hill give remarkably sympathetic performances, and Hoffman, as always, is excellent—though it must be admitted that some of the details of the film (including Howe's stubborn opposition) are inaccurate but are included to heighten the dramatic potential of the "true" story, as depicted in the 2004 non-fiction book of the same name by Michael Lewis. Still, the screenplay by West-Wing creator Aaron Sorkin and Steven Zaillian, was nominated for an Academy Award. The film was also nominated for Best Picture, Best Actor (Pitt) and Best Supporting Actor (Hill) and two other awards, though it failed to win any. But director Bennett Miller (Capote, Foxcatcher) has put together a truly classic baseball movie that in some ways challenges the romance typical of other baseball movies, while at the same time gives the front office guys a chance to be he heroes and to win against overwhelming odds. Same story, different set of players.
6. Eight Men Out (John Sayles 1988)
John Sayles (Oscar nominee for the screenplays for Lone Star and Passion Fish) adapted the screenplay for Eight Men Out, the story of eight members of the 1919 Chicago White Sox team that threw the world series and were banned from baseball for life, from a book by Eliot Asinof. Sayles' deft writing and direction manages to create a tight story arc from a complex situation reported in full in Asinof's book. Sayles achieves this by focusing on two players in particular: third baseman Buck Weaver (John Cusack), who refuses to take part in the fix but fails to report what is happening to management and as a result is banned from baseball along with the theirs, and star pitcher Eddie Cicotte (David Strathairn), whose motives for taking the money are understandable but whose tragedy it is to fall with the others. The fact that the biggest star of all, Shoeless Joe Jackson, a player the stature of a Ty Cobb or a Babe Ruth in his day, is a sidelight in the movie is a brilliant and unexpected twist, making us familiar with the full range of the human suffering caused by the "Black Sox" scandal. In its way as important a story for baseball history as Jackie Robinsons's itself, Eight Men Out is less interesting for non-fans who may be unfamiliar with the background of the story but it does demonstrate vividly what happens when the ideals of the game are compromised, and so has become more relevant than ever in baseball's post-steroid era.
5. Bang the Drum Slowly (John D. Hancock 1973)
The year before his Oscar-winning portrayal of the young Vito Corleone in Godfather II, Robert De Niro starred in the most melodramatic of all the great baseball films. De Niro plays Bruce Pearson, a young intellectually challenged catcher who clashes with flashy team mate Henry Wiggen (Michael Moriarty) but then is befriended by Wiggen, the team's star pitcher, who learns that Pearson is suffering from Hodgkin's disease and the prognosis is fatal. Eventually the whole team and manager Dutch Schnell (Oscar-nominated Vincent Gardenia) get behind Pearson, whose play on the field improves even as his health declines, and Schnell and Wiggen conspire to let Pearson play the last game of the season, knowing it will be his last game. The film is of course a mammoth tearjerker, but is more about behind the scenes relationships among ballplayers. Mark Harris wrote the screenplay based on his 1955 novel, which had earlier been made into a 1956 TV movie starring Paul Newman in the Wiggen role. That's a fascinating treatment, but watch the movie and the young De Niro practicing his craft.
4. Field of Dreams (Phil Alden Robinson 1989)
"If you build it, he will come." Or maybe you like "Is this heaven? No, it's Iowa." When lines from a film become part of the idiom of the country, you know that the movie has struck a chord in the American psyche. Phil Alden Robinson wrote and directed this adaptation of W.P. Kinsella's novel Shoeless Joe. The film was made when Kevin Costner was the top movie star in the country—before the disastrous Waterworld and the nearly career-sinking Postman. It was when Costner was typically hailed as the modern Gary Cooper, with a quiet strength, integrity and modesty that defined an American hero, and how much more American can a baseball movie be? Field of Dreams is a kind of magic realist romp in which three story threads are woven through the American pastime and come out reborn. Costner is Ray Kinsella, who builds a baseball park in the middle of prime Iowa farm land—a field that allows the great Shoeless Joe Jackson and his Black Sox teammates to return to life and play the game for the love of it once again. But it also restores Kinsella's relationship with his father, who returns to play on the field as well. And it becomes the means by which Moonlight Graham, played memorably by an elderly Burt Lancaster in his last film role, returns to his youth and fulfills his lifelong dream of batting in the big leagues. Furthermore, it provides new inspiration of novelist Terrence Mann (a thinly disguised takeoff on J.D. Salinger played by James Earl Jones), who follows the players wherever it is they are going at the end. The field really is the place where lost dreams become possible. Baseball may be big business, but like the movies themselves it is also the land of our dreams, and this film captures that. Also, I can listen to James Earl Jones say "I'm going to beat you with this crowbar until you go away" all day long.
3. Pride of the Yankees (Sam Wood 1942)
Baseball's best-known and most highly regarded biopic that leaves no dry eye in the house may seem idealized and sentimental to contemporary cynics, but this beloved film about one of baseball's most beloved heroes stands up because of Gary Cooper's remarkably sympathetic and understated portrayal of baseball's Iron Horse, who considered himself "the luckiest man on the face of the earth." The film was made just two years after Gehrig's untimely demise from the disease that still bears his name, and fans who loved baseball and loved Gehrig flocked to the film in surprising numbers. The movie garnered eleven Academy Award nominations, including Best Picture, Best Actor, Best Actress for Teresa Wright as Mrs. Gehrig, and best screenplay, winning only in the editing category. Veteran director Sam Wood, who had directed the Marx Brothers in Night at the Opera and Day at the Races, as well as directing Goodbye Mr. Chips and The Devil and Miss Jones and serving an uncredited stint as one of the directors on Gone with the Wind, effectively tells the life story of Gehrig, the son of German immigrants who attends Columbia University and goes on to follow Babe Ruth in the Yankee lineup known as "Murder's Row." Ruth plays himself in the film, as does Yankee catcher Bill Dickey, which adds realism and glamor to the film, but it is Cooper, in the third of his five Oscar nominated roles, who owns this picture, and who gives the character of Gehrig the everyman quality and modest greatness that the actual Gehrig apparently possessed in real life.
2. Bull Durham (Ron Shelton 1988)
Kevin Costner's appealing performance as "Crash" Davis, a career minor league catcher, gives this film its soul, and strong supporting turns by Tim Robbins as Ebby Calvin "Nuke" LaLoosh, a rookie pitcher bound for the big leagues, and Susan Sarandin as Annie Savoy, a Durham Bulls groupie who sets her sights on Nuke but finds herself drawn more and more powerfully to Crash. This is a romantic comedy with minor league professional baseball as its setting, but it is professional baseball depicted more realistically than it has been in any other film, colored as it is by the experiences of writer/director Ron Shelton, who spent five years in the minor leagues himself before turning to Hollywood. Bull Durham's 97% rating on Rottentomatoes.com is the highest of any baseball movie, and Sports Illustrated named the film the greatest sports movie of all time. Shelton's script won a Writer's Guild of America award for best original screenplay, and was nominated for the Oscar. It is a great script, not just because of the realistic look at minor league baseball, but because of the witty romcom dialogue and the chemistry between the characters. This is a story you would care bout even if the characters weren't baseball players.
1. The Natural (Barry Levinson 1984)
Of all the baseball films ever made, The Natural is best at capturing the mythic nature of the game. Set in baseball's golden era, when it was truly the national pastime and allowed people some relief from the rigors of the depression, the film's depiction of Roy Hobbes as a heroic warrior with a kind of superhuman ability, a true knight on a quest to restore the fertility of the Waste Land that is Pop Fisher's legacy and bring his team a pennant, hits nearly every note for the archetypal "hero" myth. Robert Redford, like that other number 9, Ted Williams, wants only to be the best there ever was in the game, but his childhood sweetheart Iris, who stands up so that he sees her in the grandstand surrounded by what looks remarkably like a halo, teaches him that a hero must be more than a good hitter. Is it overly sentimental? Is it too predictable, changing the ironic antihero of Bernard Malamud's novel into a Homeric warrior? Maybe from one point of view. But can any real baseball fan resist Roy's literally knocking the cover off the ball? Or the fireworks of that magnificent climax when his blow puts out the lights? Was baseball ever truly like this? If not, well, it should have been.
Comments
comments
http://jayruud.com/wp-content/uploads/2015/04/baseball.jpg
440
1030
Jay Ruud
http://jayruud.com/wp-content/uploads/2014/08/JayRuud.png
Jay Ruud
2015-04-06 02:07:25
2015-04-20 08:38:17
The Top Ten Baseball Movies EVAH!