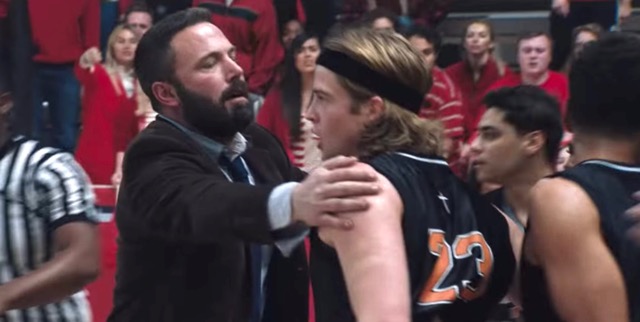 The Way Back
Gavin O'Connor (2020)
What with the movie theaters closed for business and all y'all sheltering in place, it's a little more difficult to post movie reviews. But a number of films, cut short in their wide theater releases, are being streamed early, and one of these is Gavin O'Connor's new film with Ben Affleck, The Way Back.
If you've seen trailers for TheWay Back, you may feel like you've already seen this film in a dozen other "underdog-sports-team-coached-by-a-disgraced-coach-who-needs-to-prove-himself-just-as-much-as-the-team-does" guises, most notably in Hoosiers, of which every other such film is merely a pale imitation. And for about half the movie you're going to think you were right. But you're not. And without giving too much away with spoilers, let me just say that, no, the way back for Ben Affleck's character is not as simple as winning a basketball championship.
Twenty-five years ago, Jack Cunningham was the star basketball player on his high school team, and there is still a banner in his school's field house acknowledging his being named the conference's "Player of the Year" that season. Today, he works construction, and he fills his thermos with booze to drink for lunch every day, has a beer in his car that he pours into a paper cup to camouflage his drinking while he drives to Harold's Bar, where he spends every night. At home he drinks in the shower and has a nightcap when he gets there. And pretty much stays sloshed during every waking hour. He has an estranged wife (big surprise) named Angela (Janina Gavankar of Blindspotting) who is ready to get that divorce and move on with someone new. He has a sister Beth (Michaela Watkins of Brittany Runs a Marathon) with a couple of kids who invites him for Thanksgiving dinner with their mother and who tries to get him to look at his destructive lifestyle but who's fed up with him, too. It's impossible not to read Affleck's own well-publicized substance abuse issues into the character. And certainly to a large extent the film comes across as Affleck's public confession of his own road to recovery.
But director Gavin O'Connor (who directed Affleck in The Accountant) and screenwriter Brad Ingelsby (Run All Night) don't let the film become simply about Affleck. They are focused on making Jack Cunningham a character that Affleck's own experiences help to bring to life.
Jack is in the midst of his dead-end life when he receives a call from the headmaster of his alma mater, Bishop Hayes High School in the Los Angeles suburb of San Pedro, asking him to come in for a meeting. I suppose twelve years of parochial school have left their mark on Jack, because although he ignores a lot of other messages, he does what the priest asks and goes to visit Father Devine (John Aylward of TV's Saint Elsewhere) at the old school. As you can probably guess, the reason Jack's been called in is that the school needs a new basketball coach, and needs one immediately. And even though Jack has not been on a basketball court in 25 years, and has  never coached or taught in his life, the old priest offers him the job. If this seems more than a little implausible, that's because it is.
But the film goes to some lengths to justify the appointment. The team's head coach has just gone down with a heart attack in midseason, and the next game is in a couple of days, so there is no time to do a thorough search for a qualified coach with genuine credentials. Here's a celebrated alumnus of the school with a storied history in the sport, let's grab him in the short term. As for the assistant coach, Dan, the school's algebra teacher (Al Madrigal of TVs About a Boy), it turns out he has a mother with MS who needs his care in the evenings, so he is not able to spend as much time after school and at night to work with the team to the extent he would need to as head coach. And so, after an evening of drinking what appears to be an entire case of beer, and drunkenly muttering to himself a string of excuses he plans to make to Father Devine, he ends up taking the job.
And of course he inherits a team of slackers, showboats, and hangers on, who are one and nine on the season. And as a coach he does, as convention calls for, whip these kids into shape, teaching them some discipline and responsibility—although in his case it's a "do as I say, not as I do" kind of discipline, since he still has little self-discipline of his own. For awhile he does ease off on the drinking somewhat, but during games his sideline behavior and his barrage of foul language when calls do not go his way again stretch the limits of plausibility. Would referees in a high school basketball game really allow this kind of behavior on the part of a coach, particularly in a league of Catholic schools? Would the school itself ignore these tantrums? Of course, the team's chaplain, Father Whelan (Jeremy Radin, a poet whose collection Dear Sal my wife has enjoyed), does speak to Jack several times about his language, but to no avail, and it's treated essentially in a comic way. But it's a bit of a stretch.
And Jack does have a positive influence on his players generally, most notably the shy, self-deprecating but immensely talented Brandon Durrett (Brandon Wilson), in whose family life Jack recognizes a reflection of his own relationship with his father, a revelation that goes some way in explaining some of the unhealthy choices he's made in his own life.
The team does turn around and begins winning, and when they make the playoffs after beating their chief rivals, you seem to know right where you are and you feel fairly certain you've got the ending figured out. Only thing is, you have this nagging feeling that things aren't quite working out as they should for Jack—he still is something of a jerk and you might be getting as annoyed with him as his wife and sister are. This redemption-through-sports thing doesn't seem to be working for him the way it's supposed to, damn it.
And that's where this film transcends its genre. Jack's got problems too deep for an easy fix, and those problems finally are brought home to us in the movie's third act. I can't elaborate without spoiling the movie, but Affleck and company deserve credit for exploring the complexities that may lie behind substance abuse issues, and the slow and intricate pathway to recovery. This was a courageous movie for Affleck to make, and he demonstrates in it what an underrated actor he really is, delivering a performance that ranks with his tormented Superman in Hollywoodland as one of his best.
Other performances in the film are fine, but most of the other characters have little to do, as everything else is subsidiary to Jack and his issues. The other real star of the film is basketball: The scenes on the court are beautifully choreographed and exciting to watch. They don't quite make up for the cancelation of March Madness this year, but they might help feed your yearning a bit. Three Tennysons for this one.
NOW AVAILABLE:
"The Knight of the Cart," fifth novel in my Merlin Mysteries series, is now available from the publisher, Encircle Publishing, at https://encirclepub.com/product/theknightofthecart/
You can also order from Amazon at
https://www.amazon.com/Knight-Cart-MERLIN-MYS…/…/ref=sr_1_1…
OR an electronic version from Barnes and Noble at
https://www.barnesandnoble.com/w/the-knight-of-…/1133349679…
Here's what the book is about:
The embittered Sir Meliagaunt is overlooked by King Arthur when a group of new knights, including Gildas of Cornwall, are appointed to the Round Table. In an ill-conceived attempt to catch Arthur's notice, Meliagaunt kidnaps Queen Guinevere and much of her household from a spring picnic and carries them off to his fortified castle of Gorre, hoping to force one of Arthur's greatest knights to fight him in order to rescue the queen. Sir Lancelot follows the kidnappers, and when his horse is shot from under him, he risks his reputation when he pursues them in a cart used for transporting prisoners. But after Meliagaunt accuses the queen of adultery and demands a trial by combat to prove his charge, Lancelot, too, disappears, and Merlin and the newly-knighted Sir Gildas are called into action to find Lancelot and bring him back to Camelot in time to save the queen from the stake. Now Gildas finds himself locked in a life-and-death battle to save Lancelot and the young girl Guinevere has chosen for his bride.
Comments
comments
http://jayruud.com/wp-content/uploads/2020/03/affleck_way.jpg
322
640
Jay Ruud
http://jayruud.com/wp-content/uploads/2014/08/JayRuud.png
Jay Ruud
2020-03-25 12:23:02
2020-03-25 12:23:02
The Way Back