Review No. 137: Tio's Mexican Restaurant
710 South Salem Road
(501) 327-9400
62.4 percent finished reviewing Conway restaurants
The Situation
She Said: I got off the treadmill and was pretty hungry for a big ol' lunch. We tried one place where lines were out the door, so searching on Yelp for an establishment we hadn't yet reviewed, we settled on Tio's. I've driven by this place probably hundreds of times, but this is the first time we'd ever dined there.
He Said: So this is just one of the 142,695,244 Mexican restaurants in Conway, but since we vowed to visit them all, it was time to check this one off the list. Apparently they have an all-you-can-eat lunch buffet here from Monday through Saturday, but we ended up doing the after- church crowd thing on Sunday, so in fact our experience might be different from yours if you're heading there on a weekday. The menu for lunch is huge, so it took awhile to get our bearings, but we both ended up getting combinations, and so got a pretty good variety of the kind of thing they have here.
Ambience:
She Said: It's very festively American-Mexican on the inside, with painted booths and tables. The dining room is cozy enough, and has table and booth options. We had a window-side booth that was colorful and comfortable.
He Said:Yes. We'd never been here before, but the colorful interior reminded me of El Parian, which we used to eat at regularly, only with more newly-painted looking furniture. There are TVs hanging all about, all tuned to football games on a Sunday afternoon.
Drinks
She Said: They have an extensive mixed-drink menu, but before I looked at it, I asked for a margarita, which my server confirmed I wanted on the rocks. It was a perfectly appropriate size and also nicely adult in ingredients. I did see some rather large ones being served, and on another visit, I might try one of those.
He Said: Yes, I noticed some of those "big as yo' head" margaritas. Surprised you showed such restraint. As for me, they've got Pepsi products, and I asked for a Mello-Yello, seeing it listed on the menu. But then I was told they didn't have it. So I opted for a Dr. Pepper, also listed on the menu. This they had.
Food
She Said: I needed sustenance for the effort of perusing the extensive menu, so I quickly ordered a small guacamole to go with our chips and salsa. The chips were warm when served and crispy, and the guac was on the creamy side, and rather tasty, though I did need to add a bit of salt. The menu was so large, it was hard to choose (choice research indicates that the more choices you give consumers, the more interest you provoke, although fewer sales actually occur). I took refuge in the vegetarian combinations section and settled on D: a refried beans enchilada, a chalupa and a quesadilla. This was the right choice. These are my three favorite a la carte items at this kind of restaurant—I stipulated that I wanted mine with cream sauce, not red. The refried beans in the enchilada were tasty and creamy, the shell under the chalupa was crispy and the beans and fresh guac and lettuce mixed nicely in taste and texture. I also really enjoyed the very simple and tasty quesadilla, which was just a perfectly browned tortilla with melted cheese. Any one of these items would have been plenty for lunch, and together they were a flavorful feast.
He Said: With that Huge menu, as already stated at least a couple of times, I figured a combination plate would get me at least a couple of different choices. Since She Said was all over the vegetarian combos, I figured I'd have the regular one. Of course, I do have the chicken rather than the beef versions of things, because of the low fat blah blah blah that you're all used to by now. The way the combinations work here is that you have a choice of four from a list of some ten or twelve items. So I had a chicken taco, chicken enchilada, refried beans and Mexican rice.
I enjoyed the rice and the beans. They tasted, I thought, just as they should, pretty much like every other good Mexican place in town. The beans were, I thought, a little smoother or creamier than most, and were particularly good that way. The red sauce on the chicken enchilada was tangy and sweet and I enjoyed it. The taco came on a separate plate, was in a crispy shell, and was quite full of chicken and cheese. I added some salsa left over from the chips that had been brought at the beginning, and some tomato from She Said's meal which she threw my way as soon as she saw it, and I was very happy. The shell did get a little soggy fairly quickly and lost its crispness, but that was not a significant problem. Overall the meal was as good as any Mexican meal I've had in Conway for some time.
Service
She Said: Service was efficient, though not particularly cheery; however, I have no complaints.
He Said: Yes, it was attentive enough. My Dr. Pepper didn't come with the food, so She Said had to ask for it again. But it came right away after that.
What We Got and What We Paid: One small guacamole, one vegetarian combination, one regular margarita, plus one "build your own" combination, with a chicken taco, chicken enchilada, rice and refried beans. All for $27.08, before tip.
Elapsed Time from Our Arrival to Food Arrival: 14 minutes from our arrival to entrée arrival (with chips and drinks in between).
Rating:
She Said (or is it worth the weight I gained): It's the holidays, y'all. I'm not weighing in! But, this would be worth a pound, maybe more if you went for the ginormous marg. If you like this American version of Mexican food that is a tradition in Arkansas, you'll like Tio's.
He Said: What I had here was tasty and satisfying, and as good as most of the myriad Mexican joints in Conway, and certainly better than some. I'd be perfectly satisfied to eat here again in the future, once we've finished this project of trying to hit every restaurant in sight.
Is Tio's Good At What It's Good For? Absolutely! Standard Americanified Mexican fare served efficiently with adult-drink options and yummy combinations.
NOW AVAILABLE!!!
Jay Ruud's most recent novel, Lost in the Quagmire: The Quest of the Grail, IS NOW available. You can order your copy direct from the publisher (Encircle Press) at http://encirclepub.com/product/lost-in-the-quagmire/You can also order an electronic version from Smashwords at https://www.smashwords.com/books/view/814922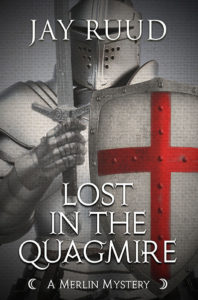 When Sir Galahad arrives in Camelot to fulfill his destiny, the presence of Lancelot's illegitimate son disturbs Queen Guinevere. But the young knight's vision of the Holy Grail at Pentecost inspires the entire fellowship of the Round Table to rush off in quest of Christendom's most holy relic. But as the quest gets under way, Sir Gawain and Sir Ywain are both seriously wounded, and Sir Safer and Sir Ironside are killed by a mysterious White Knight, who claims to impose rules upon the quest. And this is just the beginning. When knight after knight turns up dead or gravely wounded, sometimes at the hands of their fellow knights, Gildas and Merlin begin to suspect some sinister force behind the Grail madness, bent on nothing less than the destruction of Arthur and his table. They begin their own quest: to find the conspirator or conspirators behind the deaths of Arthur's good knights. Is it the king's enigmatic sister Morgan la Fay? Could it be Arthur's own bastard Sir Mordred, hoping to seize the throne for himself? Or is it some darker, older grievance against the king that cries out for vengeance? Before Merlin and Gildas are through, they are destined to lose a number of close comrades, and Gildas finds himself finally forced to prove his worth as a potential knight, facing down an armed and mounted enemy with nothing less than the lives of Merlin and his master Sir Gareth at stake.
Order from Amazon here: https://www.amazon.com/Lost-Quagmire-Quest-Merlin-Mystery/dp/1948338122
Order from Barnes and Noble here: https://www.barnesandnoble.com/w/lost-in-the-quagmire-jay-ruud/1128692499?ean=9781948338127
Comments
comments
http://jayruud.com/wp-content/uploads/2018/12/IMG_8149.jpg
2182
2993
Jay Ruud
http://jayruud.com/wp-content/uploads/2014/08/JayRuud.png
Jay Ruud
2018-12-03 09:17:17
2018-12-03 09:17:17
Tio's Mexican Restaurant