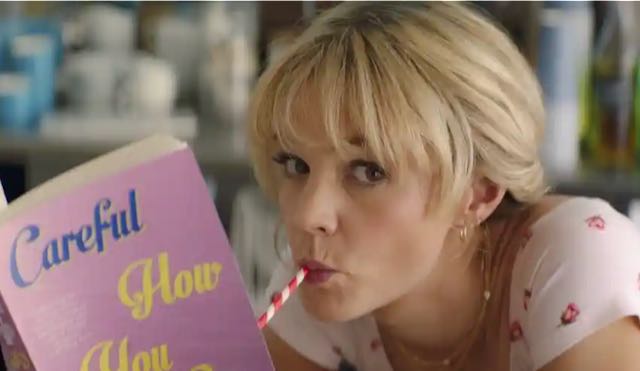 He Said/She Said Top Ten Films of 2020
In the wake of the 93rd Academy Award ceremony, my awesome wife Stacey Margaret Jones and I put together our own list of what we considered the best films of 2020. After coming up with two separate lists, we combined them to come up with a consensus on the year's best movies. Here they are, with me commenting on the movies I ranked most highly and she doing the same with the films she rated best. And so here they are! These are the best of the year—trust us!
10. One Night in Miami (He said)
Regina King, Oscar-winning actress for her role in If Beale Street Could Talk in 2018, made her feature film directing debut with this movie. Based on a play by Kemp Powers, the film tells the story of four legends of the civil rights movement—activist Malcolm X, pro-football star running back Jim Brown, heavyweight champion Cassius Clay (before he became Muhammed Ali) and soul singer Sam Cooke—gathered together on the night of February 25, 1964, immediately following Clay's shocking upset of champ Sonny Liston for the heavyweight title. They discuss their own and each other's celebrity and the responsibility it brings to empower their fellow African Americans. As Sam Cooke, who undergoes the biggest change of heart during the evening, Hamilton's Leslie Odom Jr. is outstanding and received a well-deserved Oscar nomination.
9. The Dig (She said)
You don't have to be able to recite Beowulf in West Saxon Old English to understand the fleeting feeling of life on earth as a member of a violent and vulnerable species. The ship Ralph Fiennes' Mr. Brown finds isn't even a ship, but the memory of one preserved in the earth by the sand that filled in where the ship materials decomposed. Mrs. Pretty, performed pitch perfectly with the sad beauty Carrie Mulligan is so expert at bringing to a role, is ill and facing her own mortality from the ravages of a childhood illness. The war is about to explode on the Continent and men are being called up across England as London prepares for air raids. Mrs. Pretty's own husband has died, leaving his young son without a father. This film is lousy with memento mori themes. And then Mr. Brown finds a big one at the direction of Mrs. Pretty. So, it's not a sunny film. And yet the emotional experience of the film is very satisfying, perhaps cathartic, especially during our own period of civilizational upheaval, physical danger and, most of all, loss. This is one of those films that loves its characters, feels attentively made and intimate and comes into the psyche of the willing viewer with a meaningful and tender experience rather than a didactic tone. It helps that the scenery is charming and gentle, that Mrs. Pretty's clothes are to-die-for feminine '30s-era beauties, muted, not twee, which she wears comfortably as a rich woman would. In fact, during the film, I posted on Facebook that I wished God would grant me the confident assertiveness of the rich British woman—one of her most appealing traits was that she knew who she was, she knew she held control of her land and resources and that she could clap back at the mansplainers in her presence in favor of what she knew to be right and loyal. I found her to be very inspirational beyond the drum-beat of a reminder that our lives are fleeting.
8. The Trial of the Chicago Seven (He said)
Another history lesson masquerading as a movie was Aaron Sorkin's contribution to 2020's batch of films. For those of us who remember the Democratic National Convention of 1968, the film was a pretty good demonstration of Mayor Daley's famous declaration: "The policeman is not there to create disorder. The policeman is there to preserve disorder." Sorkin based his film on the actual transcripts from the famous trial of the ring leaders of the antiwar protestors who disrupted the convention, but takes some liberties with the characterizations of some of the principles and a few of the events, particularly in giving us a West Wing-style speech at the end from Eddie Redmayne playing Tom Hayden. Sorkin structures the film around an internal rivalry between Hayden and Yippie founder Abbie Hoffman, played with appropriate flamboyance by Oscar-nominated Sasha Baron Cohen, with Mark Rylance as their defense attorney acting as referee. Frank Langella as the clearly biased and domineering judge Julius Hoffman is memorable, as is Yahya Abdul-Mateen II as Black Panther co-founder Bobby Seale, who was in Chicago to give a speech and was never anywhere near the convention or the park with the protestors, and who has never met any of the other co-defendants whom he is alleged to have "conspired" with.
7. Minari (She said)
The simple story of this lovingly handmade film is of an American immigrant family, who have recently relocated from California to Arkansas (though it was filmed in Oklahoma, I read). Jacob and Monica are working as chicken-sexers, at which Jacob is a known savant. But they've come to Arkansas because Jacob has bought a farm, which comprises a run-down trailer house without steps to the front door or skirting around the outside, and wild-grown acreage along a creek. Their children, Anne and David, have come with them, and soon Monica's mother joins them from Korea to help with the children. The movie follows the particularities of their difficulties as immigrants in Arkansas as well as their successes, such as they are. What I loved about the film is that it made the story of this family particularly about them while also helping nonimmigrant viewers more understanding of the ravages of the general immigrant. As we know, life is hard for poor, beginning, inexperienced farmers—even harder than it is for well-off, experienced farmers—and things that can't be helped combine with things that can be helped to throw obstacles in the family's way. Things break down, situations are dire, what will become of this family and each one of their dreams, for they all hold different hopes that sometimes conflict? I will say that loveliest of all was the hope that emerges from the marriage of the family's Korean heritage with its 20th-century pioneering hopes.
6. Ma Rainey's Black Bottom (He said)
In a film destined to be remembered chiefly for Chadwick Boseman's last performance, Viola Davis turns in a stellar performance here as Blues singer Ma Rainey in this film version of August Wilson's acclaimed play. As I wrote in our earlier review of the film, "it takes place during a recording session in a Chicago studio in 1927, and focuses on Ma Rainey, the legendary 'Mother of the Blues,' and her thorny relationship with her white manager and producer. Determined to control her own music, the crotchety and domineering Rainey cows everyone and bends them to her will—everyone except the young cornet player in her band, Levee….
the film really belongs to Chadwick Boseman as Levee. In his final role before his tragic premature death from cancer earlier this year, Boseman lights up the screen with brazen charisma, youthful charm, and raw talent. Having already given an iconic performance earlier in 2020 in Spike Lee's Da Five Bloods, Boseman has to be the sentimental favorite for a posthumous Oscar this year." Of course, that did not happen. But to those who may still be lamenting Boseman's failure to win the Oscar, he joins several other actors who were posthumously nominated but did not win their Oscar. Think of James Dean, who was nominated for the Best Actor Oscar for two of his three movies. Both nominations were posthumous. And he lost both. But failure to win them has not diminished his legend and posthumous popularity, and it won't diminish Boseman's.
5. Sound of Metal (She said)
I wasn't super excited about this movie because I thought it was about heavy metal music, but that was only the delivery device for a gloriously realized, deeply touching movie about a drummer who suddenly loses his hearing. As he struggles to orient himself in this new life in which his means of supporting himself economically and creatively is stolen from him, we also learn he has been a recovering addict, whose very organized and healthy lifestyle has been keeping him sober for six years. His loving girlfriend deposits him with a deaf community with its own sobriety circle, and he flounders and then gains his balance, always with a view to a return to his former capabilities and relationships. He learns sign language and contributes to the community that is helping him save himself by teaching the deaf children how to drum. Aside from the stunning performances by Riz Ahmed in the lead role and Paul Raci as the man behind the deaf community, what I loved most about this movie was how it resisted tropes and plot cliches. I was deliciously surprised at every turn.
4. The Father (He said)
The top four films on this list were so close in our minds that they might have ended up in virtually any order. The Father, another film adapted from a stage play (the third on this list) is directed by Florian Zeller in his directorial debut, adapting his own award-winning French drama Le Père—translated here by Christopher Hampton. I noted in our review that "The experience of watching this film is jarring, disorienting. Less than half an hour into it you are feeling much the same as the protagonist, Anthony (Anthony Hopkins), who suffers from dementia and hardly knows from one minute to the next where he is or who he is with….Hopkins and Zeller do something here that I don't think has been done so well before. They actually do put you in Anthony's shoes. They shake you out of your comfortable role of viewer and drag you into the role of the protagonist to experience everything from his impotent Lear-like raging against the tempest of his confused emotions to the vulnerable childlike pathos of his cries for his mother. It's a very good thing this movie is only about an hour and a half long. It would be hard to stand it if it were longer. I must present this film with four Hitchcocks, and proclaim it one of the best films of 2020." And in a moment of prescience, I also wrote "I've got to think that Chadwick Boseman is the sentimental favorite this year to win a posthumous Oscar for Best Actor, but Hopkins, nominated for the sixth time for this film (he has won once, for Silence of the Lambs), turns in a stellar performance here that would certainly be worthy of the award." And trust me, he was.
3. Nomadland (She said)
I hoped Promising Young Woman's Carrie Mulligan would win the Best Actress statue, but I can so easily live with Frances McDormand winning it for Nomadland instead. This movie is very intense and evocative because it's so quiet and intimate. By the end, I could see that the life of McDormand's Fern would not be a life I would feel safe within. At the same time, it shows the grand vistas of the American landscape, from Nevada, to my beautiful home state of South Dakota. And we can also see this beautiful world as very indifferent to the plight of those who try to live on it with few resources. Only the caring and compassion of those who love Fern make enough safe places for her to land. The use of real-life nomads playing themselves as characters in the film was the perfect touch of reality in a fictional story based on a nonfiction book about American "rubber tramps" who travel from job to job living out of their vans and campers.
2. Judas and the Black Messiah (He said)
Daniel Kaluuya and Lakeith Stanfield were both deservingly nominated for the Oscar for Best Actor in a Supporting Role for this film (Kaluuya won, as was widely expected). Here's another historical film, and one dealing with a historical problem that remains a problem in today's America. I wrote in our review that "The film certainly is unflinching in its examination of power and systemic racism, and in a year when at least three other highly regarded films (One Night in Miami, Ma Rainey's Black Bottom, and Spike Lee's Da Five Bloods…) deal with similar themes, this one is the most directly political, and may be the best of the lot." It's the story of Fred Hampton (Kaluuya), Chairman of the Chicago chapter of the Black Panthers (who interestingly enough also appears as a minor character in The Trial of the Chicago Seven, earlier on this list). Hampton is a sympathetic social activist, a charismatic and canny political leader who is also an inspirational speaker. But the FBI considers the Black Panthers a more serious threat to America than the Soviet Union, and when Stanfield's character, a petty car thief named William O'Neal, is busted for impersonating an FBI agent in order to steal a car he is recruited by the real FBI to join the local Black Panthers and spy on Hampton. The inner turmoil this causes O'Neal and his FBI handler (Jesse Plemons) provide the chief conflict of the story which, spoiler alert, does not have a happy ending.
1.A Promising Young Woman (She said)
This incredible ride of a film from film's current It Woman Emerald Fennell is clever, beautifully shot and heart rending all at once, which is kind of like the points it's making about the plight of women in contemporary America. Carrie Mulligan plays a woman traumatized by a friend's medical-school trauma so deeply she's left behind all that was promising about her in order to use her many talents and gifts to exact revenge on patriarchal society, to educate so that those people will know they've been educated. The film doesn't flinch from examining the cost of revenge along with the triumphs of vengeance and how patriarchal culture makes victims of many. Does our promising young woman best the system? I'll let you decide, but you've got to watch this movie if you haven't already.
(Honorable mention: Mank, Da Five Bloods, Waiting for the Barbarians, The Way Back, Emma)
Comments
comments
http://jayruud.com/wp-content/uploads/2021/04/3099.jpg.jpeg
371
640
Jay Ruud
http://jayruud.com/wp-content/uploads/2014/08/JayRuud.png
Jay Ruud
2021-04-27 20:16:58
2021-04-27 20:17:00
Top Ten Films of 2020