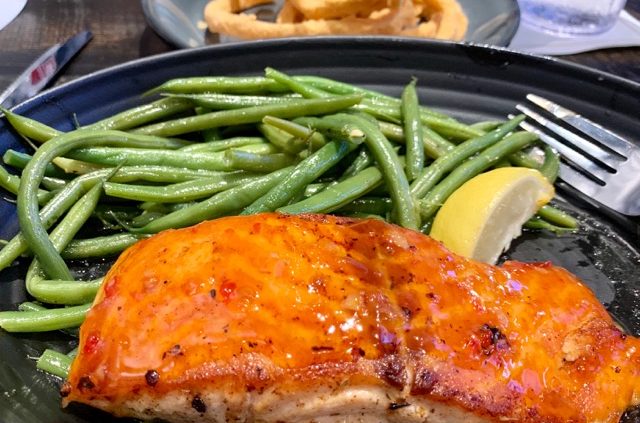 Review No. 183: Walk-On's Sports Bistreaux
955 South Amity Road
(501) 399-4511
82.7 percent finished reviewing Conway restaurants
The Situation
She Said:I've been watching the progress at the Walk-On's building site in "South Flatlandia" any time I got on or off the freeway there, so when I noticed it was open, I asked Siri when I could go. When we tried the first Sunday we knew they were open, the wait looked crazy and the parking was worse, so we bailed and went to one of our favorite neighborhood Mexican-food joints instead. Finally, on a Thursday around 4:30 p.m., we tried again, this time finding a parking spot right by the door and a booth waiting for us.
He Said: Walk-On's is a fast growing sports-bar chain that is now in eight southern states, the location in Conway being the first one in Arkansas (another is opening in Rogers). Called "Walk-On's" because its cofounders, Brandon Landry and Jack Warner, were a pair of walk-ons (unrecruited players) on the LSU basketball team, and after graduation founded their first restaurant in Baton Rouge near LSU's Tiger Stadium in 2003. Perhaps the chain is now best known because Saints quarterback Drew Brees became a co-owner of the franchise in 2015.
Ambience:
She Said:This décor is Extreme Sports Bar, for which they clearly had a large line-item in the budget for televisions. TVs are EVERY! WHERE! It was hard to notice much else, except that it feels like a casino inside with little natural light in a large space. I personally don't care for making all the waitresses wear super short cheerleader skirts any time of year, but especially when it's cold. And I guess they don't employ waiters, either…? It's also rather loud, even for an American restaurant, and I noticed I was a bit hoarse on the way home, just from trying to chat to my husband over our meal.
He Said: With upper management consisting of two former college basketball Tigers and an all-pro NFL quarterback, it's no great surprise that the décor is extreme sports-bar. When I walked in I was reminded at first of TGI Fridays, but the large screen TVs everywhere tuned to every imaginable sporting event earned it "extreme" status. It was indeed pretty loud and not particularly relaxing for an evening out with your significant other, though I imagine it could be a rousing place to watch a Razorback game or the Final Four or the Super Bowl. As for the short skirts, I suppose the point is to create a cheerleader vibe, but one server did admit to us that she was pretty cold. And look, ever since Title IX female athletes have had significant status, so why assume that the patrons of a sports bar are all going to want to ogle young girls in short skirts? Where are the male servers?
It's a little difficult to find the way in to this place, since it's built off the death-trap double roundabout on Dave Ward designed by some insane city planner. And when you get to the parking lot you'll probably still see what looks like a crazy number of cars. But there's lots of room inside so do not despair if it looks like it may be hard to get a table. Check out the standing people in the lobby for a better measure of the crowds.
Drinks
She Said: While the cocktails looked appealing, I stuck to wine and enjoyed two glasses of a decent cabernet. It is winter after all, even if the waitresses aren't allowed to dress for it.
He Said: Our server was new (of course, since the place just opened) and wasn't sure whether they had Root Beer. They did not. But they serve Coke products and I had a Sprite. It was exactly what I expected it to be.
Food
She Said: The menu is big, but not too big to find what makes you happy, and I quickly settled on the po boy section, as I was in the mood for a tasty sandwich of some kind. It came with waffle fries. The po boy was huge, and I brought half of it home because the catfish was definitely tasty, nicely breaded and battered, and I didn't want to leave it behind. The bread wasn't much, but it knew it wasn't the star of this show. I found the waffle fries too spicy, but I am a South Dakotan who likes bland things, so I'm sure not all will agree with me. I would have the po' boy again, but would like a less spicy side dish.
Instead of an appetizer, I opted for dessert because I saw the magic word, "beignets" on the bottom of the menu, so we shared an order of those. These were worth the price of admission. It's been several years since we've dined on these doughnut delicacies at Café du Monde in NOLA, so I won't make any direct comparisons, but I will say these beignets were tender within with a crisp fried exterior and plenty of powdered sugar goodness to enjoy.
He Said:There are a lot of things on the menu but if you're trying to watch your fat content it gets narrowed down fairly quickly—even the turkey sandwich, which would be a low-fat option, comes with bacon. And with an eye on those beignets for later, I went for the seafood section and had the sweet chili salmon, which came with green beans and garlic bread. Thinking I might still be hungry, I thought I'd try an appetizer of onion rings as well. The onion rigs were a pleasant surprise, not at all greasy and with a spicy Cajun kick that I didn't expect (well, it's a Louisiana based restaurant so I should have expected it, but they were, after all, just onion rings). This is the taste that She Said objected to, but her favorite flavor is, as I've said before, bland.
The salmon was tasty. It was, as is to be expected in any place like this (i.e., sports bar-type place rather than one that specializes in seafood) overdone, but not terribly so, and the chili flavoring gave it a subtly sweet taste. The green beans were not from a can but seemed fresh and well-cooked. The garlic bread was OK—nothing to write home about.
The beignets were pretty much the highlight of the dinner. I'd go back there just for them—and maybe to watch game seven of the NBA finals.
Service
She Said: Our service was very good and everyone was very friendly and efficient.
He Said: Yes, the service was remarkably good for a place that had a big crowd for dinner and that had only be open a very short time.
What We Got and What We Paid: One catfish po boy with waffle fries, two glasses of cabernet, one order of beignets, an order of onion rings, a sweet chili salmon dinner and a Sprite, all for $62.73
Elapsed Time from Our Arrival to Food Arrival: 26 minutes, with no waiting for seating.
Rating:
She Said: I didn't find it particularly relaxing, but the food was good enough and the service was friendly.
He Said:Not the place for an intimate date, but the food is decent and you'll probably like it if you like sports bars.
Is Walk-On's good at what it's good for? Yes, if you like your TV time with a side of NOLA-adjacent cuisine, you'll like Walk-On's.
NOW AVAILABLE!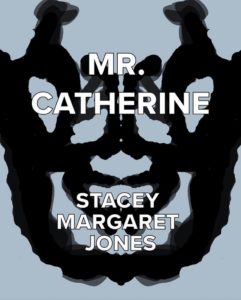 Stacey Margaret Jones's novel, Mr. Catherine, is available online from the following sellers (ebook only through June 24, ebook and paperback as of June 25, 2019): Amazon, Barnes & Noble, Google Play and Apple Books.
Where is Catherine? Catherine has gone missing, a year after confessing to having an affair. Her husband, a marriage and family therapist, hides her infidelity from the police to protect her reputation—and to shelter his pride.
As the secrets begin to pile up, Mr. Catherine, the unnamed husband of the missing woman, is plunged into a world of underground dealings, kidnappers, ex-lovers and drug running in Little Rock, Arkansas, all while grappling with his part in the highs and lows of the life they led together.
With each passing day, a sleepless Mr. Catherine grows more frantic, drinking and popping pills, which stir up painful visions and remembrances that hold a mirror up to the narrator as he comes to terms with his own emotional betrayals.
Mr. Catherine is a fast-paced domestic noir that explores the dangerous secrets between a husband and a wife, as well as a deeper meditation on marriage, connection and honesty.
Comments
comments
http://jayruud.com/wp-content/uploads/2020/02/IMG_4159.jpg
465
640
Jay Ruud
http://jayruud.com/wp-content/uploads/2014/08/JayRuud.png
Jay Ruud
2020-02-18 17:17:17
2020-02-18 17:17:17
Walk-On's Sports Bistreaux