Wonder
Stephen Chbosky (2017)
[av_image src='http://jayruud.com/wp-content/uploads/2014/08/Tennyson-180×180.jpg' attachment='77' attachment_size='square' align='left' animation='left-to-right' link=" target=" styling=" caption='yes' font_size=" appearance='on-hov
It's getting into that holiday season when Hollywood feeds the craving for sugary sweet fare by feeding us often mindless sentimental claptrap that melts like cotton candy at the first substantial thought cast in it direction. And you have perhaps noticed that, judging by its trailers, Stephen Chbosky's Wonder looks to be exactly that kind of transient bon-bon. It tells the story, after all, of a ten-year old boy, Auggie Pullman, born with a cranio-facial deformity that has required seventeen separate surgeries to amend, but who still wears a toy space helmet to prevent other children—and adults—from being startled or put off by his appearance. You know from the start, as the previously home-schooled Auggie is about to start fifth grade in a private middle school, that he's going to get bullied in the worst way and we are going to be devastated along with him. Is it possible to find a story more likely to manipulate your tears?
But wait: there are reasons for hope. Chbosky is the author of an insightful YA novel, The Perks of Being a Wallflower, which he subsequently was able to make into a popular and critically appreciated film in 2012, and direct it himself. He directs this film and also wrote the script, along with Steven Conrad and Jack Thorne. And who better to take on the challenge of filming R. J. Palacio's popular novel in a sensitive way that does not mangle the story, which has already sparked the anti-bullying "Choose Kind" campaign. That effort is based on Dr. Wayne W. Dyer's precept "If you have a choice between being right and being kind, choose kind," which Auggie's teacher Mr. Browne writes on the board the first day of school.
 There is also hope in the actors. Auggie is played with great subtlety and understanding beyond his years by Jacob Tremblay (Room), unrecognizable under heavy prosthetic makeup. He makes for a sympathetic protagonist in what is essentially an initiation story with a painful twist. As his mother Isabel, Julia Roberts is intense and self-sacrificing, having put her potential college teaching career on hold to home school Auggie through elementary school. She is at times heart-wrenchingly conscious of her own inability to help him in the new world outside her home ("Dear God, please make them be nice to him" she murmurs to herself as she sends him off on his first day), and at times almost hopeless attempt to go back and find a way to renew the interrupted work on her dissertation on its floppy disc. Meanwhile Owen Wilson as Augie's dad Nate is believable and appealing playing the peacemaking dad who still wants to exude coolness while at the same time practicing dadness. The other adults—Auggie's teacher, Mr. Browne (Daveed Diggs, Hamilton's Thomas Jefferson on Broadway) and the principal Mr. Tushman (Mandy Patinkin)—manage to be memorable in limited roles.
But its Auggie's older sister Via, played by a remarkable Izabela Vidovic (chiefly known from TV roles in the series About a Boy and The Fosters) who first moves this film up from a Lifetime-type film into something more substantial. As the "normal" sister who has long since realized that she will never be the center of her parents' attention, she narrates the second section of the film, saying "Auggie is the sun, and my dad and mom and me are the planets orbiting the sun." Turns out that Via has her own problems, though of a more everyday variety than her brother's, and for that reason doesn't discuss the matter with her parents—who are probably too wound up in Auggie's difficulties to pay much attention. But Via's best friend Miranda (Danielle Rose Russell of TV's The Originals and The Last Tycoon) has come back from her summer vacation and suddenly doesn't want to have anything to do with her.
Auggie, of course, is inevitably bullied by Julian (Bryce Gheisar) the local fifth grade BMOC, and shunned by pretty much everybody else, until one incredibly brave classmate, Jack Will (Noah Jupe, recently seen in Suburbicon), partly motivated by Auggie's ability to help him with his science homework but mostly by his just being a good kid, sits with him at lunch, and goes to his house after school to play video games. But when Auggie overhears Jack make a derogatory comment about him, succumbing to peer pressure instigated by the aforementioned Julian, it looks like the friendship is over.
But again, this film takes a step beyond what you would expect, and moves into additional chapters told from the points of view of Jack and of Miranda. Ultimately, we become disengaged from the typical us vs. them worldview and are drawn into the us and them worldview of the film, which suggests that we're all doing the best we can, and would do better if we could understand one another. Who knows? Could bully Julian himself have a story?
Thus, what in lesser hands might have become a clichéd story of a brave young kid overcoming severe adversity to triumph in the end, becomes in fact a film that's more about sharing than overcoming, that's more collaborative than competitive, that essentially says "We're all in this together." Sure, there are some pretty predictable aspects of the movie—of course Auggie's going to be accepted at the end. Of course Via is going to find her way. And yes, there are some manipulative aspects as well. I mean, the part involving the family dog is just a little too much. But overall, the film avoids a lot of that by varying the perspective and forcing us to look at things from angles we normally would not have done.
This is a movie that you really can take your kids to and talk about with the afterwards. It's what family films ought to be. I'll give it three Tennysons.
NOW AVAILABLE:
If you like these reviews, you might enjoy Jay Ruud's most recent novel, now available from the publisher at https://encirclepub.com/product/the-bleak-and-empty-sea/. Also available from Amazon or Barnes and Noble.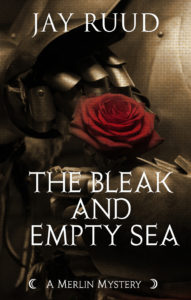 When word comes to Camelot that Sir Tristram has died in Brittany of wounds suffered in a skirmish, and that his longtime mistress, La Belle Isolde, Queen of Cornwall, has subsequently died herself of a broken heart, Queen Guinevere and her trusted lady Rosemounde immediately suspect that there is more to the story of the lovers' deaths than they are being told. It is up to Merlin and his faithful assistant, Gildas of Cornwall, to find the truth behind the myths and half-truths surrounding these untimely deaths. By the time they are finally able to uncover the truth, Gildas and Merlin have lost one companion and are in danger of losing their own lives.
Pre-order from Amazon here: https://www.amazon.com/Bleak-Empty-Sea-Tristram-Mystery/dp/1893035735/ref=sr_1_1?s=books&ie=UTF8&qid=1503328086&sr=1-1&keywords=Bleak+and+Empty+Sea
Pre-order from Barnes and Noble here: https://www.barnesandnoble.com/w/the-bleak-and-empty-sea-jay-ruud/1126958139?ean=9781893035737
Comments
comments
http://jayruud.com/wp-content/uploads/2017/11/film__19015-wonder-hi_res-8cbd801d.jpg
658
1170
Jay Ruud
http://jayruud.com/wp-content/uploads/2014/08/JayRuud.png
Jay Ruud
2017-11-29 08:19:08
2017-11-29 08:19:08
Wonder