Review No. 73: Andy's Frozen Custard
2375 Dave Ward Drive
(501) 358-6546
37.1 percent finished reviewing Conway restaurants
The Situation
She Said: It was a busy week getting ready for the new school year at the University of Central Arkansas. She Said is teaching introduction to poetry, and He Said is auditing an art history course, so in the quiet before the academic storm, we decided we needed a sweet treat. We had never been to Andy's, so off we went to Dave Ward, just south of UCA.
He Said: I had trouble conceiving of this place as a "restaurant," since unlike, say, Dairy Queen, it does not sell other food, only frozen custard. But She Said told me to shut up and review it, so here I am.
She Said: I did NOT tell you to "shut up." I gave you a reasoned rationale behind my thought process. I was raised right.
He Said: Blah, blah, blah. What I heard was, "Shut up and do what I say."
She Said: That's fair.
Ambience:
She Said: You might not think that ambience is much of a deal for a restaurant where you can't sit inside, but it would be easy to go wrong with a family-friendly ice cream—sorry! frozen custard—spot if it were messy or dirty. Andy's is bright and shiny, with primary colors on white in its signage and design, and even on a hot Arkansas day, it's not unpleasant to peruse the menu here (which is set off from the order windows and two-sided, so everyone can see and no one has to hurry, not even the world's slowest orderer). It felt festive and fun, and brought out a little bit of the kid in me.
He Said: I think that reference to the "world's slowest orderer" may have been intended for one of the reviewers on this page, but I'm going to ignore it. But it is true that the area in front of the server here is inviting. On a sunny day in autumn (not a 98 degree day in August) it would be very pleasant to sit outside here and eat your frozen custard al fresco.
Drinks:
We didn't partake of the drinks, but Andy's sells various sodas, soft drinks and teas, as well as floats.
Food
She Said: For this review, I'm considering my malt "food." That's what I got, mostly because you couldn't, Ruud. And to "top off" the insult, I got your favorite kind of malt by adding peanut butter and hot fudge to the mix. I got the regular size, which is 16 ounces. So, when you go online for nutritional information, you've gotta do math, because Andy's only gives nutritional information for 4 oz. servings of its vanilla and chocolate custards. No topping information is available on their Website. This may be because no one goes for a malt because they're watching their calories. Good thing, because my regular, 16 oz. malt, before toppings, was 800 calories. No wonder I couldn't fit into the dress I wanted to wear the next day!
But, I digress, and I shouldn't, because that malt was a beautiful thing. I could taste both flavors of the added toppings, and the custard was thick and tasty, as well. It took me a long time to decide what to get because so many things looked great, but I went old-school, and I'm glad I did. I would try that again, but only before a long run!
He Said: As far as I can tell from the nutritional information provided by Andy's itself, my regular sundae with chocolate fudge contained 30 grams of fat. For me, with my dietary restrictions, that is one half of what I am allowed for an entire day, coming from one dessert. As you might imagine, my dinner that evening consisted of a few vegetables.
This is not to say that I didn't enjoy the sundae. The vanilla frozen custard was good, and the hot fudge delicious. It took me back to the days of my misspent youth, when I would give anything for ice cream with hot chocolate. So you can't really go wrong if that's what you're after. Just be warned that this probably isn't the place for you if you're trying to cling to a low-fat diet. Andy's would probably get more business from me if they had any sort of frozen yogurt, a low-fat alternative.
Service
She Said: The service was old-fashioned friendly! I liked the guy who waited on us newbies, and he was personable and efficient.
He Said: He was indeed, and it was pretty darned quick as well.
What We Got and What We Paid: A regular (16 oz.) malt with hot fudge and peanut butter and a regular hot fudge sundae (10.5 oz.) for $9.61.
Elapsed Time from Order to Food Arrival: 4 minutes
Rating:
She Said: I will return for this very malt in the future; the custard is delicious, and the custom options mean you can have your indulgent treat just the way you like it.
He Said: I'd love to come back for the chocolate fudge, but I just can't afford the fat content. If they had frozen yogurt, I'd be here every week. 
So…He Said and She Said: A solid sweet-treat contender in Conway!
And by the way, if you like reading "Eat It, Conway," you might be interested in Jay Ruud's new "Merlin Mystery" novel, the third in the series, which will be released on November 10 and now available for pre-ordering on Amazon and on Barnes and Noble: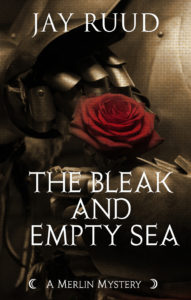 When word comes to Camelot that Sir Tristram has died in Brittany of wounds suffered in a skirmish, and that his longtime mistress, La Belle Isolde, Queen of Cornwall, has subsequently died herself of a broken heart, Queen Guinevere and her trusted lady Rosemounde immediately suspect that there is more to the story of the lovers' deaths than they are being told. It is up to Merlin and his faithful assistant, Gildas of Cornwall, to find the truth behind the myths and half-truths surrounding these untimely deaths. By the time they are finally able to uncover the truth, Gildas and Merlin have lost one companion and are in danger of losing their own lives.
Pre-order from Amazon here: https://www.amazon.com/Bleak-Empty-Sea-Tristram-Mystery/dp/1893035735/ref=sr_1_1?s=books&ie=UTF8&qid=1503328086&sr=1-1&keywords=Bleak+and+Empty+Sea
Pre-order from Barnes and Noble here: https://www.barnesandnoble.com/w/the-bleak-and-empty-sea-jay-ruud/1126958139?ean=9781893035737
Comments
comments
http://jayruud.com/wp-content/uploads/2017/08/FullSizeRender-3.jpg
2604
3697
Jay Ruud
http://jayruud.com/wp-content/uploads/2014/08/JayRuud.png
Jay Ruud
2017-08-28 08:09:43
2017-08-28 08:09:43
Andy's Frozen Custard