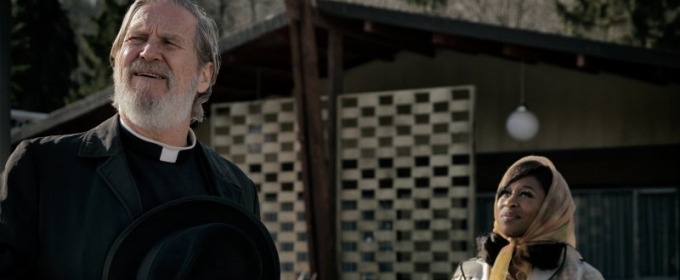 Bad Times at the El Royale
Drew Goddard (2018)
You can be excused if, a few minutes into Bad Times at the El Royale, you start having flashbacks and think you've wandered into a 1960s version of The Hateful Eight as you see seven strangers coming together apparently at random at a once-ritzy lodge on the California-Nevada border. And if the title of the film reminds you unexpectantly of John Travolta's rant to Samuel L. Jackson in Pulp Fiction about how the French call the Quarter Pounder the "Royale," that's no coincidence either. First and foremost, this is a film inspired by, and paying tribute to, Quentin Tarantino's neo-noir style with its sudden, shocking violent scenes and its twisted connections between characters that come to light in the course of the film's narrative starts and stops.
This is a movie that takes its inspiration mainly from other movies, especially Tarantino films but also, of necessity, the noir films that inspired Tarantino. Goddard, best known as a writer for TV's Buffy the Vampire Slayer and Lost, and as the Oscar-nominated screenwriter for The Martian, made his directing debut in 2012's Cabin in the Woods, a clever take on horror films that played with the conventional tropes and structured them around shocking plot twists much the way this film does with crime thriller conventions.
The film begins with a prelude that takes place in 1959, a scene set in a motel room in which a guest is seen tearing up the floor of the room and stashing bags of what we assume is money under the floor. Shortly after he gets the room put back together someone comes to his door and blows him away when he opens it. Sorry if that sounds like a spoiler, but it is the first scene of the picture. The odd thing about this scene is that it's all filmed in one lengthy shot, and from a single angle, as if we are watching the events take place through a window. This viewer-as-voyeur sense lies behind the entire movie, and we find out why that is soon enough.
The narrative proper begins ten years later, with several people checking in to the El Royale, a once glamorous but now down-on-its-heels hotel near Lake Tahoe. Half the hotel is in California and half is in Nevada, and the state line runs directly through the building—rooms in the California half cost a dollar more a night because, hey, they're in California. The joint was hopping in the late '50s and early '60s, with rooms at capacity every night as it hosted celebrities visiting from Hollywood and the like, but then it lost its gambling license, and now the place is on the skids.
Enter our small group of players for the night. Vacuum salesman Laramie Seymour Sullivan (Jon Hamm), whose voice and suit are loud and obnoxious, arrives early, followed by kindly, gentle old Catholic priest Father Daniel Flynn (Jeff Bridges)—who is told by the hotel's lone employee, timid desk clerk Miles Miller (Lewis Pullman from Battle of the Sexes), that this hotel is no place for a priest. Also checking in are second-string Motown singer Darlene Sweet (Cynthia Erivo, Tony- and Grammy-award winner for The Color Purple, in her first film role) and non-communicative, foul-mouthed, sarcastic hippie-chick Emily Summerspring (Dakota Johnson of Fifty Shades fame). Turns out nobody checking in to this hotel is quite who they appear to be, a fact that becomes painfully obvious as Goddard takes us, one room at a time, into each character's backstory.
It's Sullivan (Hamm) whose story we see first, and we learn that whatever he is, it's not a vacuum-cleaner salesman. He's at the hotel to deal with some sort of secret surveillance, and he finds to his surprise and dismay that, like its guests, the hotel itself is not what it appears to be: In fact, there is a hidden hallway that runs between all the rooms, each of which is supplied with a two-way mirror through which occupants of the rooms can be observed from that hallway. And here is where the meta-voyeuristic aspect of this meta-movie gets serious. Like Sullivan, and anybody else (i.e. our desk clerk friend Milo) moving through this hallway, we see inside everybody's private rooms and into their private lives.
I do have to say that this early scene in which Hamm discovers the surveillance setup of the hotel goes on so long and monotonously that I actually fell asleep. Surely with the film's 144 -minute running time, this scene in particular could have been accomplished in half the time, and still seem too long. To tell the truth, several of the scenes could have used some editing. Pace is not the film's strong suit.
One thing that Sullivan (along with us) sees through the two-way mirror is an apparent kidnapping in progress: Hippie-chick Emily secretly carries an unknown and unconscious girl into her room and ties her to a chair. This poor kidnapped soul turns out to be Rose (Cailee Spaeny of Pacific Rim: Uprising), and we soon find out that, again, all is not as it seems. The same turns out to be true, essentially, of every character in the hotel, including Miles the night clerk, who is soon pleading with the priest for absolution for the many terrible things he claims to have done. It also becomes clear that one of the guests, anyway, is there precisely because of that pile of money hidden under the floorboards in that opening scene ten years earlier. We just don't know (because the character doesn't know) which room it's in.
Of course, just when you think you've got things figured out and you know where this whole thing is going, Goddard brings on the ultimate threat in the third act: Chris Hemsworth (yes, I mean Thor) appears, playing a charismatic cult-leader, effectively a Charles Manson clone (it is, after all, 1969), looking for his own runaway Squeaky Fromme (ask your parents if you don't follow), who has called him from the hotel. What with the false prophet and the false priest, there's something being suggested here about the spiritual Waste Land of late 20th century America, but it never seems to go beyond being just a suggestion.
The Manson-esque Billy Lee has got his own gun-slinging stooges with him, and is here to foment some mayhem and to cash in on whatever he can. And everybody at the hotel is stuck there as prisoners because, for his own purposes, Sullivan has earlier disabled everybody's vehicle in the parking lot.
You may think there's no way out of this for anybody, but you might be wrong. I will tell you that people die, with shocking suddenness and severity, a la Tarantino. The film really is a kind of triumph of style and of surprising plot twists, as well as of production design: Martin Whist's recreation of the mid-century hotel is quite impressive. The music in the film is also memorable, not only the '60s soundtrack but Erivo's own stirring a capella renditions of Motown classics.
And Erivo turns in an admirable screen debut. She is in many ways the moral center of the film, if it can be said to have one, and the character with whom the audience relates most closely. She's the one you end up caring most what happens to. Bridges is, of course, brilliant as always, particularly in his frustration with the early onset dementia his character must deal with in the film. Hemsworth's godlike charm that serves him so well in Asgard is eerily frightening when attached to the all-too-human cult leader Billy Lee. The performances in the film are certainly worth seeing. I'm going to give it three Tennysons: You'll feel how long the film is, and you may not experience any spiritual regeneration, but you'll probably have a good deal of fun here too.
NOW AVAILABLE!!!
Jay Ruud's most recent novel, Lost in the Quagmire: The Quest of the Grail, IS NOW available from the publisher AS OF OCTOBER 15. You can order your copy direct from the publisher (Encircle Press) at http://encirclepub.com/product/lost-in-the-quagmire/You can also order an electronic version from Smashwords at https://www.smashwords.com/books/view/814922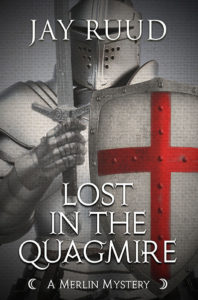 When Sir Galahad arrives in Camelot to fulfill his destiny, the presence of Lancelot's illegitimate son disturbs Queen Guinevere. But the young knight's vision of the Holy Grail at Pentecost inspires the entire fellowship of the Round Table to rush off in quest of Christendom's most holy relic. But as the quest gets under way, Sir Gawain and Sir Ywain are both seriously wounded, and Sir Safer and Sir Ironside are killed by a mysterious White Knight, who claims to impose rules upon the quest. And this is just the beginning. When knight after knight turns up dead or gravely wounded, sometimes at the hands of their fellow knights, Gildas and Merlin begin to suspect some sinister force behind the Grail madness, bent on nothing less than the destruction of Arthur and his table. They begin their own quest: to find the conspirator or conspirators behind the deaths of Arthur's good knights. Is it the king's enigmatic sister Morgan la Fay? Could it be Arthur's own bastard Sir Mordred, hoping to seize the throne for himself? Or is it some darker, older grievance against the king that cries out for vengeance? Before Merlin and Gildas are through, they are destined to lose a number of close comrades, and Gildas finds himself finally forced to prove his worth as a potential knight, facing down an armed and mounted enemy with nothing less than the lives of Merlin and his master Sir Gareth at stake.
Order from Amazon here: https://www.amazon.com/Lost-Quagmire-Quest-Merlin-Mystery/dp/1948338122
Order from Barnes and Noble here: https://www.barnesandnoble.com/w/lost-in-the-quagmire-jay-ruud/1128692499?ean=9781948338127
Comments
comments
http://jayruud.com/wp-content/uploads/2018/10/680E1E03E6E-C3C1-F24E-0EE2BC67A37C1D36.jpg
280
680
Jay Ruud
http://jayruud.com/wp-content/uploads/2014/08/JayRuud.png
Jay Ruud
2018-10-23 19:15:36
2018-10-23 19:15:36
Bad Times at the El Royale