Review No. 131: Moe's Southwest Grill
625 Salem Road
501-336-6500
59.6 percent finished reviewing Conway restaurants
The Situation
She Said:I was on Day Six of Surgery Recuperation, my fourth at home, and each day I found myself wanting something from one of Conway's many restaurants: things like ramen, or chicken salad on a croissant. Finding ourselves with a Monday review and feeling that old hankerin' for taco-like food products, I scanned the list of upcoming restaurants to visit and landed on Moe's, a restaurant we had never tried. I still wasn't up to going out, though, so we were pleased that Moe's has an online ordering portal.
He Said: Yes, that online ordering is handy. When I got to Moe's a bit after noon on Sunday, just in time to see an after-Church crowd mobbing the ordering counter, I slipped on by to the "pick up" sign and was able to get my order just at the time they said online that it would be ready. I was looking forward to the tacos I ordered, since it's hard to get tacos in Conway. (That's a joke, folks, since as you know there are approximately 23,967,342 Mexican restaurants in our fair city).
Moe's is a chain, founded 18 years ago in Atlanta. As a casual Mexican place, its chief competition is currently Chipotle. Moe's has about 700 restaurants, as they say, in "most" of the 50 states. They also have restaurants or partners in Turkey, Russia, Costa Rica and Jamaica.
Ambience:
She Said: I'll let He Said tell you about the restaurant, as he, in his wellness, went to pick up the food. I did think the online order process was very smooth and easy to use in making specific requests. After scanning the menu, I chose the chicken quesadilla, and when the order form came up, I was able to hyper-customize it, choosing the beans, cheese, veggies, etc., quite easily. I also liked that I could check out as a "guest" instead of logging in—or creating an account—and that made it super easy for a newcomer like me.
He Said: The physical location was crowded when I got there, as I mentioned, which was good for them, but I was kind of glad I was getting food to go. It seems a bright and cheery place. Apparently "Moe's" is an acronym for "Musicians, Outlaws, and Entertainers," which is why the restaurants tend to have music-related artwork on the walls. I was in and out too fast to notice, I'm afraid, but I'm assuming that's true of the Conway location as well.
Drinks
She Said:You can't take-away margaritas, so I chose unsweetened iced tea. If there was ice in it when He Said picked it up, it had melted by the time it arrived at our table at home, so I added some of ours. It was a little strong to begin with, but iced down, it was tasty and went well with the flavors of the food.
He Said:Listen, Jones, I put ice in that cup. I guess it must have melted on the ride home. You do get your own drinks here, and the Iced Tea dispensers (sweet and unsweet) were simple to use. The fountain drinks dispenser had only Coke, Sprite, and Dr. Pepper, so I had a Coke. It took me quite a while to figure out how to use this dispenser, I'm afraid. It was not exactly what She Said calls "intuitive," but then again, for someone like me, who grew up trying to shoot at dinosaurs with a sling shot, no new technology is "intuitive." My intuition was to give the machine a good swift kick until I finally realized which button you had to press to make the soda come out. But you, dear reader, may be a little savvier than me. Anyway, I had a Coke and it was fine. Ultimately.
Food
She Said: I chose a quesadilla "meal" and ordered it with pinto beans, grilled mushrooms, shredded cheese, sour cream, queso fresco, cilantro, lime, bacon and guacamole, so this was a substantial quesadilla! Given that I really enjoy plain cheese quesadillas, this was a bit of an adventure for me. The tortilla was grilled lightly, so it was still somewhat soft, and the ingredients were plentiful enough that it was a little difficult to hold to eat. The chicken was tender, and I could taste all of my selections, though they were nicely mixed together, except for a pretty healthy glob of sour cream on one side. I ate half of the quesadilla before I got full, then I opened the other half and scooped a couple of bites of the filling up with the tortilla chips like a dip. I saved the rest to eat later—it was tasty, filling and satisfying.
The guac option included with the "meal" is a tiny condiment cup, but that was fine (though in the future I might size up for a fee), as I had plenty of food. A surprise star of the order were the fresh, old-school corn chips. Nicely salted, crunchy and light, I kept snacking on these long after my stomach asked me to stop applying food to my face.
 He Said:Yes, the chips were really quite good, better than most, I'd say. I did not see an option for ordering salsa online. There may have been one and I missed it. In any case, I supplemented mine with salsa we happened to have in our refrigerator.
I ordered the two-taco meal. Since there were so many choices online, I ordered a couple of pretty different specimens: On my first I had chicken, cilantro lime rice, grilled mushrooms, grilled onions, grilled peppers, shredded cheese, shredded cabbage, and chipotle ranch dressing, all on a crispy corn shell. On my second I had tofu, black beans, seasoned rice, pickled red onions, queso fresco, shredded lettuce and diced tomatoes also on a crispy shell. I have to tell you, these were both delicious. Obviously, they were pretty full, bursting-at-the-seams tacos, the chicken-filled one somewhat tangier and the tofu-filled one somewhat sweeter, but I was pretty happy with them. There are so many choices available that you really can't go wrong if you just order everything you like since you can count on getting plenty of it. Of course they have beef as well as pork as your protein choices, but those weren't as good for my pancreas as the chicken and tofu. The only thing I'd change is that I might get the soft shell next time, at least if I order the tomatoes, because that one had fallen apart as the tomato juices had soaked the crispy shell and made it soggy enough to break apart during the drive home.
The chocolate-chip cookie I had as the "side" for my meal was perfectly fine as well, though it did come pre-packaged and wasn't made in the store. Still, a chocolate chip is a chocolate chip, and I do love me a good chocolate chip.
Service
She Said:The Website order interface was intuitive (He Said: See, Dear Readers? What'd I tell ya?) and allowed for a great deal of customization.
He Said:  The woman at the "pick-up" window was very busy but managed to still be helpful and quick to get me my order. She pointed me to the drink dispenser and by the time I had figured that out (not really all that quick, admittedly) she had the order ready and brought it over to me while I was putting tops on my two paper cups.
What We Got and What We Paid: One two-taco meal with cookie and a Coke, one chicken quesadilla with additions and side guacamole and an unsweetened tea for $23.43.
Elapsed Time from Our Arrival to Food Arrival:When I completed the order, the Website said it would be ready in exactly 15 minutes. When He Said arrived 17 minutes later, it was indeed ready to go.
Rating
She Said: I enjoyed the quesadilla because I put in it all the things I loved and left out the things I didn't, and the mix was just right. The chips were fresh and tasty, and it was a smooth to-go ordering process.
He Said: These tacos can be almost anything you want them to be, and the ingredients are all pretty tasty, at least the ones I had. I'm likely to order from here again.
Is Moe's Southwest Grill Good at What it's Good For? We will order from Moe's again for the ease of the online process and the highly customizable, tasty food you can select.
NOW AVAILABLE!!!
Jay Ruud's most recent novel, Lost in the Quagmire: The Quest of the Grail, IS NOW available from the publisher AS OF OCTOBER 15. You can order your copy direct from the publisher (Encircle Press) at http://encirclepub.com/product/lost-in-the-quagmire/You can also order an electronic version from Smashwords at https://www.smashwords.com/books/view/814922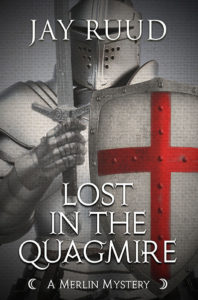 When Sir Galahad arrives in Camelot to fulfill his destiny, the presence of Lancelot's illegitimate son disturbs Queen Guinevere. But the young knight's vision of the Holy Grail at Pentecost inspires the entire fellowship of the Round Table to rush off in quest of Christendom's most holy relic. But as the quest gets under way, Sir Gawain and Sir Ywain are both seriously wounded, and Sir Safer and Sir Ironside are killed by a mysterious White Knight, who claims to impose rules upon the quest. And this is just the beginning. When knight after knight turns up dead or gravely wounded, sometimes at the hands of their fellow knights, Gildas and Merlin begin to suspect some sinister force behind the Grail madness, bent on nothing less than the destruction of Arthur and his table. They begin their own quest: to find the conspirator or conspirators behind the deaths of Arthur's good knights. Is it the king's enigmatic sister Morgan la Fay? Could it be Arthur's own bastard Sir Mordred, hoping to seize the throne for himself? Or is it some darker, older grievance against the king that cries out for vengeance? Before Merlin and Gildas are through, they are destined to lose a number of close comrades, and Gildas finds himself finally forced to prove his worth as a potential knight, facing down an armed and mounted enemy with nothing less than the lives of Merlin and his master Sir Gareth at stake.
Order from Amazon here: https://www.amazon.com/Lost-Quagmire-Quest-Merlin-Mystery/dp/1948338122
Order from Barnes and Noble here: https://www.barnesandnoble.com/w/lost-in-the-quagmire-jay-ruud/1128692499?ean=9781948338127
Comments
comments
http://jayruud.com/wp-content/uploads/2018/10/IMG_6967.jpg
3024
4032
Jay Ruud
http://jayruud.com/wp-content/uploads/2014/08/JayRuud.png
Jay Ruud
2018-10-22 09:03:27
2018-10-22 09:03:27
Moe's Southwest Grill