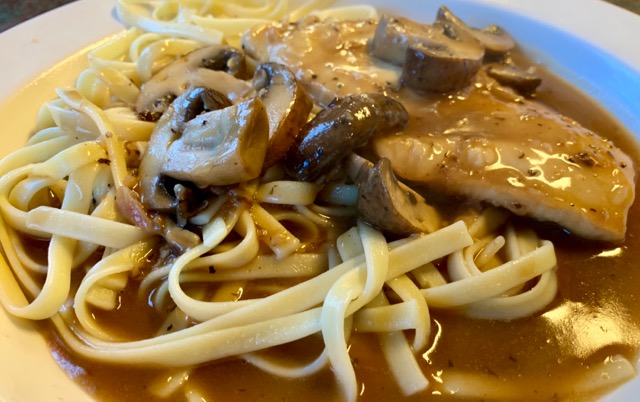 Review No. 152: Bella Italia
2755 Dave Ward Drive(501) 932-6066
70.1 percent finished reviewing Conway restaurants
The Situation
She Said: I was winding up a 24-hour fast (it's healthy, y'all!) and had just come from a barre workout, so I was HUNGRY. We asked our Facebook friends about new restaurants in case we had missed anything and learned of Bella Italia. Since I always love pasta, I drove home from the fitness studio, put He Said in the car and drove off to find this new Italian restaurant in Conway.
He Said: It was this or fast food. And we weren't in the mood for fast food. So…this.
Ambience:
She Said: Well, Bella Italia is a new Conway restaurant, but, the appearance is a bit run down, or maybe it's just a hipster-dive vibe? The building itself is down at heel and certainly looks inauspicious, and inside it feels like it needs a thorough polishing. The dark painted floor doesn't do it any favors as any chip or scuff makes the floor look like it needs sweeping. I like the dark colors, though, and the booths are reasonably comfy. When we arrived, we had to wait a minute before we scared up the man who seemed to be the proprietor, so it felt rather lonely.
He Said: Yes, this location has not been friendly to restaurants, and much of that is probably the fault of the building itself, which could use some restoration or remodeling. And yes, it was a bit lonely when we walked in, which was admittedly at a very off hour, but the place is open all day long. I understand from other people that it has been quite crowded here at more popular lunch or dinner times.
Drinks
She Said: I ordered an unsweetened iced tea, and it was tasty and nicely iced.
He Said:They have Coke products here, from a fountain. I ordered a Coke. It was Cokey.
Food
She Said: The menu has many Italian favorites, raviolis, gnocchi, etc., so it was hard to choose, but I always love a scampi, so I zeroed in on that. But first, our gracious host brought us complimentary garlic-herb rolls, which we devoured with glee. Those things were brilliant! We chose to share the toasted ravioli, and those were very satisfying and would have been a nice lunch on their own. Crisp-toasted with a red dipping sauce and filled with melty white cheese, they were satisfying in taste and texture. We negotiated over the final one, and I let He Said have it because I was anticipating my entrée.
The shrimp scampi comes in a citrus sauce, and it arrives in a soup dish with a roasted lemon (nice touch!). My first bite cleared my flight-clogged sinuses a bit with citrus goodness. The pasta in this dish is not angel-hair or spaghetti, even, but more of a linguini. The shrimp was nicely flavored, but slightly over cooked so it was a bit tough. I couldn't finish the plentiful dish, though I did try. It was tasty and satisfying.
He Said: I did like the garlic-herb rolls with olive oil a whole lot, and the toasted ravioli were very satisfying—crisp and delicious. Probably not a very good choice for my low-fat demanding pancreas, but it was a treat.
For my entrée I picked the chicken marsala, just one of several traditional Italian or Italian-American chicken dishes on the menu. There are of course a number of the expected pasta dishes as well, and sea food, including my favorite, salmon, but I wanted to try something a little less conventual and a little more "Italian," so I went with this dish, which involved a chicken cutlet, mushrooms, and a linguine-like pasta with a sauce made of Marsala wine (native to Sicily).I enjoyed this dish a great deal—the chicken was tender and flavorful, the wine sauce was delicious and the mushrooms added a tasty but mild flavor to the dish. And it was low-fat, so it met my specifications
Service
She Said: As mentioned, when we entered around 3 p.m. on a Sunday afternoon, we wondered if it really was open, as no one was about, and we were the only ones there. I looked in the kitchen to see if I could find a waiter or hostess. From a back room we were greeted and ushered to the table by a proprietor-looking dude, who seemed as if he could be serving us in a family eatery in Florence, Orvieto or Ravenna. Throughout our meal he was attentive, eager to help us but not overly involved. The courses were served slowly, but that is authentically Italian.
He Said: Indeed, it was a one-man show. The proprietor seated us, took our order, cooked the food, served it, and brought us our check. I understand there is a woman who works there as well—apparently she's not needed on a Sunday afternoon at 3, when there's not likely to be a rush. It was a significant wait for the food, and part of this was probably due to the lack of help, but part of it is simply that it takes a while to actually cook some things. It ain't fast food, so you need to expect a bit of a wait here.
What We Got and What We Paid: One toasted ravioli appetizer, a shrimp scampi entrée and a chicken marsala entrée with iced tea and Coke to drink for $45.18.
Elapsed Time from Our Arrival to Food Arrival:42 minutes from arrival to entrée service, with appetizers in between… and we were the only ones there for the first 20 minutes.
Rating:
She Said: While my entrée was a little off, the rest of the food was worth a return trip, though I wish the premises could be spruced up a bit in order to be worthy of the dishes served.
He Said: I'd go back. I'd like to try something like the spaghetti or gnocchi next time. Maybe we'll try the salmon sometime as well. But only when I'm not in a time crunch. The restaurant is only two weeks old, so a little more time might allow them to hire more staff and/or find ways to speed things up a bit.
Is Bella Italia Good At What It's Good For? This is a mixed bag, but mostly for the better. The food is tasty and satisfying, but the dining accommodations could use some polish.
Just named a finalist for the INDIE award for best Mystery novel of the year:
Jay Ruud's most recent novel, Lost in the Quagmire: The Quest of the Grail, IS NOW a finalist for this year's INDIE award for books by independent publishers. You can order your copy direct from the publisher (Encircle Press) at http://encirclepub.com/product/lost-in-the-quagmire/You can also order an electronic version from Smashwords at https://www.smashwords.com/books/view/814922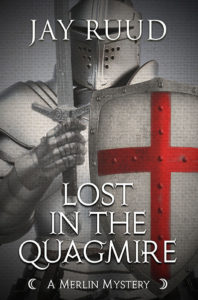 When Sir Galahad arrives in Camelot to fulfill his destiny, the presence of Lancelot's illegitimate son disturbs Queen Guinevere. But the young knight's vision of the Holy Grail at Pentecost inspires the entire fellowship of the Round Table to rush off in quest of Christendom's most holy relic. But as the quest gets under way, Sir Gawain and Sir Ywain are both seriously wounded, and Sir Safer and Sir Ironside are killed by a mysterious White Knight, who claims to impose rules upon the quest. And this is just the beginning. When knight after knight turns up dead or gravely wounded, sometimes at the hands of their fellow knights, Gildas and Merlin begin to suspect some sinister force behind the Grail madness, bent on nothing less than the destruction of Arthur and his table. They begin their own quest: to find the conspirator or conspirators behind the deaths of Arthur's good knights. Is it the king's enigmatic sister Morgan la Fay? Could it be Arthur's own bastard Sir Mordred, hoping to seize the throne for himself? Or is it some darker, older grievance against the king that cries out for vengeance? Before Merlin and Gildas are through, they are destined to lose a number of close comrades, and Gildas finds himself finally forced to prove his worth as a potential knight, facing down an armed and mounted enemy with nothing less than the lives of Merlin and his master Sir Gareth at stake.
Order from Amazon here: https://www.amazon.com/Lost-Quagmire-Quest-Merlin-Mystery/dp/1948338122
Order from Barnes and Noble here: https://www.barnesandnoble.com/w/lost-in-the-quagmire-jay-ruud/1128692499?ean=9781948338127
Comments
comments
http://jayruud.com/wp-content/uploads/2019/04/IMG_2977-2.jpg
402
640
Jay Ruud
http://jayruud.com/wp-content/uploads/2014/08/JayRuud.png
Jay Ruud
2019-04-01 10:01:20
2019-04-01 10:01:20
Bella Italia