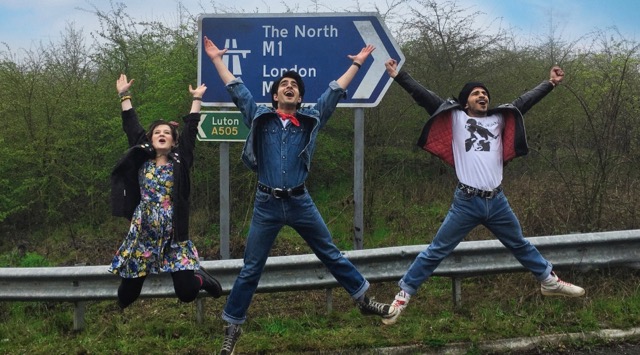 Blinded By the Light
Gurinder Chadha (2019)
In 1927, the movie industry was revolutionized by Warner Brothers' release of The Jazz Singer—a musical drama that featured the first sound dialogue and the first synchronized recorded musical score, including six songs performed by Al Jolson, the most popular singer of his time. The film traced the story of Jakie Rabinowitz, a young singer who defies his family's old-world Jewish traditions, embodied chiefly by his cantor father, and though Jakie leaves his home and changes his name to make it as a jazz singer, he cannot escape his heritage.
Flash forward to 2019 and change the venue from early 20th century New York to Thatcher-era Britain, change traditional Jewish culture to Pakistani, and you've got essentially the same plot, repackaged to make it more timely. There have, of course, been countless similar movies in the 92 years in between (including two remakes of The Jazz Singer itself, not to mention recent films that give the basic intergenerational conflict a South-Asian flavor, like The Big Sick), so the question we need to ask about this film is this: Given the fact that we've seen this plot countless times before, what is there in this iteration of the old cliché that makes it worth our while to watch it again?
Well, people went to The Jazz Singer to hear Jolson sing. If you're a Bruce Springsteen fan (and if you're not, get off of my page) you may want to go to this movie to hear Springsteen. Not that he appears in it himself, but it is his music that inspires the film's young protagonist Javed (the remarkable newcomer Viveik Kalra, who was essentially picked straight out of acting school to play this part) to follow his own path and defy his autocratic father Malik (a surprisingly sympathetic Kulvinder Ghir of TV's Still Open All Hours). And Springsteen liked the premise of this film so much that he allowed them to use 17 of his songs, thus making the film's soundtrack a beautiful thing to behold. And there are really not many movie experiences this summer more joyous than seeing three teenagers romping to "Born to Run" or "Thunder Road" in Bollywood style production numbers in the working class British factory town of Luton.
Secondly, the film's optimistic depiction of how music or art can both inspire and bring people together raises this movie above the cliché. Javed, an aspiring poet, has been writing his thoughts and his verse in journals for years, but never seems to be willing to make his work public, except by occasionally writing lyrics for his lifelong white neighbor and friend Matt (Dean-Charles Chapman of Game of Thrones).
But in school, the Muslim Javed meets a new Sikh friend named Roops (Aaron Phagura of TV's Him), who clues him in to the Boss. From the moment he sticks the cassette tape of Born in the USA into his 1987 Walkman, Javed is hooked. Astounded by the feeling that a white American New Jersey rocker can speak with such instant understanding to the son of a Pakistani immigrant factory worker in British Luton, Javed exclaims "Bruce knows everything I've ever felt!"
Feeling his own emotions put into Bruce's words—"It's a town full of losers/I'm pulling out"— Javed finds the inspiration to hone his own writing, winning an essay contest that his sympathetic English teacher Ms. Clay (Hayley Atwell of Avengers: Endgame) enters him in, writing a love poem for the activist white girl Eliza (Nell Williams, another Game of Thrones alumna), and finally writing decent lyrics for old buddy Matt. In fact, Javed even finds a way to bond with Matt's dad (a lively Rob Brydon from Tristram Shandy), a huge Springsteen fan. Thus music brings together white and brown, immigrant and native, Muslim, Christian and Sikh. Sure it's idealistic and maybe a bit cheesy, but it does feel good and there's something true about it.
That truth comes in the face of real racism and xenophobia that the film does not shrink from. The film was directed by Gurinder Chadha (Bend It Like Beckham), who knows what it was like growing up in London with an East African Indian background. Chadha co-wrote the screenplay with her husband Paul Mayeda-Burges loosely basing the script on a 2007 memoir by Sarfraz Manzoor, who traced his own Javed-like obsession with Springsteen in a book entitled Greetings from Bury Park (Bury Park is a district of the city of Luton, and the title, of course, puns on Springsteen's debut album Greetings from Asbury Park, N.J.).
The film presents quite starkly the skinhead bullying Javed meets on an everyday basis, the swastikas and "Pakis Go Home" graffiti spray-painted on their doors, white children urinating through the mail slots of a Pakistani apartment, even a pig's head stuck on a community minaret. When Javed publishes a front-page article in the local newspaper extolling the importance of the local mosque, his father Malik is furious with him—such a thing goes against his time-honored approach of keeping his head down and not making waves, essentially of being inoffensive himself in the face of much that is offensive. But when Malik, caught in the high unemployment brought on by Thatcher-era economics, is laid off from his job at the local GM plant after 16 years, he wonders why he ever came to Britain.
It is impossible to see this film without seeing the obvious parallels with the white nationalist politics of Brexit-era Britain and Trumpesque America. The movie isn't suggesting that pop music, or any other art, is going to heal those deep divisions. After all, as the highly political W.H. Auden said, "poetry makes nothing happen." But it does make the inoffensive point that (though no fan of the president, whom he has called "deeply damaged"), Springsteen's music is in many ways the voice of white working class America—from which much of Trump's base comes—and voices precisely the same concerns and desires that fire South Asian immigrants. On the level of basic humanity, this film strikes home in an unexpected way.
In 1927, Jolson performed in blackface in that first talking musical, evincing a casual racism that is shocking today to anyone who watches the old film. Although it is often hard to see, and may be two steps forward and one step back, society moves inexorably toward enlightenment. Blinded By the Light takes the old story and presents it with a contemporary sensibility, despite its setting more than 30 years in the past. Three Tennysons for this one.
COMING SOON!
The latest Merlin Mystery from Jay Ruud, THE KNIGHT OF THE CART, will be available September 15, but you can preorder your copy today! To learn more about this and other Merlin Mysteries, visit https://encirclepub.com/product-tag/ruud/
Comments
comments
http://jayruud.com/wp-content/uploads/2019/08/blinded-by-the-light.jpg
355
640
Jay Ruud
http://jayruud.com/wp-content/uploads/2014/08/JayRuud.png
Jay Ruud
2019-08-28 12:35:47
2019-08-28 12:35:47
Blinded by the Light